When it comes to sharing your video content creations with the world, YouTube is probably the first platform that comes to your mind. But there are also creators out there who are hardcore Vimeo fans.
And as a serious video creator looking to build an online presence around your content (and maybe monetize it in the future), where exactly do you need to be? YouTube or Vimeo?
There's no one obvious answer, so you'll need to weigh in a lot of information. The good news is that we've got you covered!
We know the video streaming market, so we're going to get into details about:
Monetization.
Marketing.
The viewing experience.
How much control you have.
Plus, we'll give you a few other details that should help you decide where to go.
Ready? Let's do this.
What is YouTube?
YouTube is a video-sharing platform that allows anyone to upload and watch content. It's also the second-largest search engine in the world, after Google.
YouTube came about in 2005, with the first video posted by one of the founders, Jawed Karim, of him with some elephants at San Diego zoo.
Whilst he's not posted anything since, YouTube has grown to be a massive platform, with…
37 million channels
more than 2 billion users
content in more than 80 languages
over 1 billion hours of viewing time every day
… and a list of stars who have become millionaires after gaining massive followings on the platform.
The highest earner in 2021 was a 9-year-old.
According to Forbes, Ryan Kaji and his family earned nearly $30 million in 2020, with most of his cash coming from licensing sales of branded toys.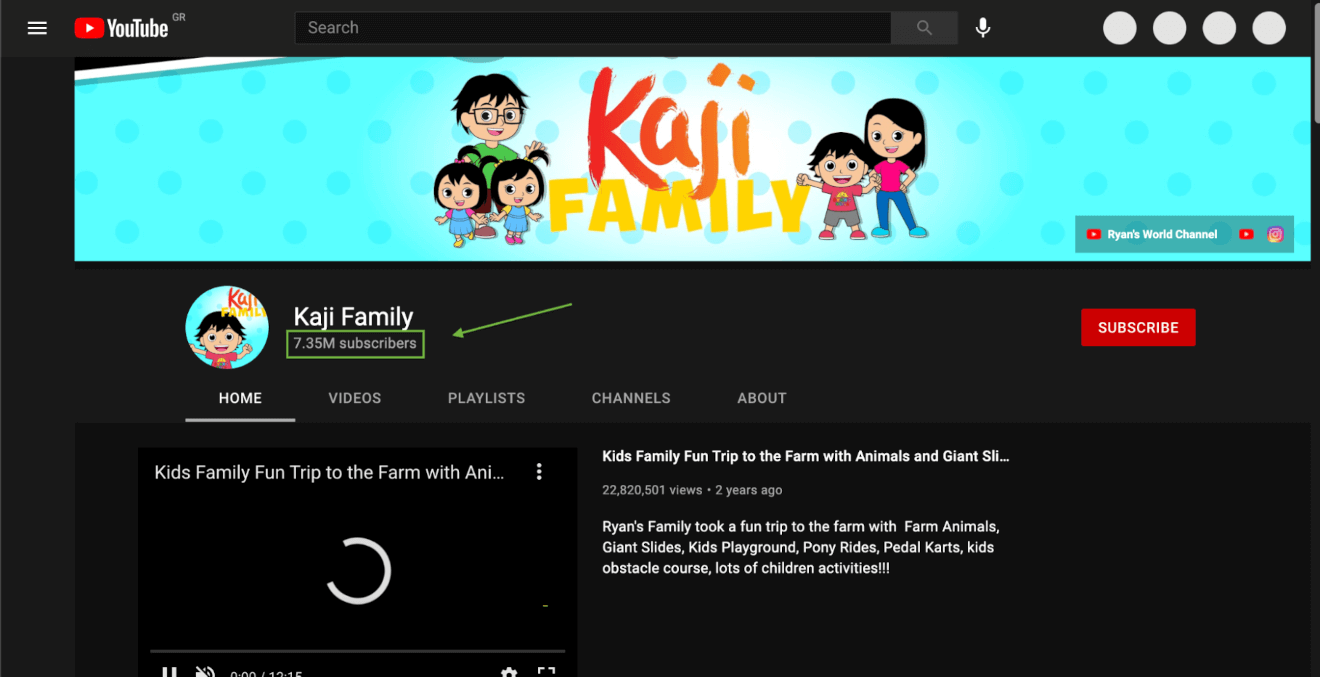 Of the top 20 most-watched videos, 13 are pop songs with nearly 52 billion – yes, billion – views between them.
It's not all musicians and multimillionaire kids – YouTube hosts a diverse range of content including how-to guides, tutorials, insightful documentaries, challenge videos, and cats doing cat things.
Put simply, YouTube is the biggest repository of video content on the internet.
Now that we've looked at the fundamentals of YouTube, it's time to check out Vimeo.
What is Vimeo?
Vimeo is a video platform that hosts and streams video content with a focus on being a place for businesses to share their content.
The business model for Vimeo is a Software-as-a-Service (SaaS), after shifting focus from being a platform that hosted indie video content and a straight-up competitor to YouTube as a place to find and watch videos.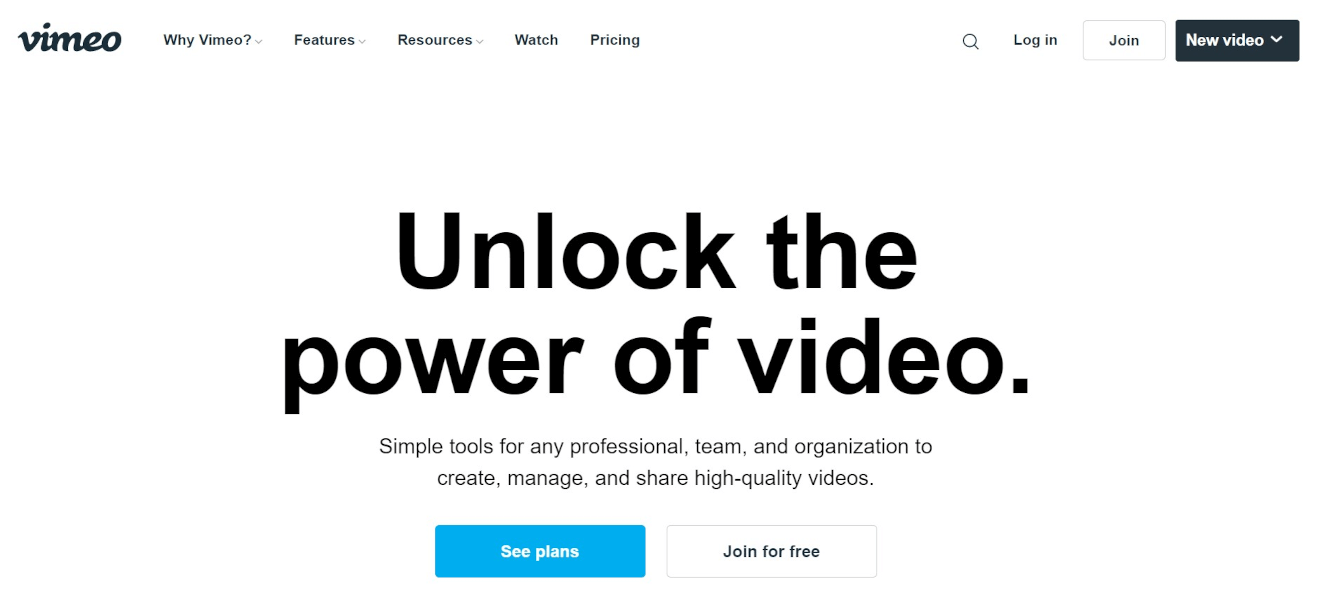 Anjali Sud, CEO of Vimeo, recently said in a podcast that there are over 200 million active users on Vimeo and 1.5 million creators paying to host their content on the site.
Vimeo doesn't rely on getting millions of views and landing huge sponsorship deals, so there's no reliable data about the most popular videos or which creator earns the most on the platform.
Now we know the fundamentals of both platforms, let's jump over to the good and not-so-great points of both, starting with YouTube.
YouTube: Advantages & Disadvantages
There are plenty of creators who'll wax lyrical about YouTube, whilst others have had their fingers burned.
Every video platform has different features that may or may not work for your needs, so let's see what YouTube has to offer.
Advantage #1: Minimal barriers to entry
Probably the biggest pro of YouTube is that pretty much anyone can get involved.
To start creating and uploading new video content for YouTube, all you need is a smartphone and an internet connection.
You don't need to pay to set up an account and there are no upload limits or caps on storage space.
Advantage #2: Easy access
Because Youtube is  an absolute giant of online video, you get access to a massive audience.
Everyone knows YouTube and it's generally the first port of call for anyone looking to…
learn something new
listen to music
watch someone play video games
giggle inanely at people doing stupid things
… so it's the place to be when you want to get your content out to the world.
Advantage #3: Creative support
There's a lot to learn as a content creator and everything you need to know has already been learned by someone else.
Youtube offers their own Creator Academy, with virtual support dealing with everything from strategy to finance: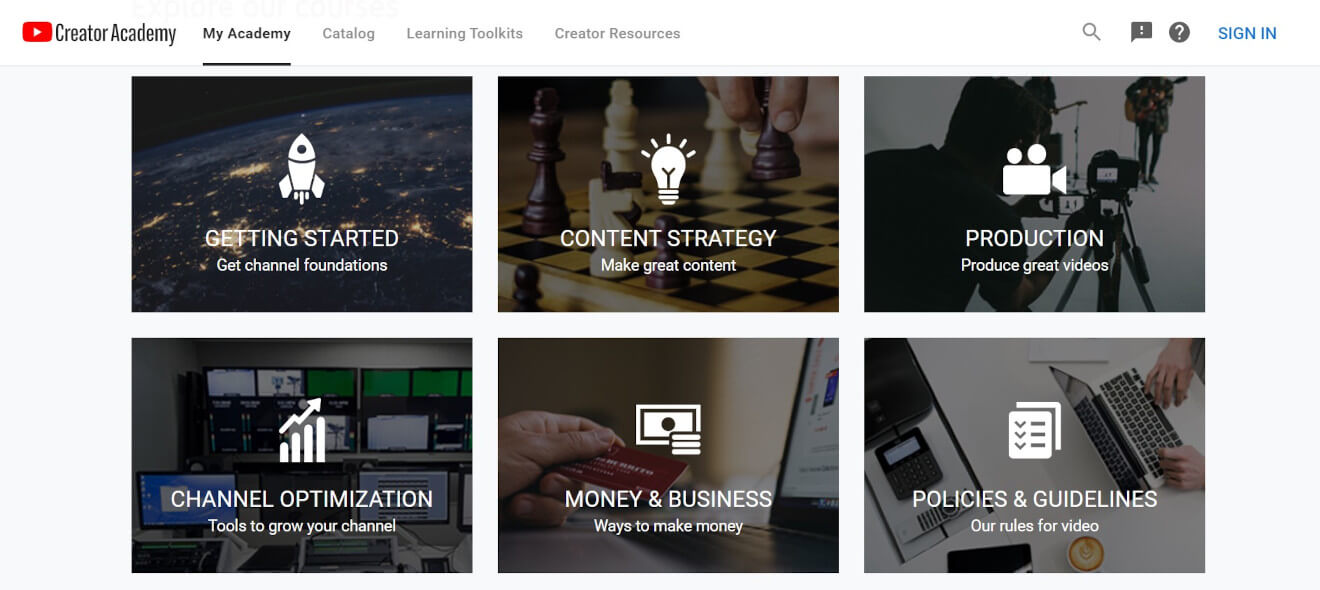 Here, you'll find a ton of bloggers and vloggers eager to show you how they made their YouTube channel a success.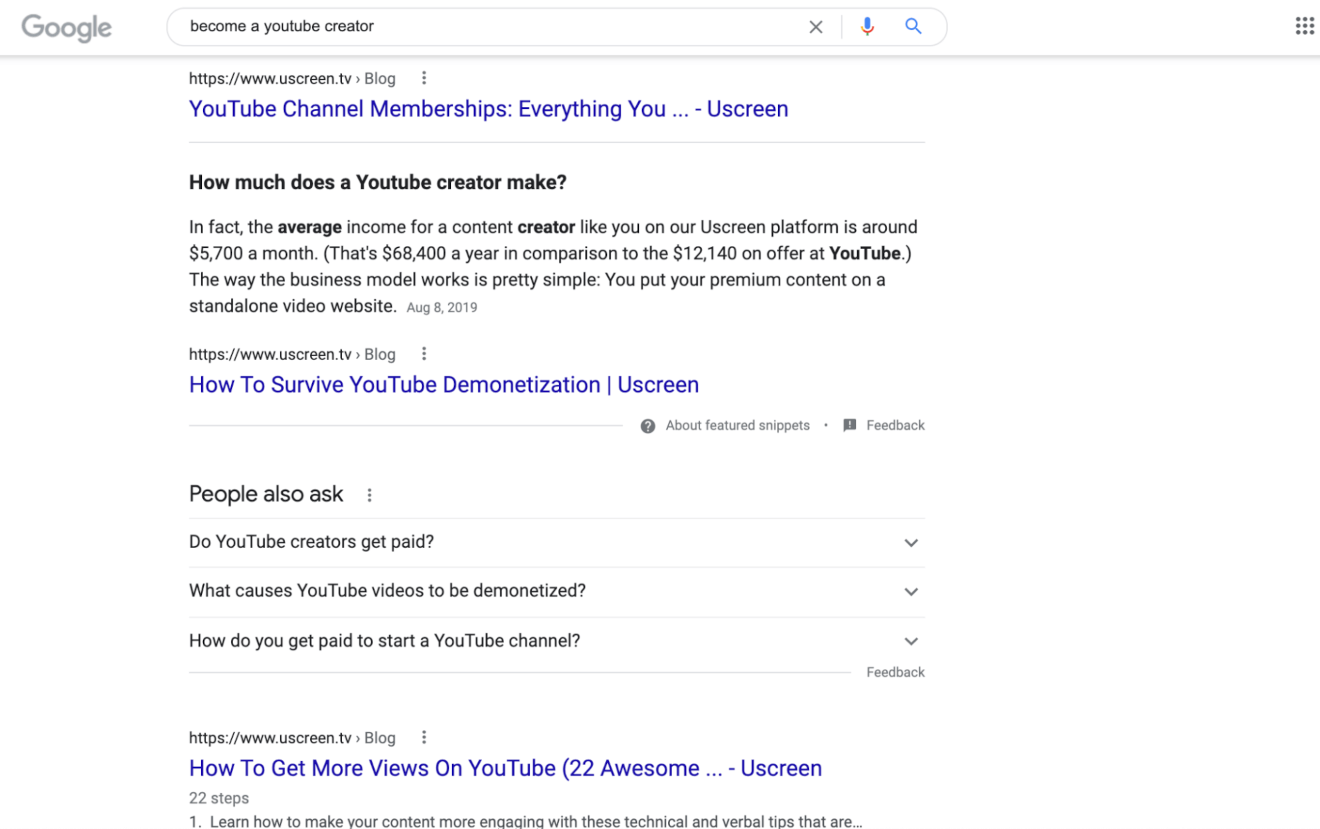 The community of people working on YouTube is vast and growing.
Those are the positives – now it's on to the stuff you should be wary of.
Disadvantage #1: Lack of ownership of your audience
YouTube isn't into sharing when it comes to your audience's most valuable piece of information – their email address.
Email marketing is one of the most valuable ways to reach your audience and potential paying customers.
Sure, you can direct people to follow your social channels, or better yet sign up for your email newsletter, but you'll never be able to slide into the inbox of every single one of your YouTube subscribers.
Disadvantage #2: Lack of human contact
We know YouTube is massive, and if you've been growing your video creation business, you'll know that a common growing pain is being able to take care of your customers.
With more than 500 hours of video uploaded every minute to the platform, there's a lot of content  to moderate.
When the pandemic struck and more video than ever was going online, YouTube had to turn to artificial intelligence to check videos and respond to reports of troublesome content.
It ain't easy getting YouTube customer service on the phone when you've got a problem.
Disadvantage #3: Demonetization
Speaking of problems, have you ever had one of your favorite creators on YouTube go quiet?
In 2020, prolific gaming live streamer ProPepper had his  channel terminated, seemingly without reason, and he wasn't happy about it.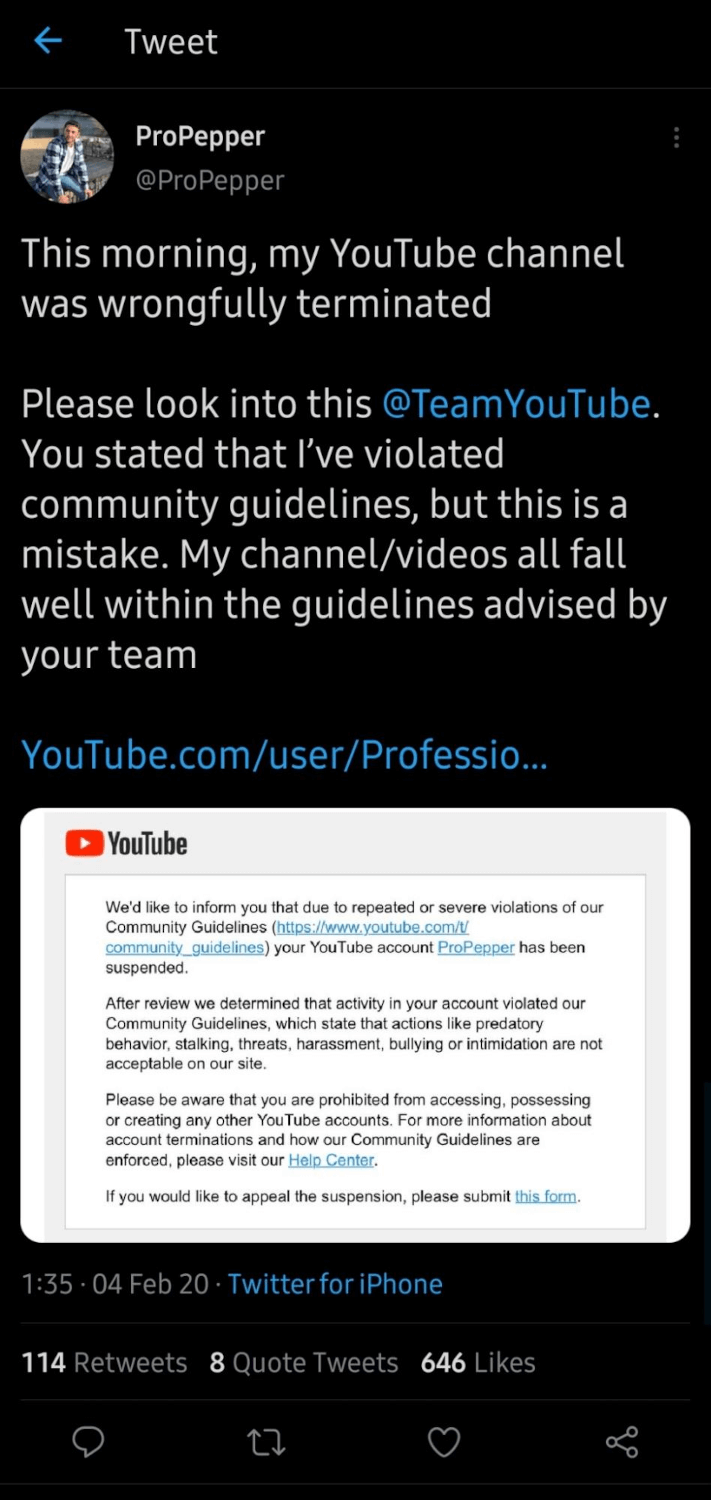 He had over 2.4 million subscribers and 10 million views a month, yet his channel was removed for unspecified violations.
Surviving demonetization is tough, but not impossible.
YouTube giveth, and YouTube can taketh away.
Now, it's time to evaluate Vimeo.
Vimeo: Advantages & Disadvantages
Vimeo has begun to focus on the creator rather than directly competing with Youtube to draw in viewers.
How has that translated for said creators?
Advantage #1: Easy to contact support
Because Vimeo draws revenue directly from creators, rather than selling advertising space on content, the company has to offer business services.
This includes offering support with online chat available. Enterprise-level customers can even get someone on the phone!
Advantage #2: Scalable business options
Scaling a business is tricky and, as a creator, you want all the growth tools you can get.
As a Vimeo creator with a pro account or higher, you're able to access built-in digital marketing and integrations to help grow your reach.
You can  publish your content straight to social media – no need for your viewers to click away from your Twitter feed to watch your Youtube videos.
Advantage #3: Content control
Only want your team members to access your videos?
On Vimeo, you can password protect your content so that only people you want can see what you've posted.
Whether your content can be discovered on the Vimeo platform is also fully in your hands and you can choose which domains your videos can be found on, too.
You get a whole lot of control over your Vimeo content.
Now, it's time for the cons of Vimeo.
Disadvantage #1: Limited reach
If you want to get your content featured on search engine results pages (SERPs), Vimeo probably isn't where you want to be.
Google seems to have a strong preference towards returning YouTube videos, rather than any other platform, in the SERPs, according to research conducted by the Wall Street Journal.
When you compare the audience that Vimeo has as a platform to find video content to YouTube, Vimeo is way behind – to get your Vimeo content in front of your target audience you really need to put some work in.
If your marketing strategy is heavily reliant on organic search for your video content, Vimeo won't be great for growth.
Disadvantage #2: Limited monetization options
You'll need cash in the bank if you want to move beyond Vimeo's basic hosting plan. Here's the pricing:
To even be able to monetize your content, you need to be on the Pro plan and paying $20 per month.
When you're on the Pro plan or above, you can choose one of three ways to sell your content:
Rent it out as a pay-per-view model.
Sell one-off access to the content.
Charge a recurring subscription.
Plus, Vimeo keeps 10% of your earnings from these sales.
You'll need to already have a plan to cover the subscription costs before you can start to sell content.
Disadvantage #3: Not fully global
As a business, you want to be able to reach as many markets as possible, right?
Unfortunately, Vimeo is cut off from two of the biggest in the world.
By 2023, OTT video revenue generated in China is set to triple, to $26 billion, yet Vimeo is blocked there. To be fair, so is YouTube, but it's still a major market to lose if your aim is creating content and making money.
Significantly, the Indonesian government also blocks Vimeo, whilst YouTube is fully accessible.
You may not have your eye on this market yet, but Indonesia has:
There are clearly people ready to consume videos that you won't be able to reach through Vimeo.
Those are the pros and cons of both video sites – now it's time for a direct comparison.
Comparison Point #1: Monetization
Simply having viewers won't pay the bills, so you need a monetization plan when choosing to create video content for a living.
How you're going to earn your money will be key to picking your video hosting platform, so let's check out how both stack up.
YouTube Monetization
Making money directly on YouTube requires you to already be a successful creator who's posting popular video content.
To get a cut of the ad revenue that the platform makes on your content, you need to:
Be in a country that's actually eligible for monetization.
Have at least 4,000 hours of videos watched on your channel in the last year.
Have more than 1,000 people subscribed to your channel.
Create and link an AdSense account to your channel.
Once you hit all of these parameters, you get a share of the revenue the company makes from running ads on your videos.
It's reported to be a 45/55 split in favor of the creators, but it can differ, so you should check your agreement with the site.
Whilst you're waiting to hit these requirements, YouTube reserves the right to run ads on top of your content.
When you do start earning revenue, the money is sent to your Google AdSense account.
From there, you need to organize for it to be paid out, and there may be minimum thresholds on earnings before you cash out depending on where you are.
A relatively new way to make money from your content on YouTube is their premium subscription service.
A YouTube Premium subscriber gets to watch all YouTube content without ads, so when they watch your videos you'll still get paid from their subscription.
Another monetization option available on YouTube are Channel Memberships which allow die-hard fans to support their favorite content creators. As a subscriber, you'll get access to special features and exclusive content from your favorite YouTube star that isn't available anywhere else! And as a creator, you can offer your subscribers access to exclusive videos, live chats, streams, custom emojis and more, for a monthly subscription fee.
It's worth noting that revenue for YouTube creators has been falling recently, so it's not a stable stream of income and you don't have much control over it, bar working to pull in more and more viewers.
Vimeo Monetization
Because creators are required to pay to use Vimeo, you'll need your business model to bring in enough revenue to support that fee.
To monetize your content with Vimeo, you can either rent it out, sell it, or have your users subscribe to your channel, once you're paying for the Pro plan or higher.
Being able to choose your content monetization strategy means you can pick an option that works for your audience and your future plans.
You might want to offer your audience ad-free viewing, and out of these two platforms, only Vimeo can guarantee that.
The amount of money Vimeo takes from your earnings depends on loads of factors like your buyers' local tax rate and currency. You can expect to see 10% plus transaction fees deducted from your gross earnings.
You need a PayPal account to get paid out from Vimeo, and you'll get your money one month after the previous month's end.
Now you know how the money works, let's see what you get to learn about your audience.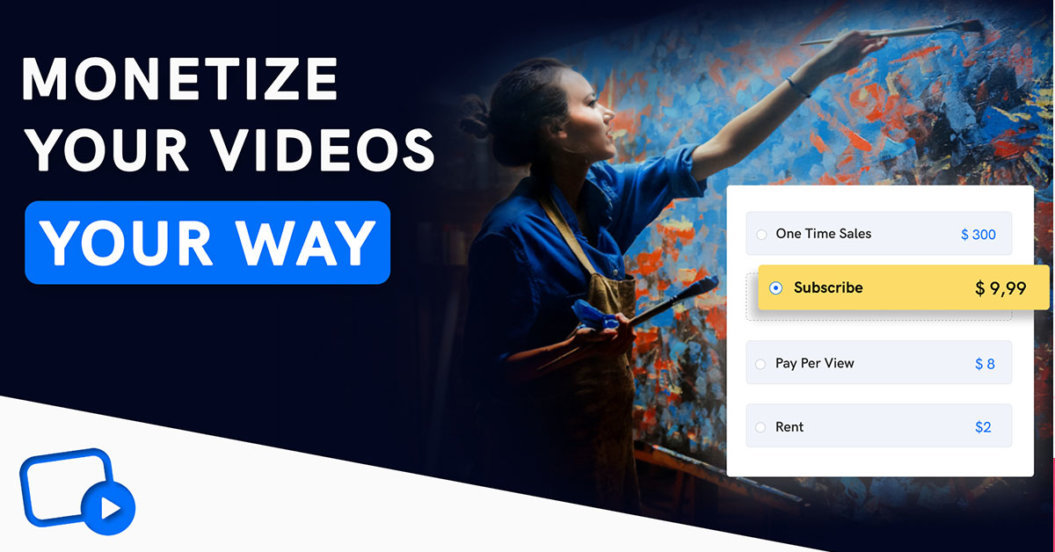 Monetize Your Videos Your Way
Comparison Point #2: Analytics
Analytics is how you begin to understand your audience and their relationship with your content.
To improve your content, you need to know what videos are getting watched, when people click away from your content, and, ideally, where they go next.
Let's check out what data both platforms provide to video creators.
YouTube Analytics
In the backend of YouTube, called YouTube Studio, you get a huge range of data that you can dive into and obsess over – if you're that type of person.
It's all information natively held by YouTube, and you can find data for your channel in general and for each individual video.
On a channel level, you can find:
Total viewers.
Total watch time.
Subscriber numbers.
Plus there's really detailed information about how your viewers found your channel, how much of your content is being watched, and the ages and locations of your viewers.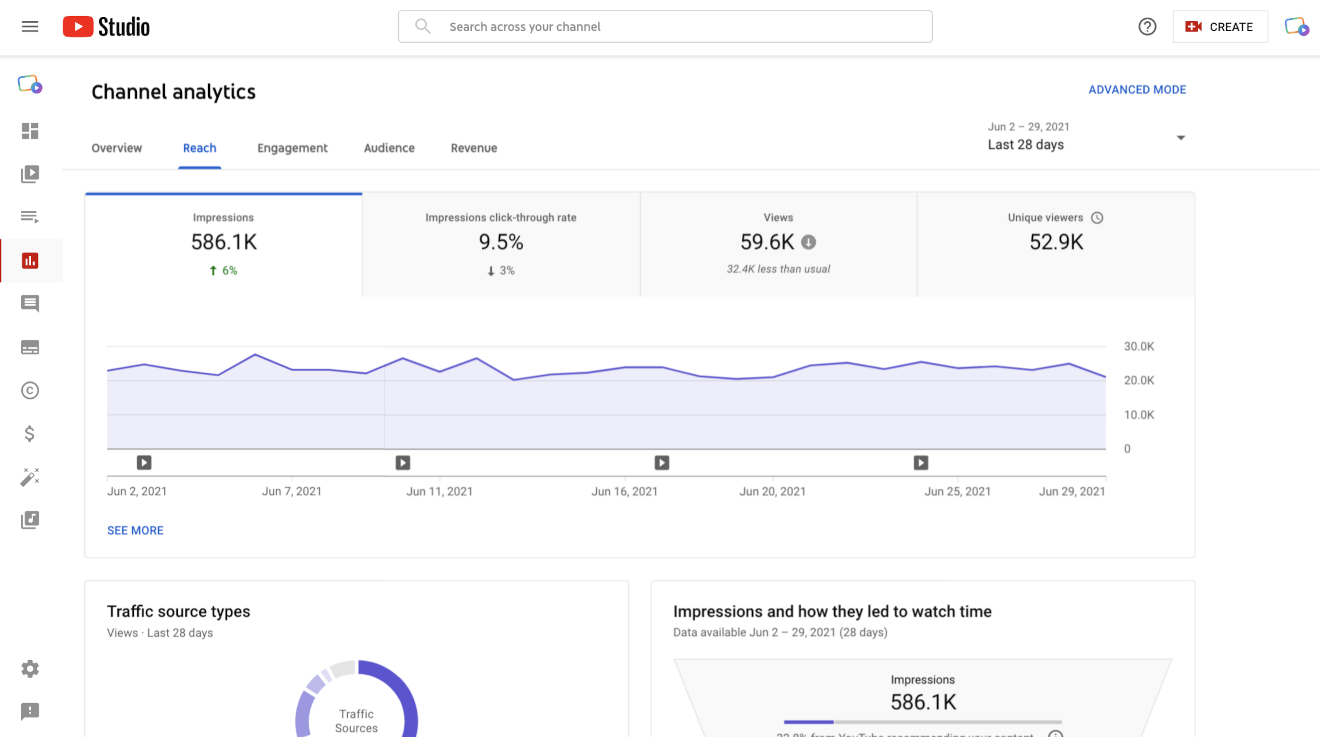 It all gets broken down using charts and other types of data visualizations to make it really accessible.
YouTube analytics is available to everyone; whether you post videos to share between your friends or are a brand with a subscriber base of millions, you're able to get the exact same data.
Vimeo Analytics
You get access to some data in the background of Vimeo, too, but it's pretty sparse compared to YouTube.
The way you use Vimeo will be different from YouTube, so some data is different and isn't as in-depth.
One plus point for Vimeo is that, because they offer native publishing to social platforms, you get data about your likes and comments on each.
Some other data points and metrics you get with Vimeo include:
What percentage of your audience watches up to different points in your video.
How your audience is finding your site.
Whether they're watching from phones, tablets, or computers.
How many videos have been viewed and how many of them were watched to the end.
You also get more advanced data options when you start to pay for your Vimeo account, such as where your viewers are located and video performances over time.
To help you communicate with your clients or your boss, the data you do get can also be exported so you can produce reports and graphics to visualize your channel's performance.
You can also integrate your Google Analytics (GA) with your Vimeo account, getting all the same data that we outlined a hot minute ago.
Now that analytics are covered, we'll jump  over to video editing and quality.
Comparison Point #3: Video Editing Capabilities & Overall Quality of Videos
When you're looking to show off your skills as a content creator, you need the tools and high-quality streaming to support that.
Both YouTube and Vimeo have tools that can help filmmakers piece their content together and offer differing streaming qualities.
Time to check them both out.
YouTube Video Editing Capabilities & Overall Quality of Videos
In the YouTube Studio, you get access to a basic video editor that should help whilst you're getting started.
You're able to…
trim your video
add music
blur parts
add end screens
… but you can't have more than one stream of raw footage at once, meaning you can't jump between two different camera angles.
The editor tool is pretty basic; if you're used to working with iMovie or Premiere Pro, then you'll likely find the lack of transitions, effects, and color grading options to be very limited.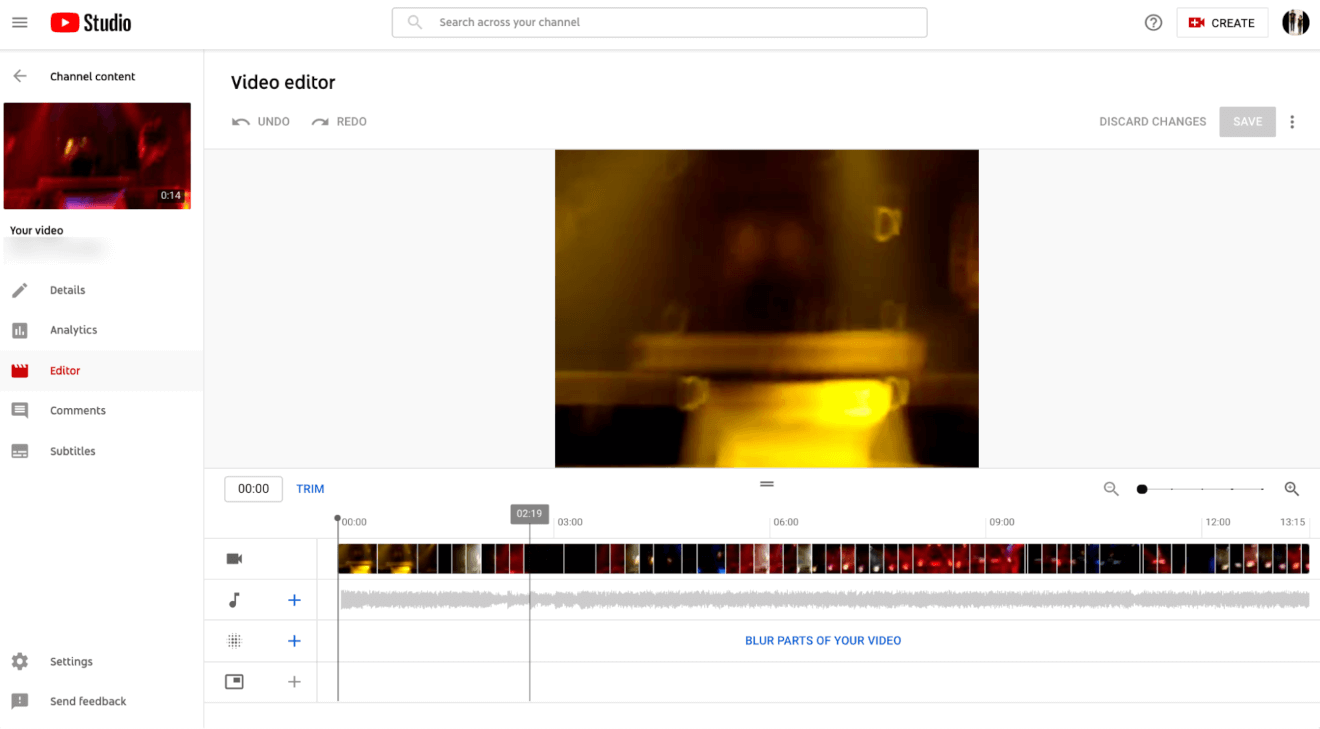 You do, however, get access to a vast library of royalty-free music and sound effects through the YouTube Audio Library.
In terms of video quality, when you initially upload your video to YouTube, it's processed in low resolution so that it can get uploaded as quickly as possible.
It can take several hours for your video to be processed into 4K or 1080p quality – the exact time will depend on the file size.
YouTube recommends uploading your video as unlisted – not able to be found or viewed by anyone – until the high-resolution processing is finished if you want to ensure only the highest quality video is available to viewers.
Vimeo Video Editing Capabilities & Overall Quality of Videos
Vimeo's video editor gives you more options than YouTube.
With Vimeo Pro and higher, you get unlimited access to…
stock videos
music
images
video templates
…which can help get your video marketing efforts off the ground quickly.
There are lots of templates to choose from on Vimeo.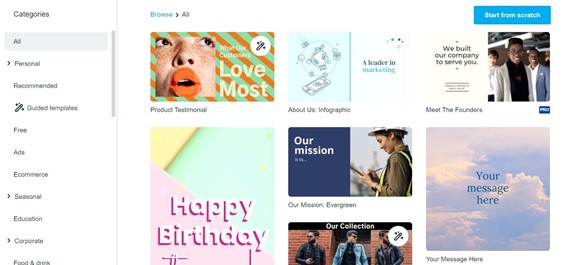 Plus you can add text, stickers, and frames and filters to your content during the editing process.
The templates are pretty easy to use – you're guided through uploading the type of images, for example product images for a testimonial video, so you can get your video made quickly.
Like YouTube, it's not a full video editor that can compete with professional software, but it has a reasonable range of features to get you started.
Vimeo also helps you give your viewers higher quality videos, with streaming possible in up to 8K resolution.
That's how both platforms help you make videos. Now let's look at who is going to be able to watch them.
Comparison Point #4: Audience & Community Building
You want your video to reach the right people – people who resonate with your message, love your products, or find you absolutely hilarious – so choosing the right platform is vital.
The way you gain an audience and build your community is different on both platforms, so we need to explore your options.
YouTube Audience & Community Building
As we covered a little further up, the potential audience for your content on YouTube is huge – 2-billion-viewers kind of huge.
Within that 2 billion, there are going to be people who love what you do, no matter how niche your product or content is.
How can you reach your specific target audience?
When we looked at the disadvantages of YouTube, we already said that you can't connect directly with your audience away from the platform – you don't get their email address or social media profiles.
That's a pain, and hard to completely overcome.
What you do get, though, is to use the information about the people who watch your videos to remarket to them across Google platforms; you might never know exactly who they are but Google does and they'll help you reach out to them.
Your interactions with your community are primarily through the comments section of your videos, like this: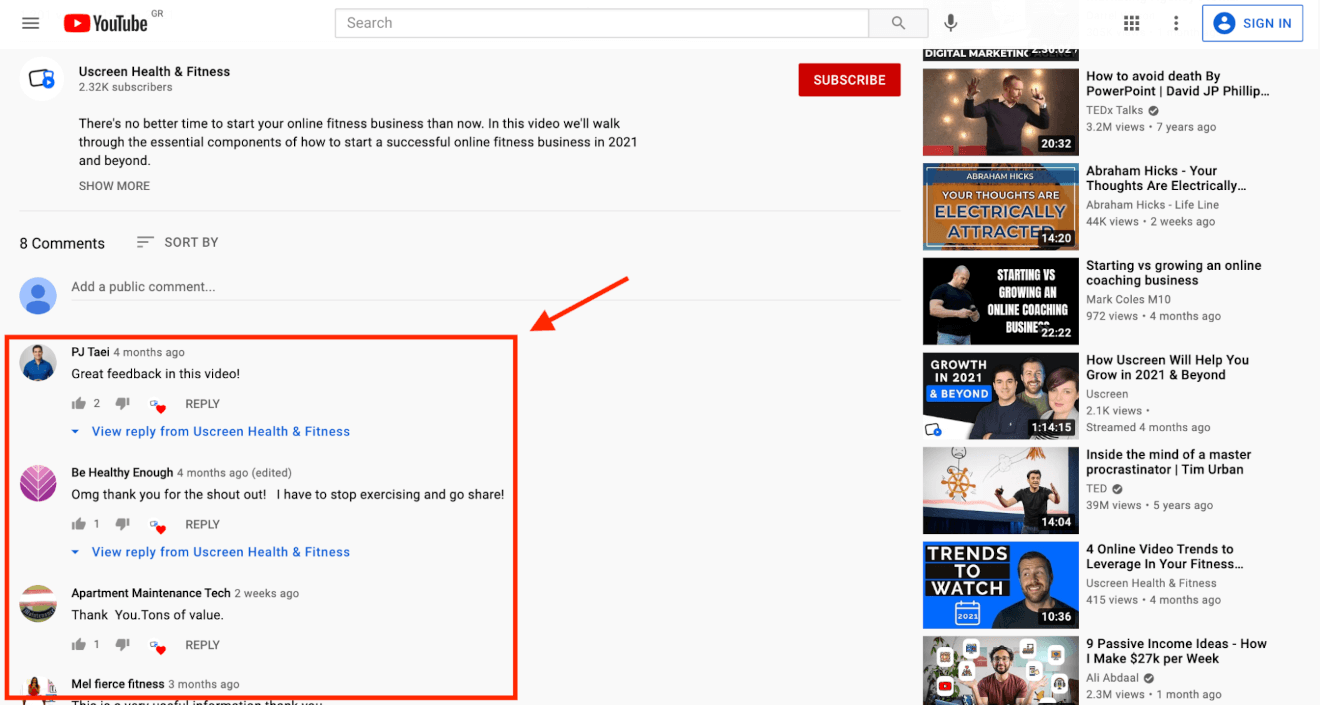 When creators have received support for their work off-platform, it's pretty common to give a shout-out to those supporters during videos, like Fraser Cain does in the final scenes of his Universe Today content.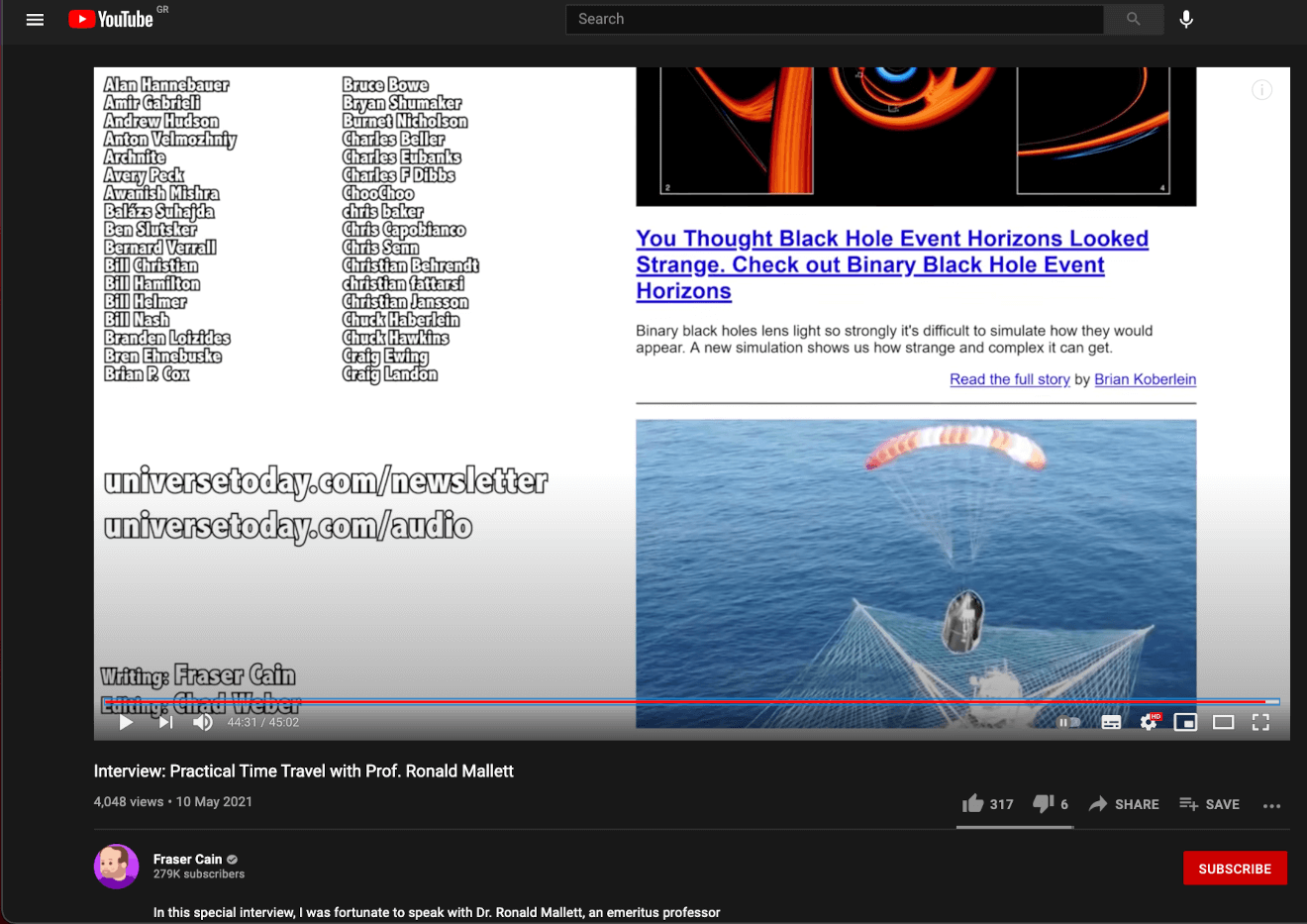 This is a way to both connect with your audience as well as a way to monetize your content away from YouTube.
Vimeo Audience & Community Building
Unlike YouTube, Vimeo isn't the type of place most people would go to browse through videos and find fresh content.
When we compare the number of searches for YouTube against Vimeo, we can see that there's no competition – YouTube is eminently more popular.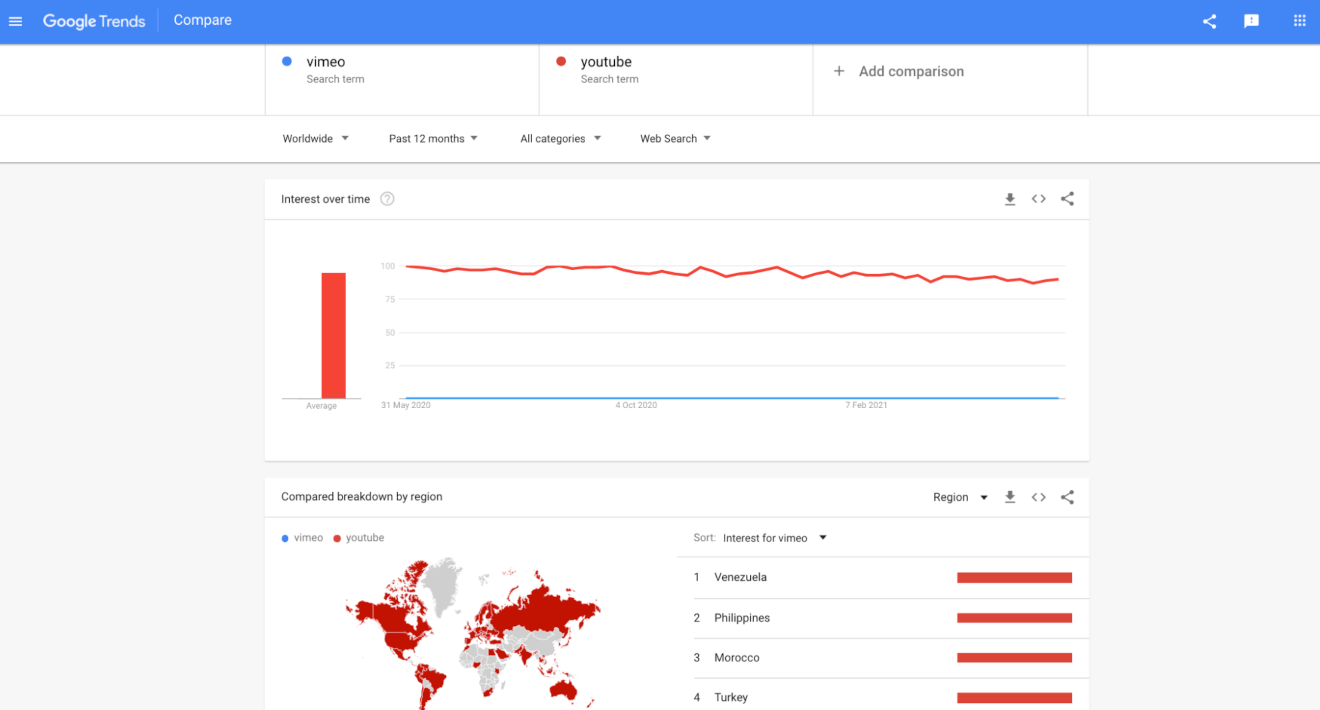 This means it's up to you to find your audience and serve them your Vimeo content.
You need to do this by creating a website and embedding your videos or publishing your video content to your social media, like so: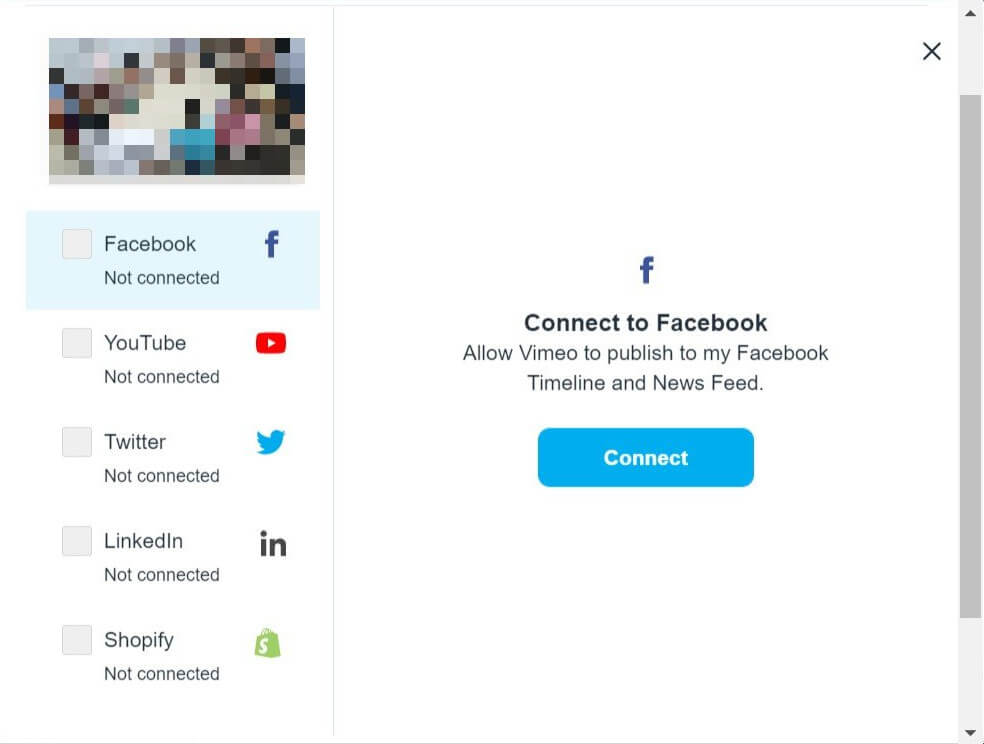 Social media is a great way to build a community, and being able to publish your video directly to Facebook or Twitter, for example, means you can keep your engagement in one place rather than having comments spread across your social media and YouTube accounts.
As a creator selling content through Vimeo, you're able to gather information about your buyers and subscribers.
You can add a custom contact form to your Vimeo player to request your viewers' email addresses so they can choose to be contacted by you directly which can be a super valuable revenue stream.
Moving from audience and community building, we're now getting into marketing and SEO.
Comparison Point #5: Marketing & Search Engine Optimization (SEO)
Being able to market your content through sharing and search engine optimization (SEO) is going to be part of your plan to make money as a creator.
Putting your marketer hat on for a moment, you need to know how easy it is to get your content out there, get views and raise awareness about what you're doing.
YouTube and Vimeo offer two different approaches.
YouTube Marketing & SEO
Being a search engine in its own right – and a rather big one, as we pointed out at the top – can have its benefits and its drawbacks in terms of search.
Whilst you have access to a huge market, there's a lot of competition to get your videos to feature in relevant search results or to start trending.
There are tools available, such as TubeBuddy, which can help you optimize your videos on YouTube by telling you the tags your competitors use for similar videos and helping you not miss a step during your video upload process.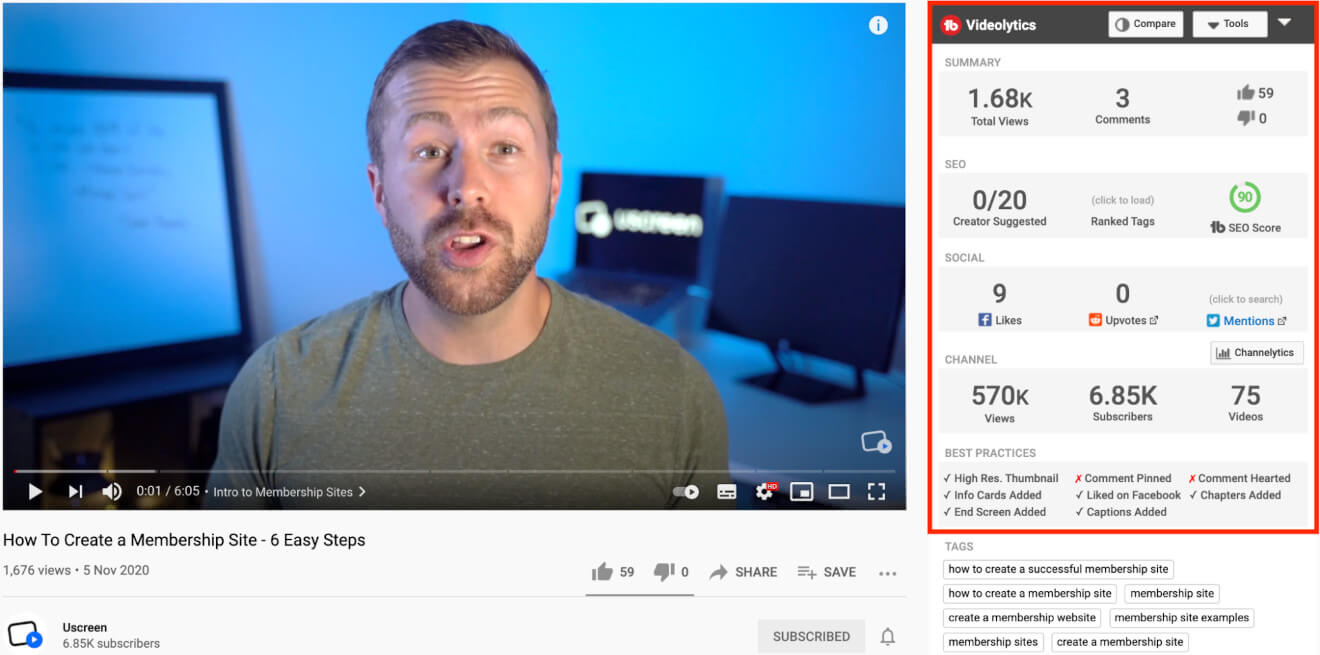 You can also set chapters, or timestamps, for your videos…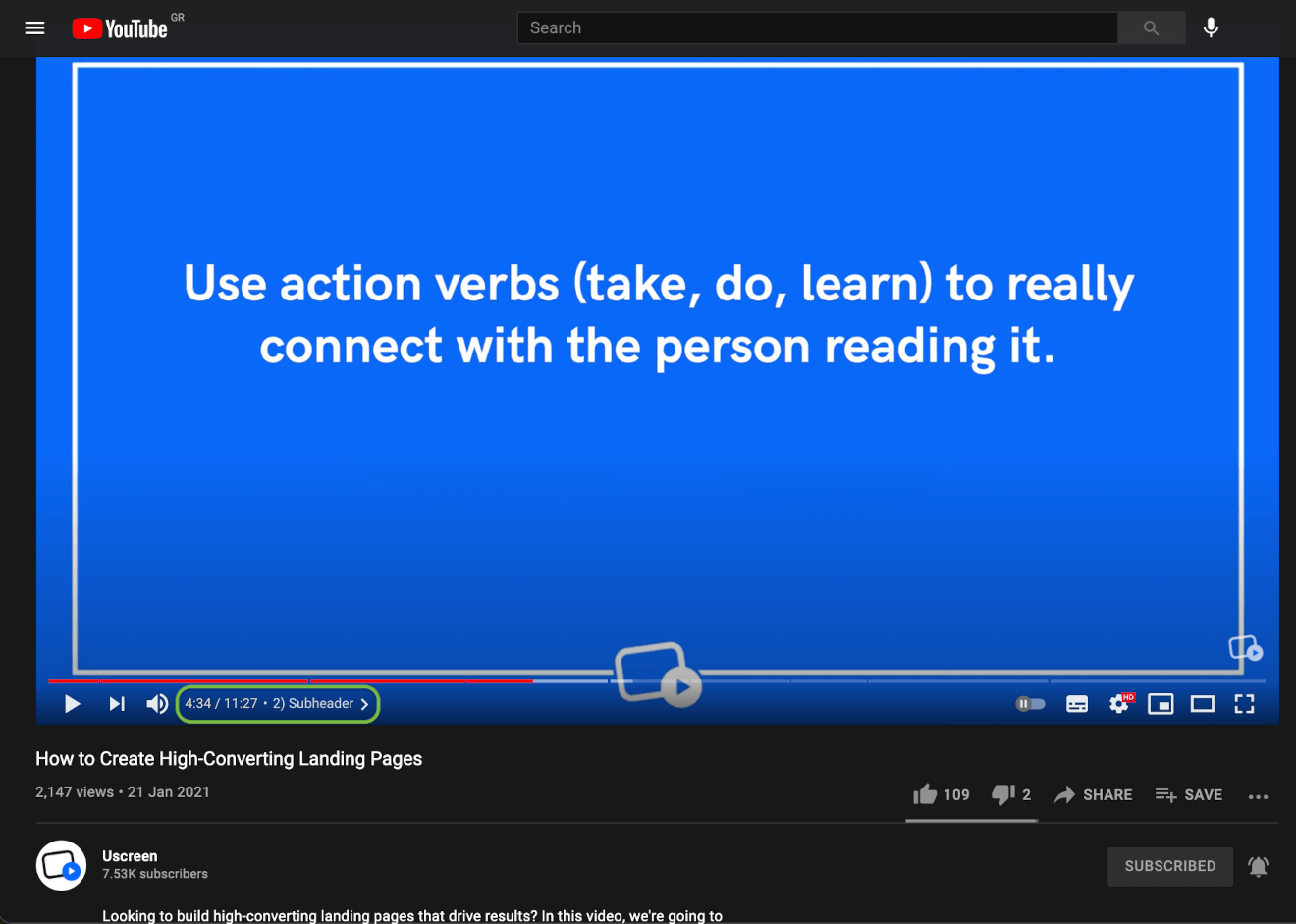 … like you can see here, highlighted in green, which helps your video cover more space on the SERPs when you video ranks, like this: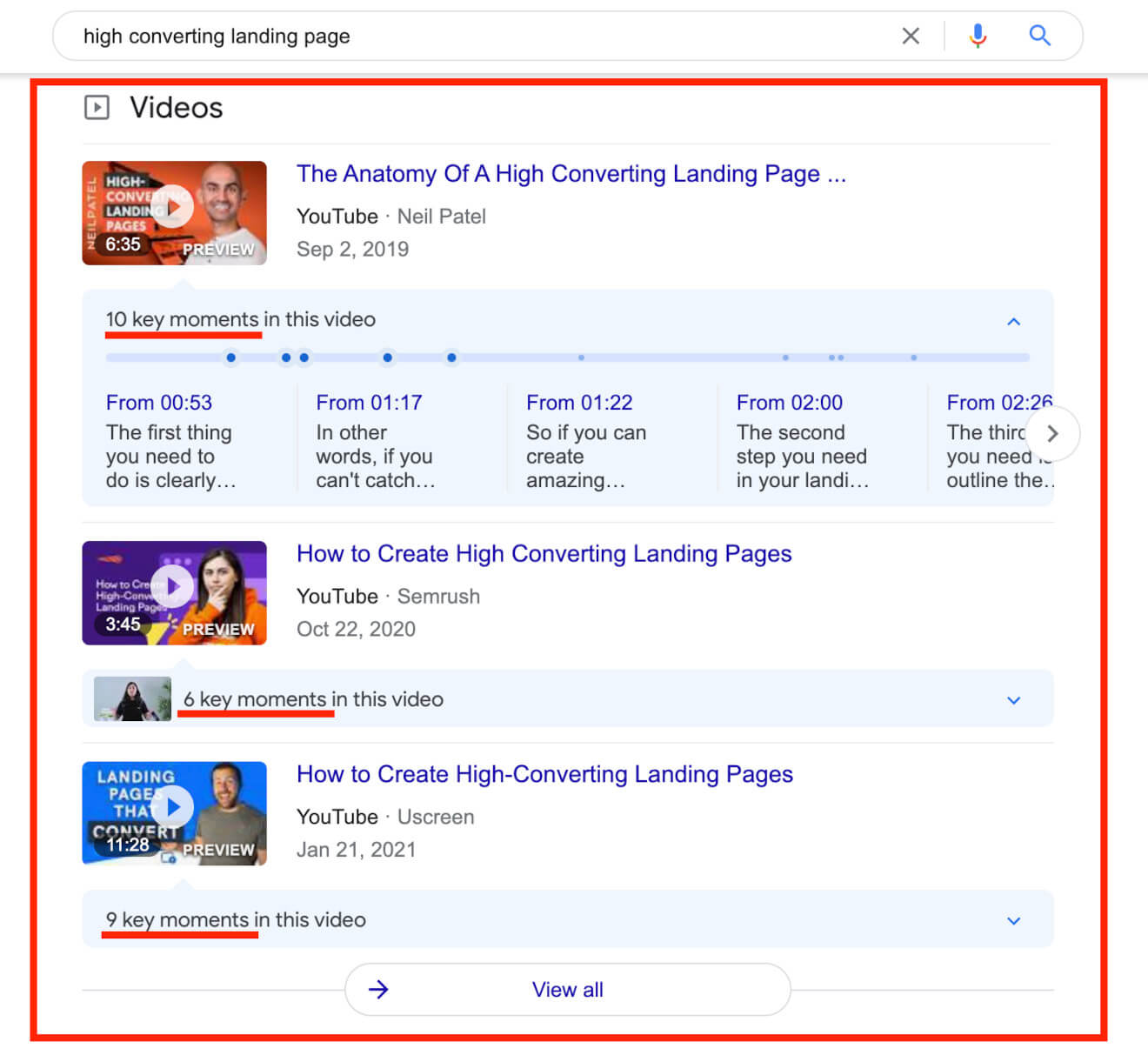 On YouTube you can also live-stream your content for free, including having a countdown and your subscribers can even get a notification about your stream.
There are other marketing options available to you on YouTube, such as adding links in cards in your video and in your description to your landing pages, and end screens that can drive traffic back to your website, too.
Since YouTube is so popular, your content management system (CMS), like WordPress for example, will easily be able to add your video into a blog post or landing page – albeit with the YouTube branding on it.
A YouTube video will also give a standard link format on social media like Facebook or Twitter and will show a preview of the content in messaging apps like WhatsApp, and embeds into emails easily.
This means you as the creator can share it, and your audience can be confident they can share it around, too.
Your subscriber count, view numbers, and likes on YouTube can also be seen as a type of social proof, meaning your customers will check your channel to see if you're a legitimate and trustworthy creator.
Vimeo Marketing & SEO
The way you market content hosted on Vimeo is going to be different.
One of the advantages Vimeo has over YouTube when it comes to sharing your videos is a customizable player.
You can add your own colors and logos to your Vimeo player, so when you add a video to your website it'll match the rest of your theme.
Vimeo also lets you restrict content to only be available on one domain, which is useful for live events – if you take a plan that offers live streaming – or for hosting marketing content on your website's product pages.
There are other marketing tools available with Vimeo, but you need to be on the Business plan or above to take advantage of them.
You're able to:
Customize the final screen of a video and choose related videos to show users.
Add calls-to-action (CTAs) on your videos to increase sales or clicks.
Generate leads and customer data which you can then download.
Integrate your current marketing or CRM software with Vimeo.
In terms of SEO, you can add a description and alt tags to your videos at any time and you have customization options for the thumbnail and the video URL.
All of these can help boost the SEO of your video content, although it's unlikely to ever get the type of organic reach that you'd get on YouTube.
What level of control do you have over your video? That's our next topic.
Comparison Point #6: Privacy
Being able to control how private – or public – your content is can be an important factor to consider when you're a creator, filmmaker, or marketer.
This could be a dealbreaker when choosing a hosting platform, so we'll explain the options you have.
YouTube Privacy
While YouTube is known as the place to go when you want the world to see your video, you don't have to let everyone see your content.
In the YouTube studio, you can change the privacy of your video at any time, toggling between…
… and you can even take it down and reschedule the video, so it becomes private until a date and time you choose.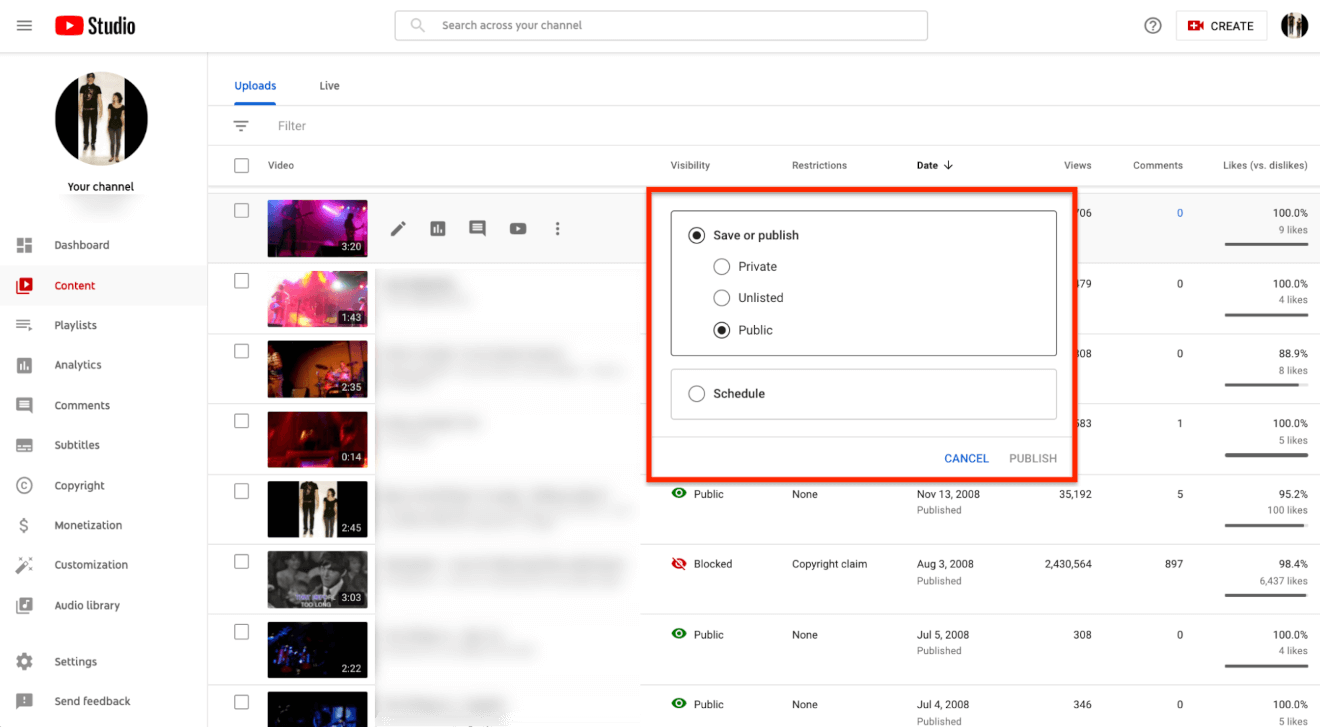 When you unlist a video, it means only you can access it through your account.
To share a private YouTube video, you need to add the email addresses that you want to be able to access it, and they'll get a notification saying they can watch the video.
They can't share the link around – only those email addresses you've added can watch the video, so make sure you use the email address the person uses to log in to YouTube.
It's worth noting that you can only add 50 people at a time, so if your community is bigger than this, a private video on YouTube isn't a great solution.
Vimeo Privacy
To get more than basic video privacy on Vimeo, you need to upgrade your account from the basic package.
From Vimeo Plus upwards, you're able to change your video privacy settings so that:
Only people with a link can view your content.
Your videos can only be accessed with a password.
Your video can be embedded but isn't searchable on the Vimeo platform.
You can control whether your video can be downloaded.
The video can be embedded anywhere or only on specific domains.
These privacy options give you a lot of control over your content and can prevent it from being shared in places you'd rather it not be seen.
It's worth noting that when you use the Vimeo option to publish your video to social media, the platform's privacy control will be in place. For example, when you share a video to your business page on Facebook, it can then be shared anywhere across the platform.
If you choose one of the monetization options that Vimeo offers, you can also add a paywall to your content which allows you to charge a subscription or one-off fee for people to view your videos.
Now that all the big points are covered, it's time to answer the burning question…
Is Vimeo Better than YouTube?
Vimeo could be a better platform for filmmakers and people looking to make money from their content directly, whereas YouTube is better if you're looking to build a big following and possibly become an influencer.
When you start out creating content, you really need to figure out what you want to achieve in the long run and then look for a platform that'll help you get there.
Vimeo offers a lot more control over who can access your content, allowing you to host it on your website without it being searchable on their platform and giving you the chance to control access through a paywall.
YouTube is where people get famous, though.
Content like Ryan Kaji's toy reviews and Adriene's yoga classes have built them huge followings. Whether you're aiming for fame on that scale or something a little smaller, your audience can always be found on YouTube.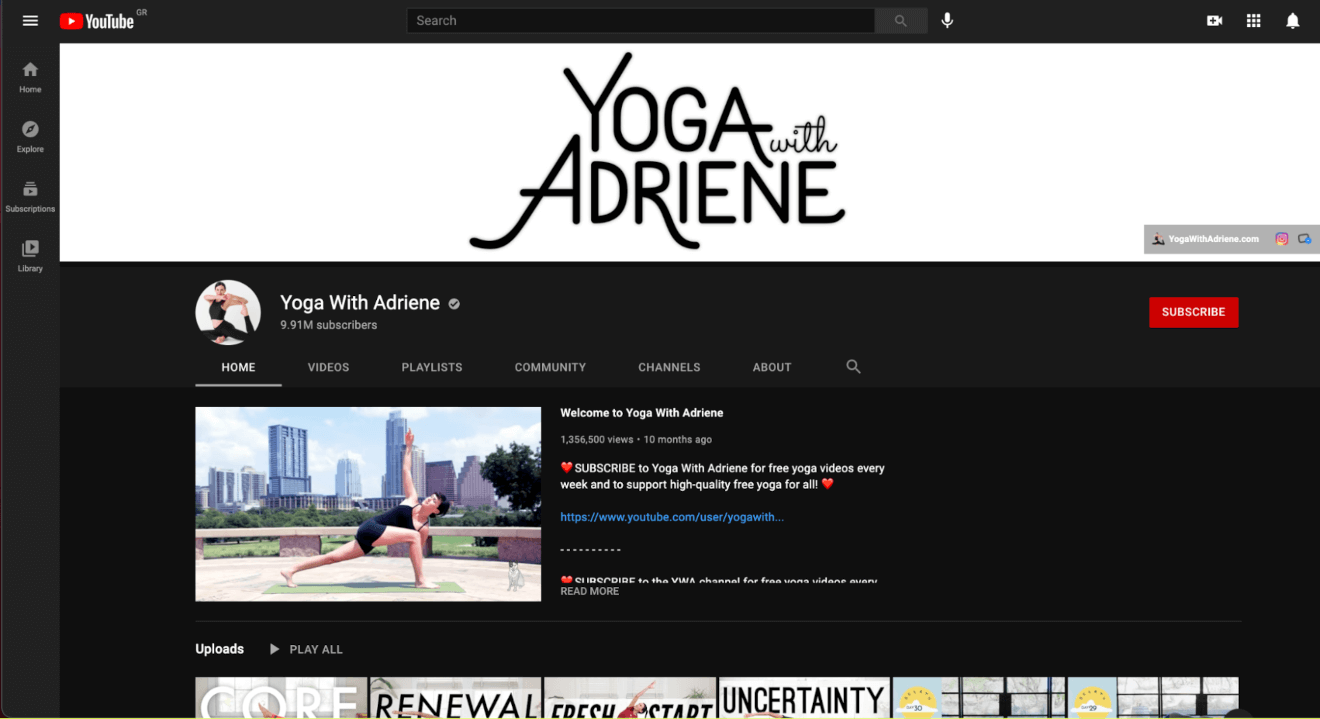 It takes a lot of work to get big money coming in from YouTube and you'll need to be savvy at marketing your content to land deals or build communities outside the platform.
As well-known as these two platforms are, they're not the be-all and end-all of video content and monetization. There are other ways to earn income from your content and other platforms that offer real benefits.
Here at Uscreen, we hit the mark with some features that you can't get with either Vimeo or YouTube.
Some of the different options we give you include:
Subscription, pay-per-view, transactional, rentals, multi-tiered subscription, and more monetization features for on-demand and live videos.
Branded mobile apps for iOS and Android, as well as TV apps for Roku, Apple TV, and Amazon Fire.
A customizable website to host your content and community, including landing pages to support your marketing efforts.
Tools to help you retain members and reduce your customer churn.
Gift cards, coupons, discounts, and "Try Again for Free" marketing tools to drive subscription sales.
A deep bench of integrations to support your email marketing and automations with Zapier.
We're geared towards helping entrepreneurial creators and established businesses earn money from what they produce, generating revenue from video streaming.
Whilst Vimeo and YouTube definitely have their place in the market, we offer a unique way to support your video content business as you scale in the long term.
Now Over to You
That's been a ride, hasn't it?
We've covered pretty much everything you need to know about YouTube and Vimeo as platforms to host your content as a filmmaker or creator.
It comes down to what you hope to achieve with the videos you're making.
Want to get found easily by people browsing the internet? YouTube.
Need to add videos to your website that can't be found anywhere else? Vimeo.
Looking to build a strong community of paying members in one place? Uscreen.
There are options we offer that set us apart from these two platforms, and if you want to check out exactly how we can be the solution your business needs, you can start a free trial or get a demo of everything we've got.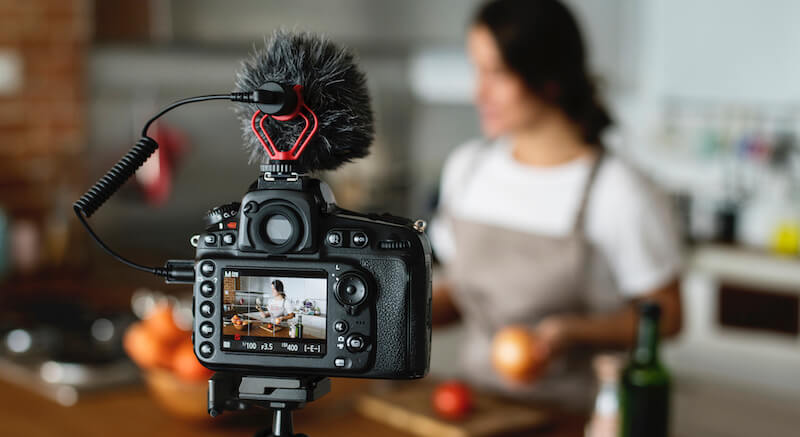 How to Sell Videos Online and Make Over $5k a Month (For Real)
The post YouTube vs Vimeo: Which Platform is Best for Creators? appeared first on Uscreen.