Chances are, you're one of the millions of people across the world using VOD every day. It's the most in-demand way to watch video in 2021, and it can be found everywhere from entertainment to advertising.
But if you're wondering:
"What Is VOD?" or, "Why is it so important?"
Fear not – we're here to get you up to speed.
In this guide, we'll explain everything you need to know about VOD – including what it is, why it matters, and why you need to be using it in your business. 
What Is VOD?
VOD, or video-on-demand, is any content distribution platform that gives viewers the ability to choose when, where, and how they view media.
In other words: 
They can simply click on a link and start watching a video. For example, if you click the embedded YouTube video below and it starts playing, that is video-on-demand at its purest:
Because VOD is streamed via the internet, it doesn't rely on cable or satellite connections like traditional broadcast television. If you have enough bandwidth, you can watch! 
This allows users to find and watch pre-recorded streaming content using any internet-enabled device.
Video-on-demand has 3 core advantages. It allows viewers to:
Watch at any time. Users can play content whenever they want. Unlike "linear" TV programming, which only broadcasts in real-time, VOD doesn't rely on a set schedule.
Control what they watch: Users have more opportunities to pick and choose what they watch, compared to traditional TV scheduling. 
Use media controls: Users can play, pause, rewind, fast forward, and completely control how they watch content. This way, they'll never miss anything important.
When you combine all of this, VOD gives audiences the freedom to view content in a convenient and accessible way. 
And there's so much out there to watch! You can find video-on-demand content at the core of all of these different types of content: 
Online tutoring. 
Lessons and classes (music, dance, specialized skills).
Fitness programs.
Music and sporting events.
Product demonstrations.
College courses.
Corporate team-building.
Podcasts and interviews.
Video-on-demand is an important part of lots of different modern-day business models – some of you probably use yourself every day. In fact, it has become even more valuable in the wake of the COVID-19 pandemic. 
In the next section, I'll take you through the 3 top VOD business models – and their acronyms – so you can see which ones people are using to monetize their video content.
Top 3 VOD Business Models 
Any video content creator can turn a loyal audience into a successful VOD business. To get you started, here are the 3 most popular ways to monetize your videos:  
SVOD (Subscription Video-On-Demand)
The SVOD, or Subscription Video-On-Demand, model gives viewers full access to a video library for a recurring monthly or annual fee.
These paid subscriptions give viewers all their favorite content on one platform with no ads or popups.  
The majority of VOD users prefer to spend money on subscription plans. The CMO Survey reports that viewers spend 65% of their time at home watching SVOD services.
This makes SVOD a reliable source of income for business owners. Some subscription services you probably recognize include…
Netflix
Amazon Prime 
Disney+
Hulu
…these streaming giants are great examples of SVOD. However, subscription models can work for any sized video business!
For example, Uscreen client BirdieTime built a wildly successful platform for people with a very specific niche interest – golf.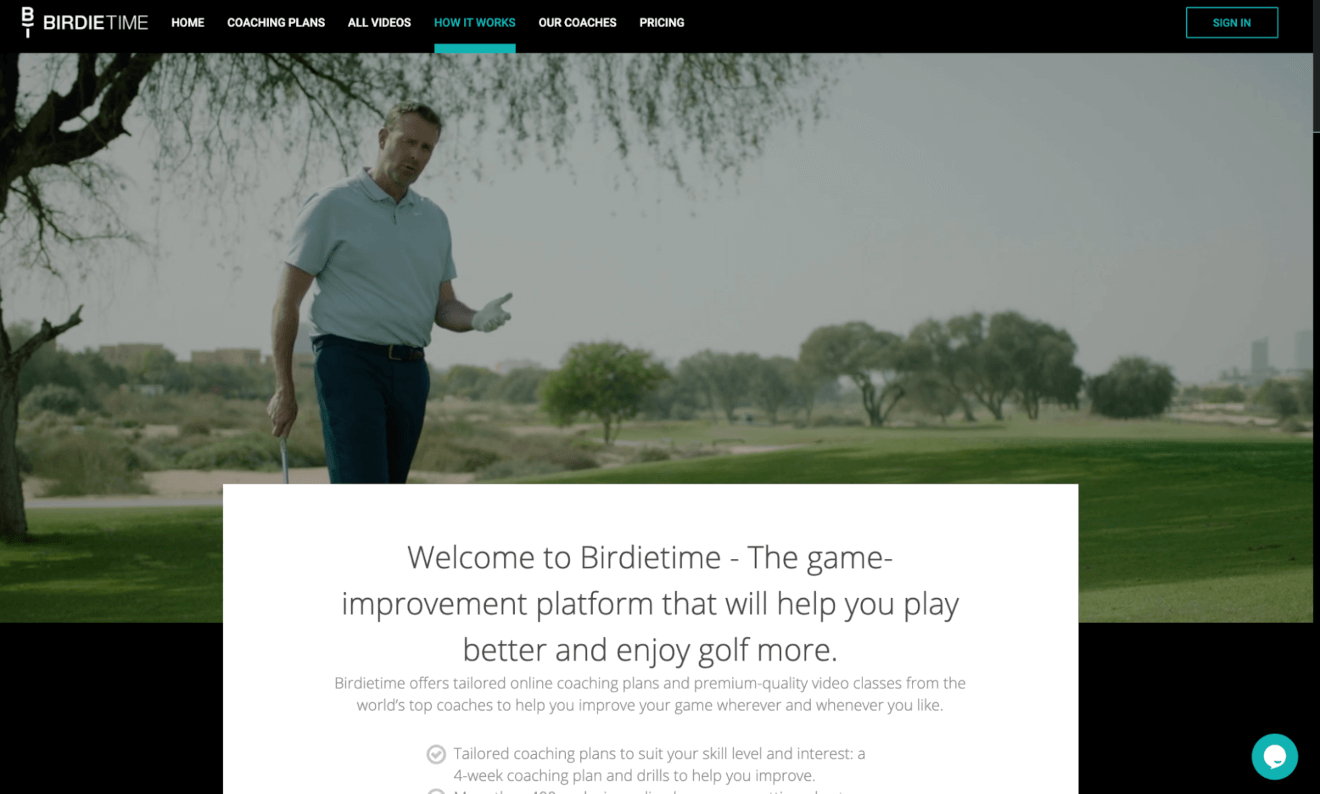 BirdieTime's video content includes training tips, newsletters, an exclusive social group, and tailored coaching plans. They also give members the option to pay monthly or annually.
Once they're in, they get unlimited access to all of the videos in BirdieTime's content library: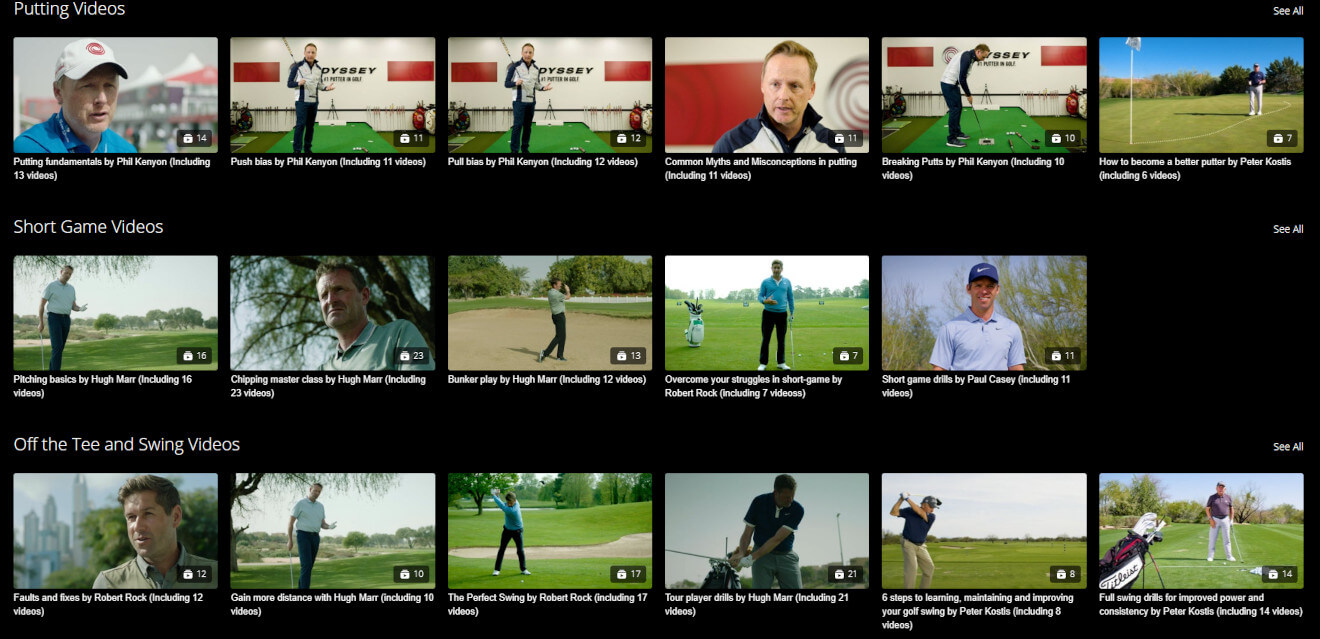 They can access this from their phone or tablet, so they're always only a few clicks away from a tutorial when they're out on the course or down at the range.
For more inspiration, check out this list of SVOD success stories from business owners like you!
TVOD (Transactional Video-On-Demand)
TVOD, or Transactional Video-On-Demand, uses a pay-per-view format. Customers make one-time purchases to access specific content. 
For example, buying full seasons or individual episodes of your favorite tv shows through Amazon Prime or iTunes.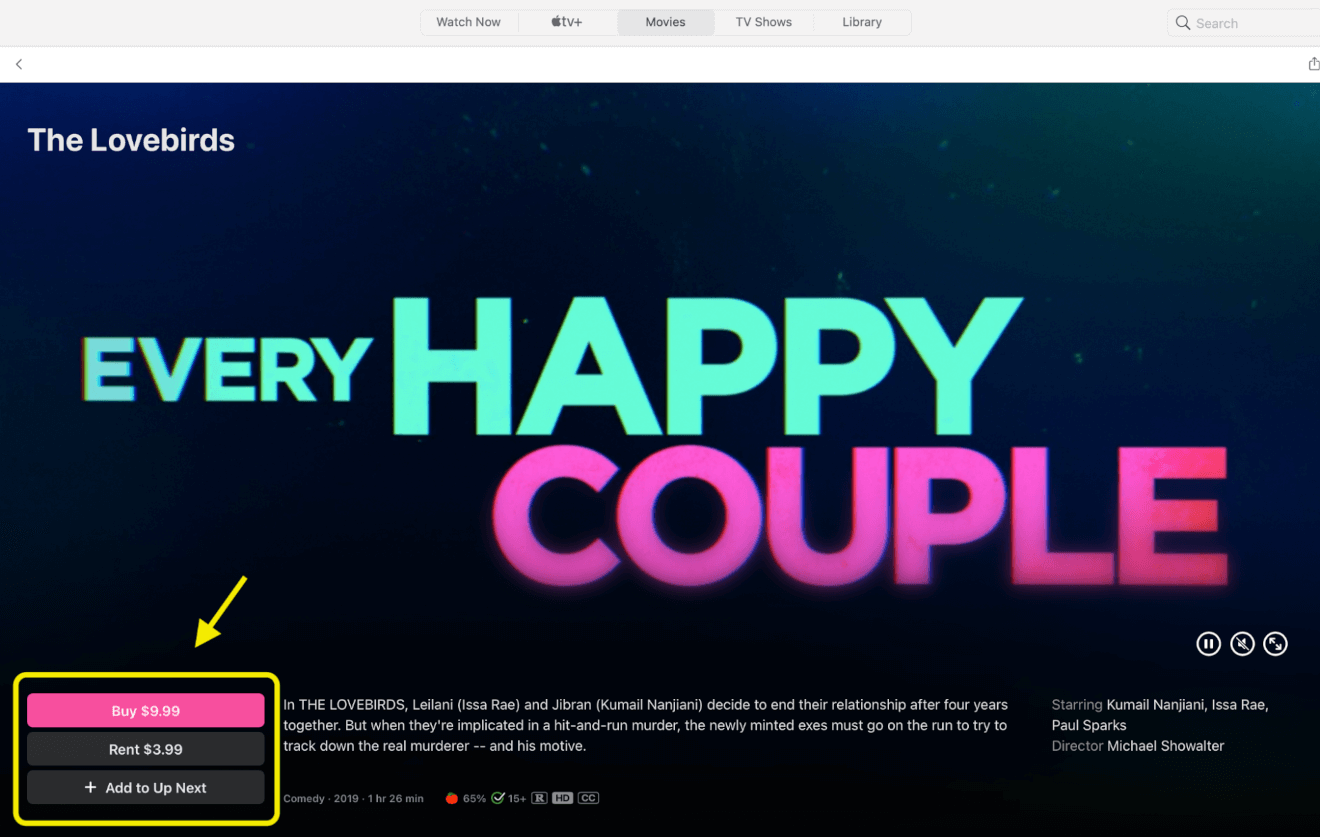 TVOD-based businesses can make more money upfront by charging a slightly higher fee per purchase. This is because they're usually focused on one-time transactions, and customers looking for these videos will pay a higher price for the specific video they want.
However, in this model TVOD businesses have to make sure the quantity of purchases stays high enough to earn a steady profit – and that can be hard work.
Our suggestion – use SVOD and TVOD together. Offering subscriptions and individual transactions give you an even higher earning potential.
For example, HighVibe TV features a pay-per-view category in addition to their SVOD bundles.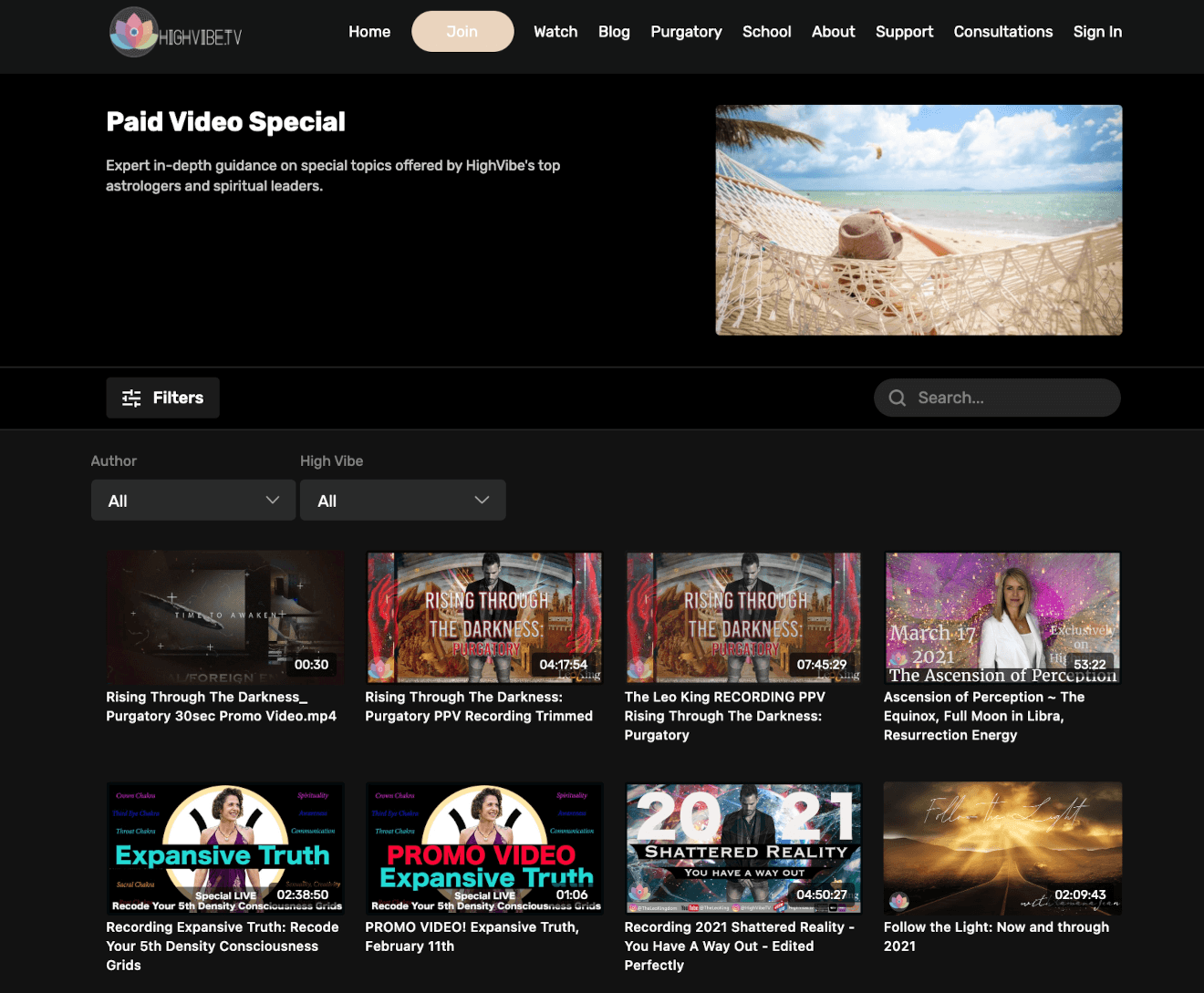 Customers can purchase one-time access to premium live streams and video specials (like buying a ticket to a concert) on top of their regular subscriptions.
It's the best of both worlds!
AVOD (Advertising Video-On-Demand)
AVOD, or Advertising Video-On-Demand, is essentially "free" for viewers because there's no up-front cost to watch.
AVOD revenue comes from businesses paying to advertise with short commercials throughout your videos.
For viewers, this is a familiar setup because it feels like cable TV,  where they tune in to watch shows for the "price" of watching ads. 
The platform that's been the most successful with this has been YouTube. You've probably noticed the ads that pop up before, during, and after videos: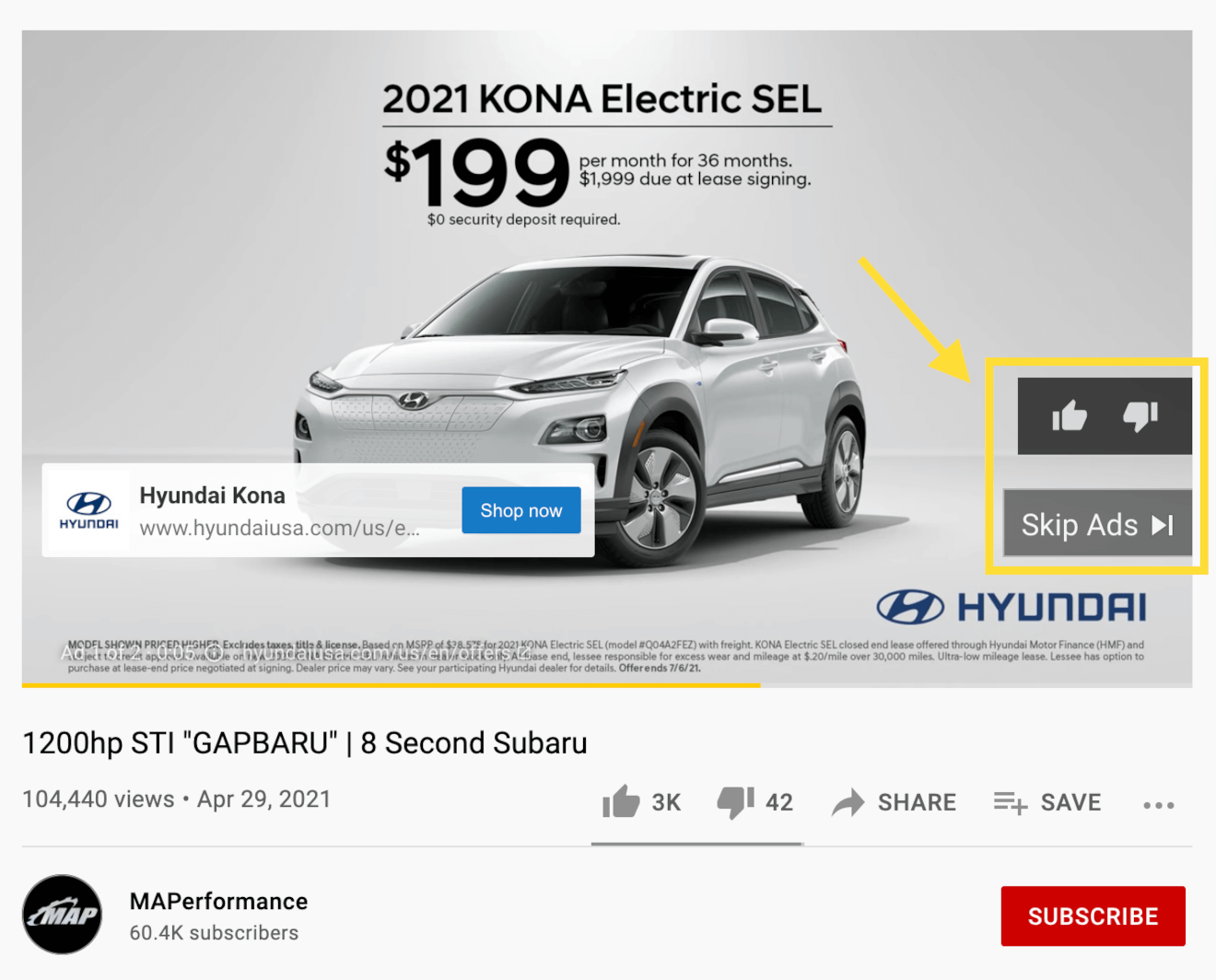 This was the default way to make money with video-on-demand and while some content creators make a good living, 96.5% struggle to monetize content using Youtube and other ad-based business models. 
It's a tough deal. Advertising means:
AVOD models can be rewarding, but might not fit your business needs in the long run.
Why is VOD Important in 2021?
In 2021, video has become the preferred method of consumer interaction and engagement. 
A staggering 82% of all consumer internet traffic will come from online videos by 2022.
There are several key reasons VOD has become such a necessity – let's break them down.
1. People Are Actively Seeking Out Video Over Other Forms of Content.
This year, more people than ever are searching for video. In fact, websites with video have seen their organic search traffic increase by 157%.
This is because people actually find videos more engaging and informative than other types of content. In fact, A 2020 study by Wyzowl found:
72% of customers would rather learn about products or services through video.
Viewers understand 95% of a video explaining a product or service (as opposed to understanding 10% when reading explainer text.) 
65% of people prefer to watch a video to solve a problem.
We're not saying that other forms of media aren't important (we're literally writing this in a blog post!) but, video continues to grow in importance for audiences everywhere.
2. People Want More Choice and Control Over What They Watch. 
Many people are cutting ties with cable service providers and signing up for streaming services instead. This is known as cord-cutting and people are doing it in millions! 
It's because VOD gives audiences the flexibility and functionality to watch exactly what they want, when they want. 
In fact, 77% of Americans report being happy with the flexibility and options of VOD, as opposed to only 34% of customers who are satisfied with their cable subscriptions.
VOD simply offers more for customers, especially now that they can watch content previously only available with cable, like live sporting events.
That's why the number of streaming video memberships surpassed cable memberships for the first time in 2018 – and why more people are continuing to get rid of their set-top box and move to video streaming. 
3. Video Creators Can Bypass "Gatekeepers" and Deliver Their Content Straight to Engaged Audiences. 
Video-focused businesses can now operate on their own terms.
Video entrepreneurs used to be ruled by "gatekeepers" – or, people and companies who control how (and even if!) your content gets created. For example, a TV network executive who decides whether or not they'll film your idea for a show.
Now, anyone with an internet connection, a camera, and a good idea can make money on video by creating and distributing content on their own.
4. VOD Costs Less than Cable and Satellite, While Giving You More of the Content You Want to See.
The average price for cable is about $217 a month – that's over $2600 a year! Plus it comes with pricey extra fees, such as equipment rental. 
By comparison, VOD services are a bargain. 
Viewers don't have to pay for expensive cable bundles that include tons of shows they don't want. Instead, they can pay less per month for subscription plans they're actually interested in.
Some of these cost-effective services include:
| VOD Service | Pricing |
| --- | --- |
| HBO Max | $15 / month |
| Netlix | $9 – $18 / month |
| Disney+ | $8 – $14 / month |
| Amazon Prime Video | $9 / month |
| Hulu | $6 – $12 / month |
| AppleTV | $5 / month |
| Discovery | $5 – $7 / month |
| Peacock | Free – $10 / month |
These prices mean that even if you're paying for multiple VOD subscriptions, it can still add up to less than a monthly cable package – and get everything you want to watch.
Seems like a win-win to us!
A VOD Timeline: How Has It Grown and Changed Over the Years?
In 2016, VOD was gaining traction, but wasn't quite the powerhouse it is today. Only about 49% of US households were regular VOD users.
Then, when the pandemic swept the world in 2020, VOD suddenly became a service people couldn't live without.
Public lockdowns drove attention online as people searched for ways to occupy time and fulfill basic needs from home. Video-on-demand was the answer.
But VOD was a great resource before the pandemic too – COVID just created more awareness and more demand. 
COVID didn't introduce new trends to entertainment, but it did accelerate what was already happening.

Jim Wuthrich, president of Warner Bros. Home Entertainment
Audiences soon realized many of their favorite activities were readily available online in an easily accessible video format, such as:
Fitness: Using fitness video programs to stay in shape at home.
Live Events: Attending streamed events like concerts and lectures.
Education: Using video courses to fit learning new skills into a busy schedule. 
And video-on-demand options continued to expand as the demand for content grew. Businesses struggling due to the pandemic realized the long-term value of VOD and began to shift online as well. 
Many, like TedXCambridge, adapted their services to include streaming video.
Others found that video gave them a completely new way to monetize their business. 
For example, Humming Puppy Yoga created an online yoga service after COVID forced them to shut down their brick-and-mortar locations.

In the process, they found that their online business was more flexible and scalable than in-person classes. They now plan to scale their business with their new worldwide virtual audience.
You can grow your business with VOD too! And trust us – you'll be glad you did.
Why?
Because the demand for video is predicted to keep increasing long after lockdowns are lifted and the world returns to normal.
Take a look at this growth forecast: it shows that VOD users worldwide are predicted to rise from 1.5 million in 2020 to 2 million by 2025.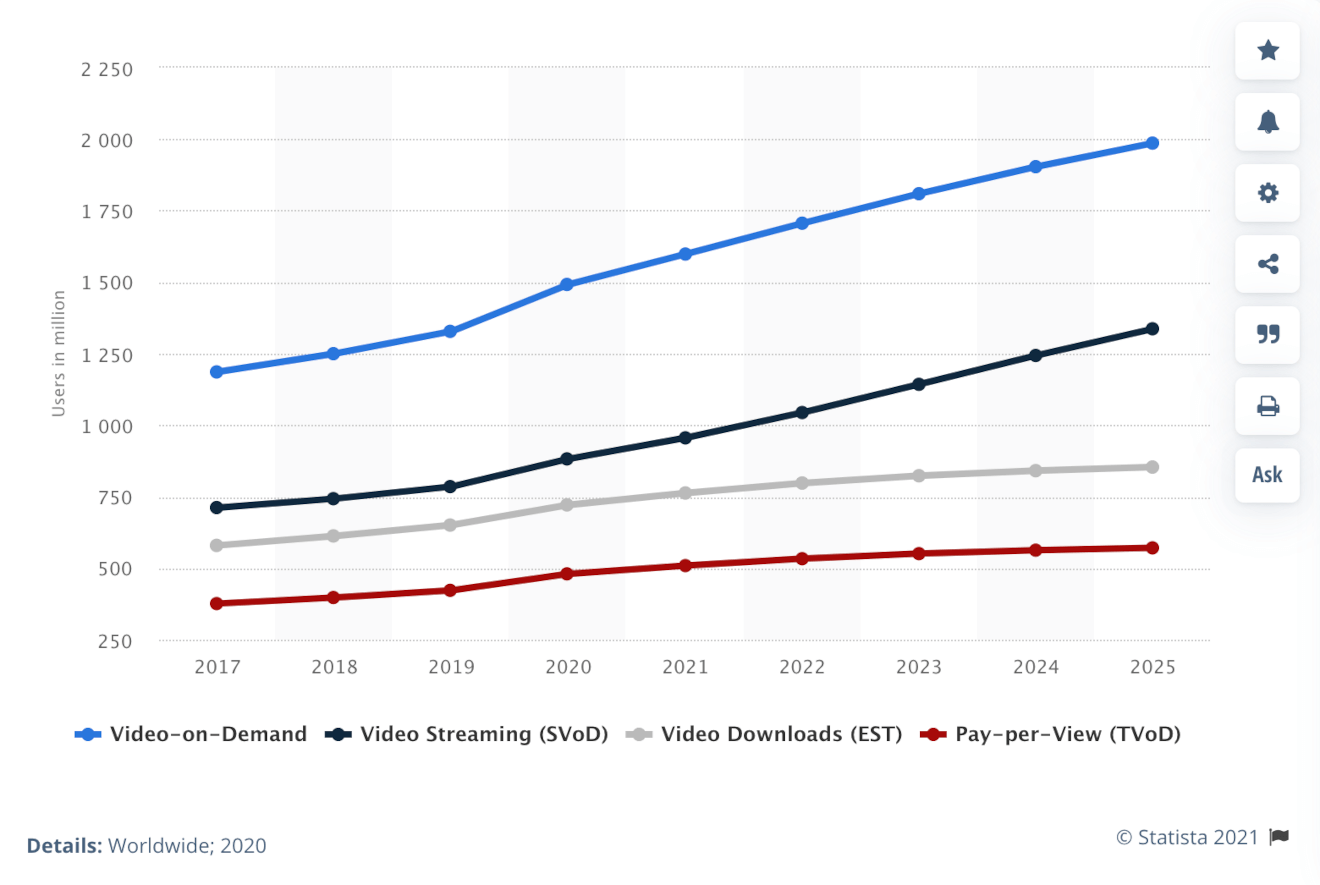 Image Source: Statista
That's a full 25% increase in just 5 short years! And that number will continue to rise as viewers and businesses find more ways to use streaming video every day.
In other words – Video-on-demand has always been important – the pandemic just got the ball rolling. 
VOD is here to stay!
Live Streaming vs. VOD
"Going live" is the most true-to-life form of video and a great way to connect with your audience.
Live streaming's popularity is through the roof right now, so anyone in the business of making video content should know about it – starting with the fact that, although it is video, it's not strictly VOD.
Let's talk about where live streaming fits into the video-on-demand world, and how you can use both forms of content to grow your business.
What Is Live Streaming?
Live streaming is video being streamed in real-time – which means users have to tune in and watch in real-time as well. It's not pre-recorded or edited, so the broadcast shows what's happening right at that moment. This makes it more interactive and emotional! 
Content creators can reach out to audiences by live streaming:
A behind-the-scenes look at your business or daily routine.
Q&A session.
Tutorials (makeup, yoga poses).
Skills demonstrations (cooking, eLearning).
Tips, tricks, and advice.
Webinars.
Basically, live streaming can give anything you already talk about some extra impact. Also, including a live chat is always an added bonus because it lets you build relationships by interacting directly with your viewers.
Because audiences feel such a strong connection to live streaming, some businesses are built purely around live content. 
For example, PTZtv One broadcasts 24/7 landscape views for subscribers who need some soothing scenery in their lives.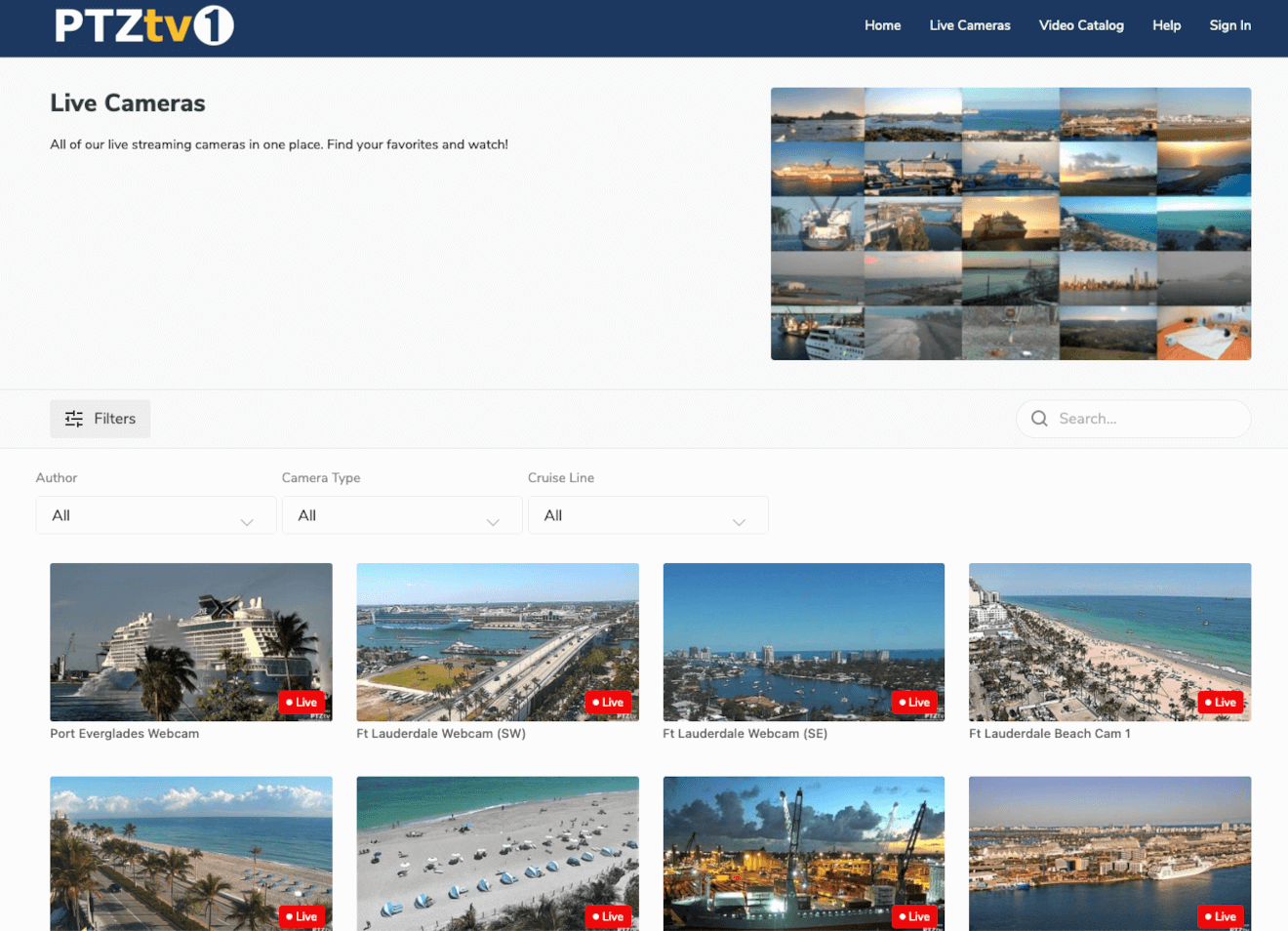 Others use live streaming as a marketing device to create excitement for:
announcements and business news
exclusive new content
product demos
press releases
real time-information updates
…and anything else you want to promote. 
Take Bobbi Brown National Makeup Artist Jaime Perez, who uses Instagram Live to stream tutorials to generate buzz for upcoming events.
What's the Difference Between Live Streaming and VOD?
The difference between live streaming and VOD content is how users interact with them.
VOD content is all pre-recorded and pre-uploaded, so the user can choose to pause, rewind, fast forward, and control how they watch it.
Live streaming is broadcast in real-time, so viewers have to be there right on schedule. (However, they could watch a "live stream replay" on-demand at a later date.)
While live streaming content can be included as part of a bigger VOD service, it's not technically video-on-demand because the user can't control playback. (You can't fast-forward real life! Trust me. I've tried.) 
How Live Streaming and VOD can Work Together to Help Your Business Grow
Both VOD and live streaming serve important purposes:
VOD offers viewers their favorite way to watch their desired content.
Live streaming engages your audience and makes you more relatable.
Together, they're the whole business package: live streams and video content help viewers get the most out of your service by giving them different ways to interact with it.
For example:
Unicorns.LIVE offers subscribers access to their full VOD content catalog and all scheduled live stream events. 
Viewers who enjoy the live streams can watch pre-recorded content from the same artists in the VOD library – and vice versa! 
With live streaming and VOD options, Unicorns.LIVE gives viewers more choices and more ways to watch – and that's what on-demand video is all about. 
For more ideas, check out these live streaming business trends for 2021! 
The Future of VOD
Statistics show that the demand for video will continue to grow – in fact, 99% of marketers plan to devote more money to video in the coming years.
It's not surprising because video-on-demand fits our modern lifestyles perfectly. In 2021, audiences need convenience, choice, and speed. VOD gives us all that and more. 
Stay Ahead of the Curve
The best way for businesses to grow is by quickly adapting to market trends and VOD is a big one.
Think about it this way – you want to rank higher than your competitors in everything, including the services you offer. 
So stay on the cutting edge by using popular video strategies, such as:
Personalization: use audience analytics and reach out to your viewers to learn what types of video they want more of.
Mobile use: optimize content for people who are watching from their mobile devices (that's where over 75% of video is consumed.)
Quality: your video has to add value. 
Check out these expert video tips for presenting your content in a way that looks good and is unique to you. 
Adapt Your Strategy Now to Thrive In the Long Run
The key to business longevity is being aware of what your customers want. 
Since video is so attractive to consumers, find a way to make it part of your long-term plan, even if your business isn't based on video creation. 
If you're not sure how to fit VOD into your business, we've got you. Here's our guide to monetizing videos in any industry.
How Launching an Independent VOD Platform Can Take Your Business to the Next Level
Monetizing your VOD business is most successful when you've got your own website (and associated OTT apps!) These services can help you reach a wider audience and set you apart from the competition.
Luckily, for broadcasters and business owners who enjoy creating regular content, monetizing your on-demand content is as simple as choosing a new distribution platform. 
Here's what launching a paid video streaming platform can do for you.
Grow Your Revenue and ROI
The most well-known VOD systems (such as Youtube and social media) offer limited resources for content creators to generate revenue. 
They're great marketing tools for getting your name out there, but they ultimately don't provide a steady stream of income. 
For example: 
Naturally Sassy's founder Sassy Gregson had tons of video subscribers on Instagram and Youtube: but unfortunately, that didn't translate into a great paycheck. 
After launching her VOD service with Uscreen, she was able to put all her videos together in one place and offer paid memberships with access to a wide variety of content.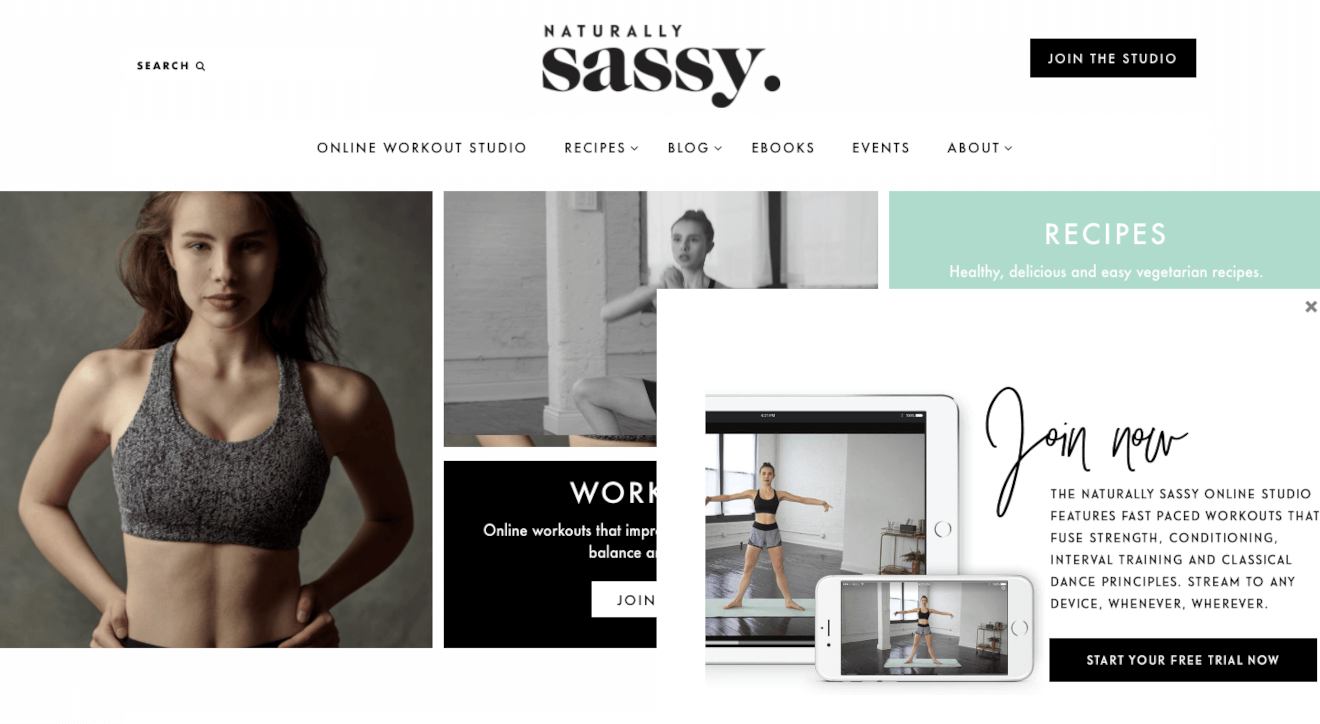 Just 6 months after launching her video streaming service, Sassy gained several hundred paid subscribers – and her take-home revenue is still growing!
The big lesson here is that an independent platform is worth it. People want to pay you for valuable content when it's easy, accessible, and convenient.
Build Your Brand
Set yourself up for success with professional-looking websites and apps. Great presentation goes a long way. 
You probably wouldn't show up to an important interview wearing dirty pajamas, right? You'd put on your best outfit to make a good impression.
Well, your video-on-demand service works the same way. A sleek, organized, and easy-to-use VOD platform makes customers feel good about paying for it.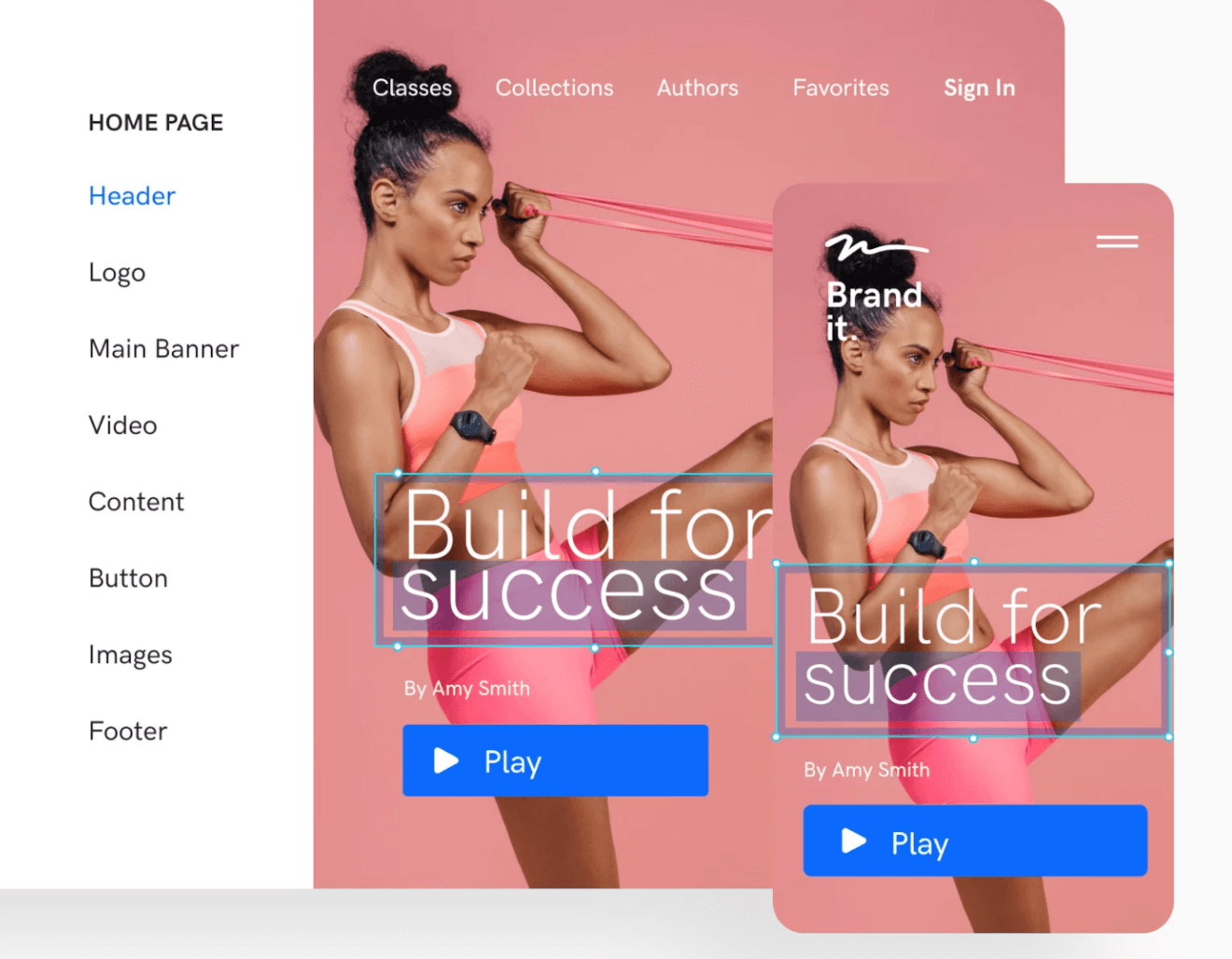 Uscreen helps businesses create top-notch branding. Make your website and apps stand out with:
Attractive layouts.
Custom color schemes.
Music & sound effects.
Graphic design.
OTT Video Streaming Apps
In 2021, you can't talk about VOD without talking about OTT apps.
An OTT app, or over-the-top application, is an app that broadcasts content to any smartphone, tablet, or smart TV.
We highly recommend using an over-the-top format to distribute your content. OTT apps offer a host of important features that can significantly increase the quality of your service.
Let's explore OTT apps and why they're a great choice for professional video brands.
What Do OTT Apps Offer? 
OTT apps allow businesses to bring their VOD content and live streaming to mobile devices and TVs. They're most commonly used on iOS and Android devices. 
Any VOD business can operate with just a website, but the ability to also watch via phone, tablet, or TV means users always have access to your content, no matter where they are. 
Tint Yoga knows it's an important selling point, so they let users know about their apps right on their homepage.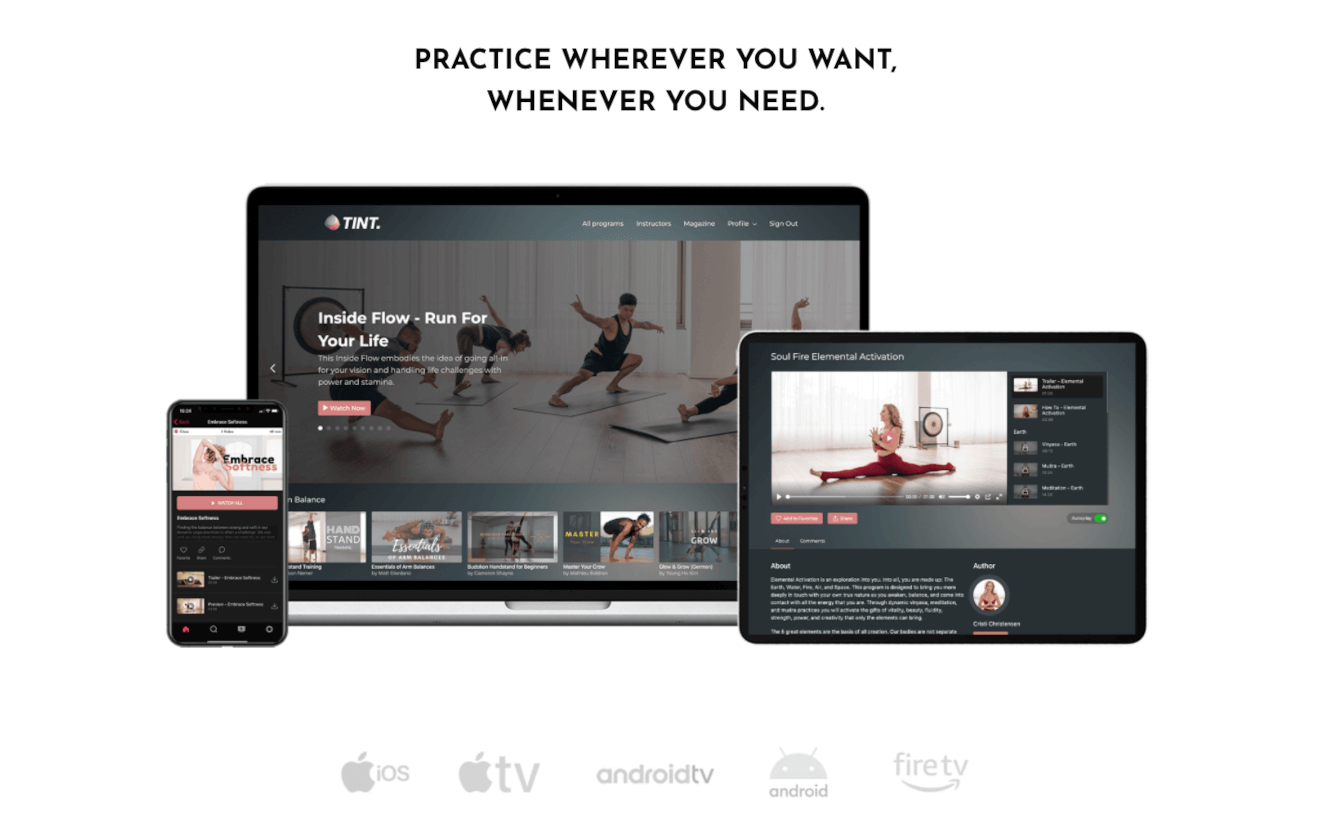 Why Are They Important For My Business?
Your business needs over-the-top apps for one simple reason – paying customers expect to get the most for their money. This means being able to watch content everywhere. 
Combine that with the fact that 78% of all streaming viewing hours in the US are on TV and mobile devices, and you'll see why OTT apps are a great idea.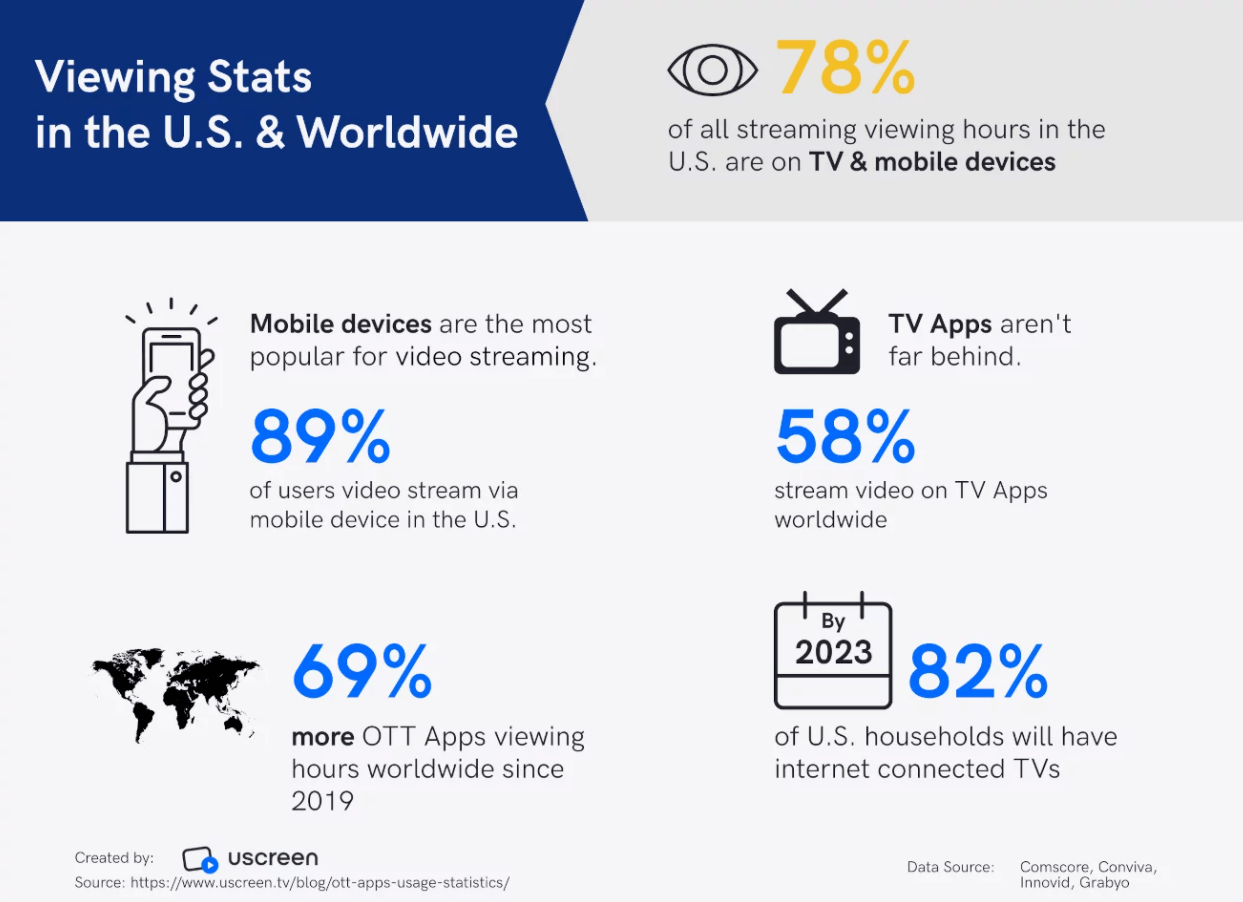 Viewers are constantly switching between devices and OTT apps give them easy access to your content on each one. 
I Want Apps. Where Do I Start? 
If you want to offer the highest quality service and customer experience, you'll want to include native apps in your lineup. 
However, there's a catch – each device using a native app needs a unique interface. 
While OTT apps are incredibly useful, they can be difficult (and expensive) to develop on your own. Unless you've got serious street cred in tech development, you'll likely find it more difficult to create a professional-grade mobile or TV app than a website.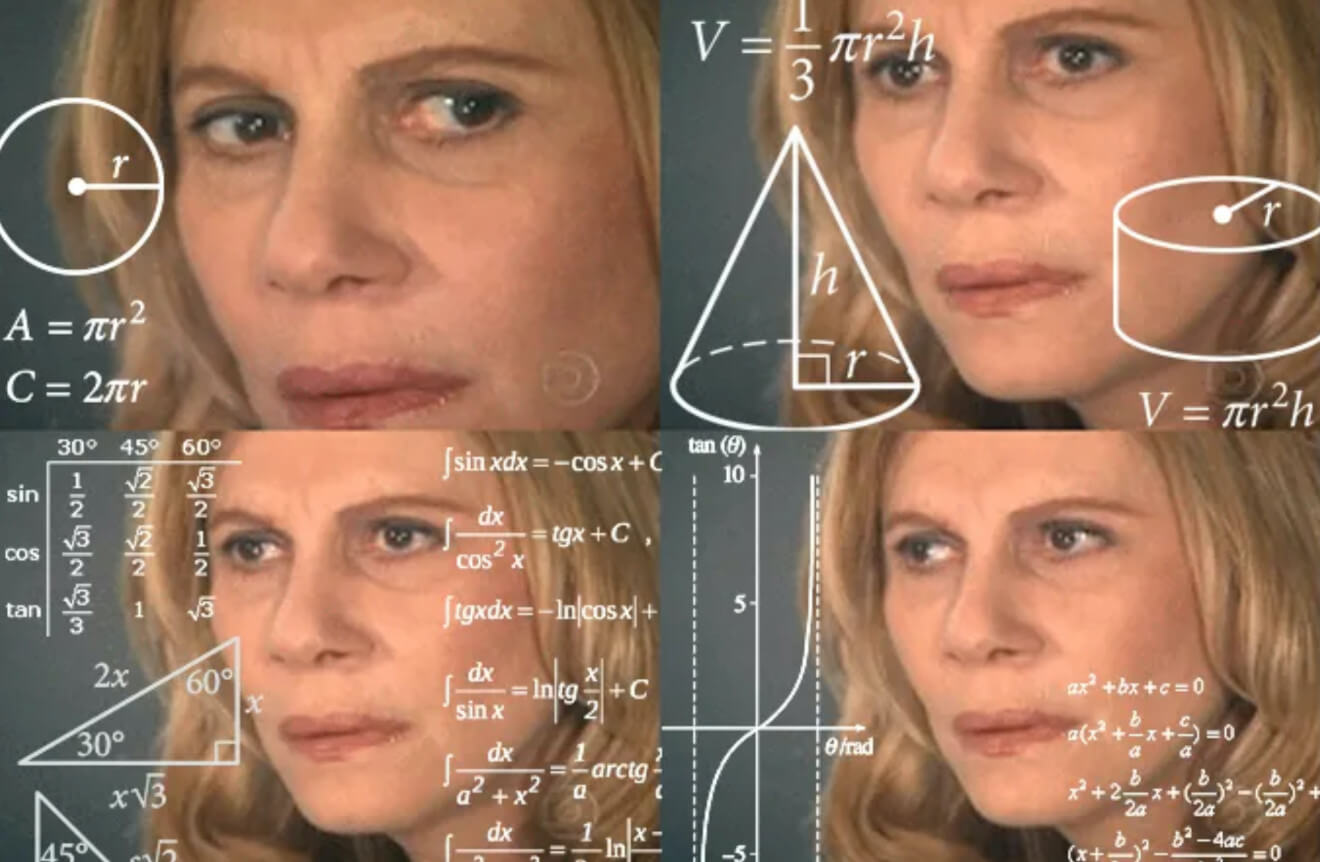 …if you're anything like us, you'll want to leave that to the pros.
So! You could hire a developer, OR…
Save time and money by investing in a distribution platform that can create customized apps for you. 
There's plenty of options – and no matter which format you decide to use, VOD and OTT services can open up a whole new world of monetization possibilities.
Tips for Starting a Successful VOD Business
Whether you're a professional content creator considering a video-based business or transitioning your company online to keep up with the times, streaming video can work for you.
Here are our best starter tips, followed by some inspiring ideas for using video in your business.
1. Build A Strong Video Library
Have a solid library of video content established before you start promoting your service, especially if you're planning on using a subscription model.
There should be enough content that people feel it's worthwhile to invest in.
2. Create Your Own VOD Website and Apps
Set up a VOD streaming site and apps that are easy to monetize and don't rely on ads. Upload your full content library and start monetizing!
With Uscreen, you can also offer live streaming as part of your business model, and engage with your audience in real-time via live chat. 
3. Add a .tv Domain
If your business is focusing exclusively on paid video content, you can make your entire site a .tv domain. If you're adding it as an extra service, you can create a designated .tv domain section of your main site.
4. Keep Up With Your Content
Consistently work on adding new material, and let users know as soon as it's ready to view!
Yes, a few core videos could theoretically yield endless ROI…as long as you have new users who haven't seen them yet.
Sourcing feedback from your audience is a great way to develop new content ideas – it'll help you give them exactly what they want.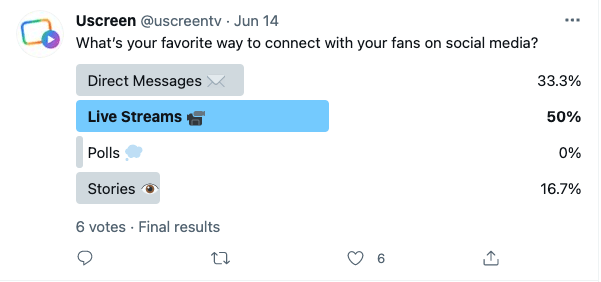 If you want to hold on to subscribers and/or keep previous visitors coming back to your site, you need to continue to upload great content on a consistent basis. 
Letting viewers know upfront before they even subscribe that there will be plenty of frequent new additions is an excellent selling point, especially for SVOD subscriptions.
Bonus Tip: Promote!
If your video content is locked up behind a subscription wall, make sure that you offer just enough to entice users to sign up. 
Consider offering complimentary free videos that will encourage them to sign up for more. 
Take iChuze Fitness: they advertise a 7 day free trial on their homepage, giving users a chance to fully explore their service.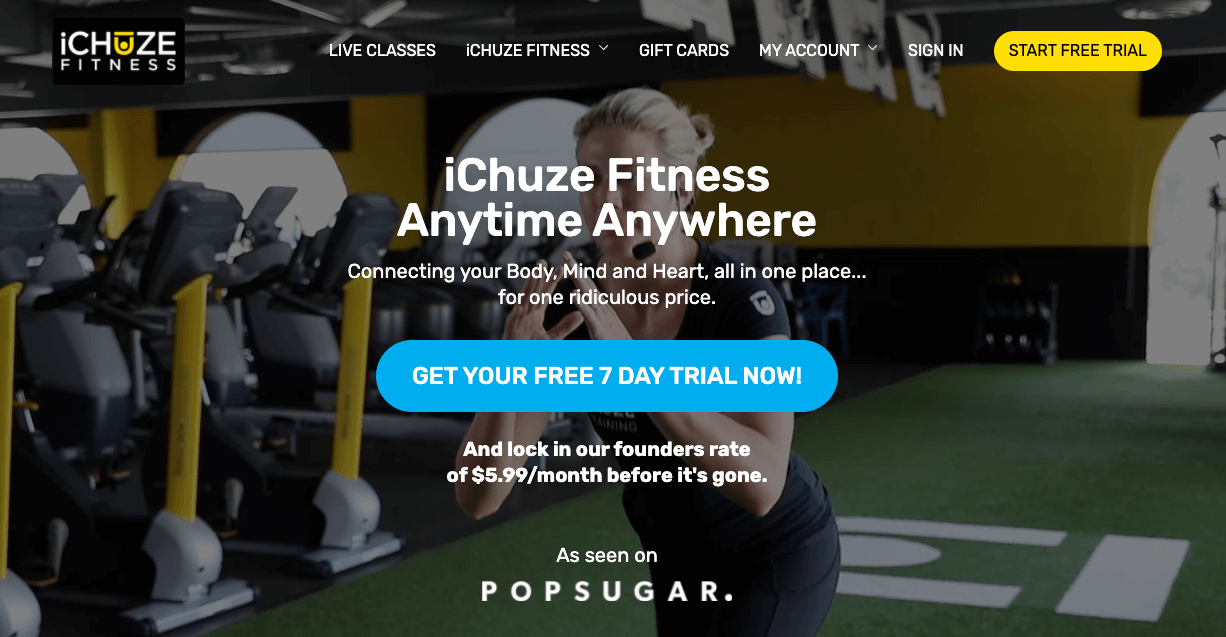 You'll also want to rely on more than just SEO to get users to your site. It helps to…
run ads
post short snippets of content
spread links to your service
…in other virtual communities where your subscribers spend time (like Facebook or Instagram.) This part requires getting to know your audience and their viewing habits.
How Do I Get to Know My Audience?
Uscreen offers analytics features to help you find out where your viewers are coming from. You can also utilize free services from Google Analytics and AdWords. 
Some questions that will help you reach your audience include:
Where do your customers watch videos?
What kind of videos do they search for?
What VOD platforms do they already use, and why? 
Knowing how and where to promote your videos is a must for any growing VOD business.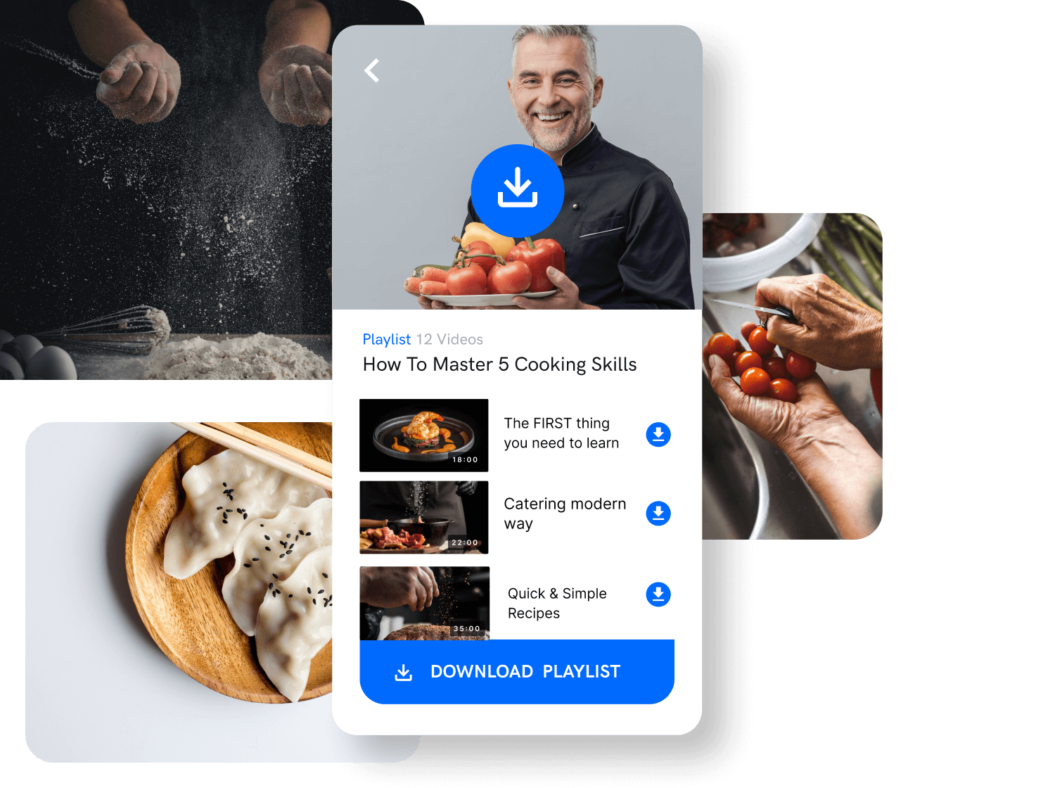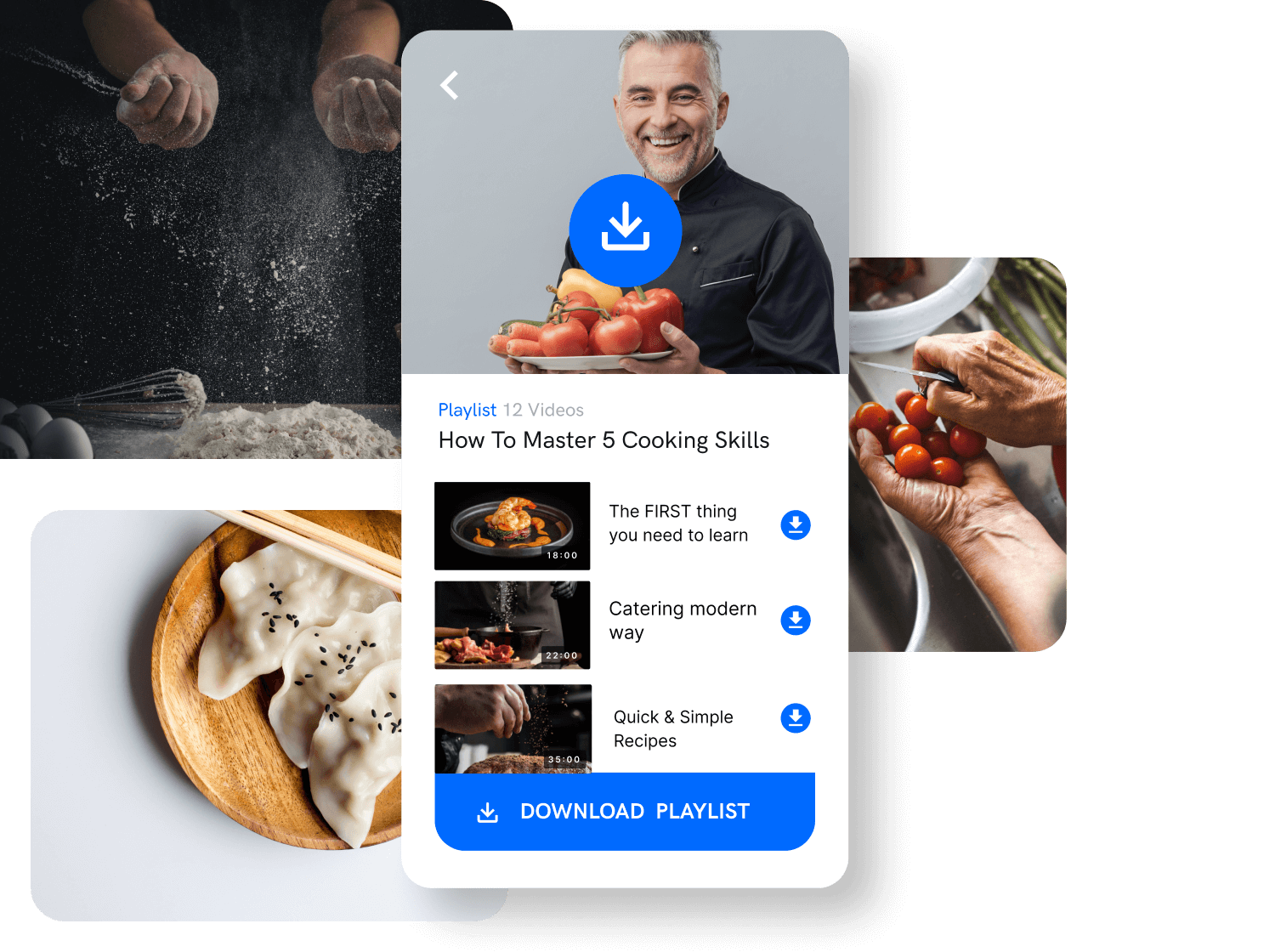 Start your 14-day free trial today!
Conclusion
You made it through! We're glad you stuck with us.
We know there's a lot of information to cover – but VOD can change your business for the better, so we think it's worth the read.
To explore more options, get in touch with any of our awesome VOD specialists. We'll answer all your questions and even walk you through a free demo.
It's a good time to re-introduce yourself – with video-on-demand.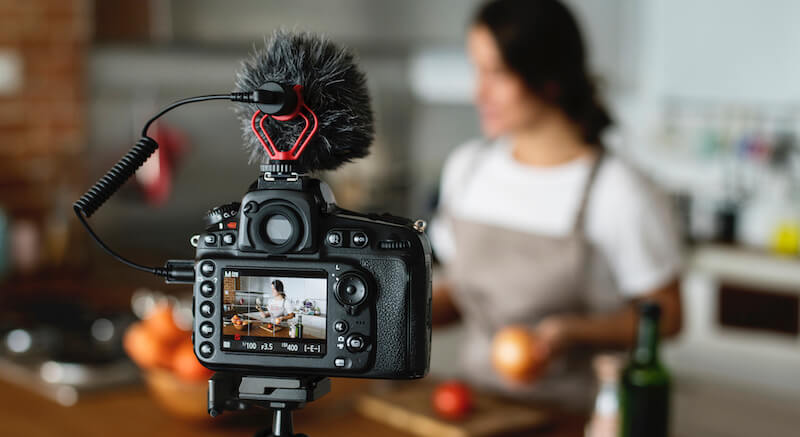 How to Sell Videos Online and Make Over $5k a Month (For Real)
FAQ
1. What is VOD in streaming?
VOD stands for Video-On-Demand and is a way of consuming video content stored in online libraries. Unlike traditional broadcast television, videos are pre-recorded and uploaded to an online catalog so audiences can access them at any time, from any compatible device. VOD also allows users to control playback with features like "pause" and "rewind."
2. How does OTT streaming work?
Over-the-top (OTT) refers to streaming services and content (like Netflix) that stream to users through the internet, instead of a traditional broadcast system. OTT can be streamed on any digital device. The term "over-the-top" means that the platform can bypass (or "go above") a traditional cable box.
3. How can I watch OTT on my non-smart TV?
If your TV doesn't support apps on its own, you can use a media player such as Roku, AppleTV, or Amazon Fire to watch Over-the-top content. These devices plug directly into your TV and connect to the internet, allowing you to access all your favorite OTT apps and services.
4. Is HBO Max similar to Netflix?
Yes – HBO Max and Netflix are both SVOD (Subscription Video-On-Demand) services. They charge a monthly subscription fee for audiences to log in and access an entire library of video content, including movies and TV shows. HBO Max and Netflix have different price structures and different content available, but they are the same type of service.
5. Why is OTT important?
Over-the-top changed the way people consume media because it gives the viewer freedom over how and when they watch. Instead of being tied to linear television programming and expensive cable packages, OTT services let users choose exactly what they want to watch – and watch on any compatible device at any time. This means people can view content on their schedule using smartphones, laptops, and tablets, in addition to an internet-connected television at home.
The post The Complete Guide to VOD (and Why Your Business Needs to Be Using It) appeared first on Uscreen.