Adding music to your video makes for a more engaging media experience. And there are lots of places you can find free background music for videos online—you just need to know where to look.
We've collected nine of the best sources of royalty-free music for video editing here. This isn't an exhaustive list, but it should be enough to get you started!
Before we jump into the list, though, let's talk about free music licensing.
Licensing Music for Video Editing – How it Works
The world of music licensing is a complex one, and it's difficult to navigate. But it's important to understand your rights when you download a piece of music so you don't find yourself in legal trouble.
In general, it's better to err on the side of caution. If you're not totally sure whether you can use a particular piece of music for your video, get in touch with the artist and let them know what you're thinking of doing. They'll tell you if it's alright or if you'll need written permission.
Most of the music you'll find on the sites listed here are offered under a Creative Commons license, which means you can download and share them freely. But there are many types of Creative Commons licenses, each with specific requirements.
Here are five that you'll see often:
CC0: Completely free. You can download, use, remix, share, and do anything else you want with this track, and you don't have to credit the artist.
CC-BY: Attribution. You can use this however you'd like, but you need to provide an attribution link to the original artist.
CC-BY-SA: ShareAlike. With this license, you need to make anything that uses the piece of music available under the same license.
CC-BY-NC: NonCommercial. The track can't be used in anything that's intended for monetary gain, including monetized YouTube videos, without written permission from the artist.
CC-BY-ND: NonDerivative. You can't put this track in a video without written permission from the artist.
There are other Creative Commons licenses as well. Wikipedia has a useful list that includes the seven most commonly used CC licenses and other less common options.
Your best bet for safely using music in your videos is to only use CC0 or CC-BY licenses. With CC-BY, you'll need to credit the artist. If you're using a license other than that, it's a good idea to carefully check the requirements.
When in doubt, get in touch with the artist. It's not worth waiting and dealing with the inconvenience later after you've used the track as background music for your video.
With that out of the way, let's take a look at the nine best places to find high-quality royalty-free background music for videos.
Suggested Reads: 3 Really Easy Ways to Add Music to Any Video
9 Places to Find Royalty-Free Background Music for Your Videos
Let's go!
1. Free Music Archive
The FMA works with artists, curators, radio stations, and Creative Commons enthusiasts to offer a huge selection of free stock music. It was founded by the non-commercial radio station WFMU, and is one of the driving forces behind free music on the internet.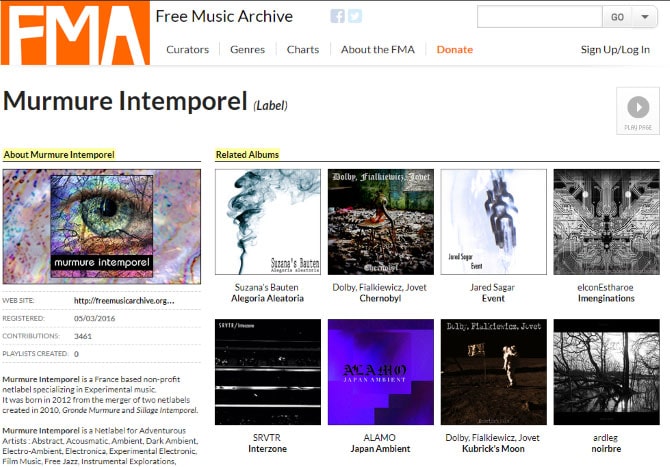 To give you an idea of just how many songs are available, I looked at electropunk, a relatively obscure genre compared to most of the others on the site. Despite being a niche genre, there are over 600 music tracks available.
On the other side of the spectrum, ambient electronic includes almost 7,000. FMA lists sixteen different main genres, from spoken and instrumental to hip-hop, rock and blues. Each genre has numerous subgenres listed to help you find what you're looking for.
Most of the music offered on this site is available under Creative Commons licenses of varying types, but some use an FMA license that only allows personal downloading and listening. So be sure to take a close look at any song you're interested in.
2. dig.ccMixter
If you're interested in trying your hand at creating your own mixes, ccMixter is a great place to start. Musicians upload tracks, and vocalists upload acapellas. You're free to mix them how you choose (or use them individually).
dig.ccMixter is a subdomain focused entirely on music, so it's a great place to check out music for videos. Music is available under an attribution license, so you're free to use it for whatever you want as long as you give credit to the artist.
You can find thousands of tracks here, but it can be hard to navigate at first. Your best bet is to use the tag search, which opens up a list of tags that you can narrow tracks with. There's even a "music_for_video" tag!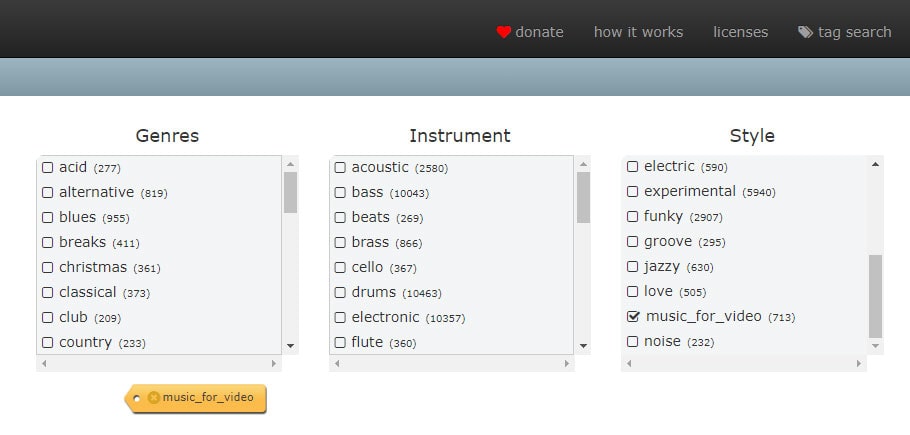 If you're interested in using music for non-Creative-Commons uses, you can check out TuneTrack, a related site that offers royalty-free music without attribution for a fee.
3. HookSounds
Even though HookSounds has subscriptions and licenses for all kinds of content, they also offer a Use & Mention license for non-commercial use, which is for free. It is a good option if you are looking for original music, but unfortunately, not everyone can use it.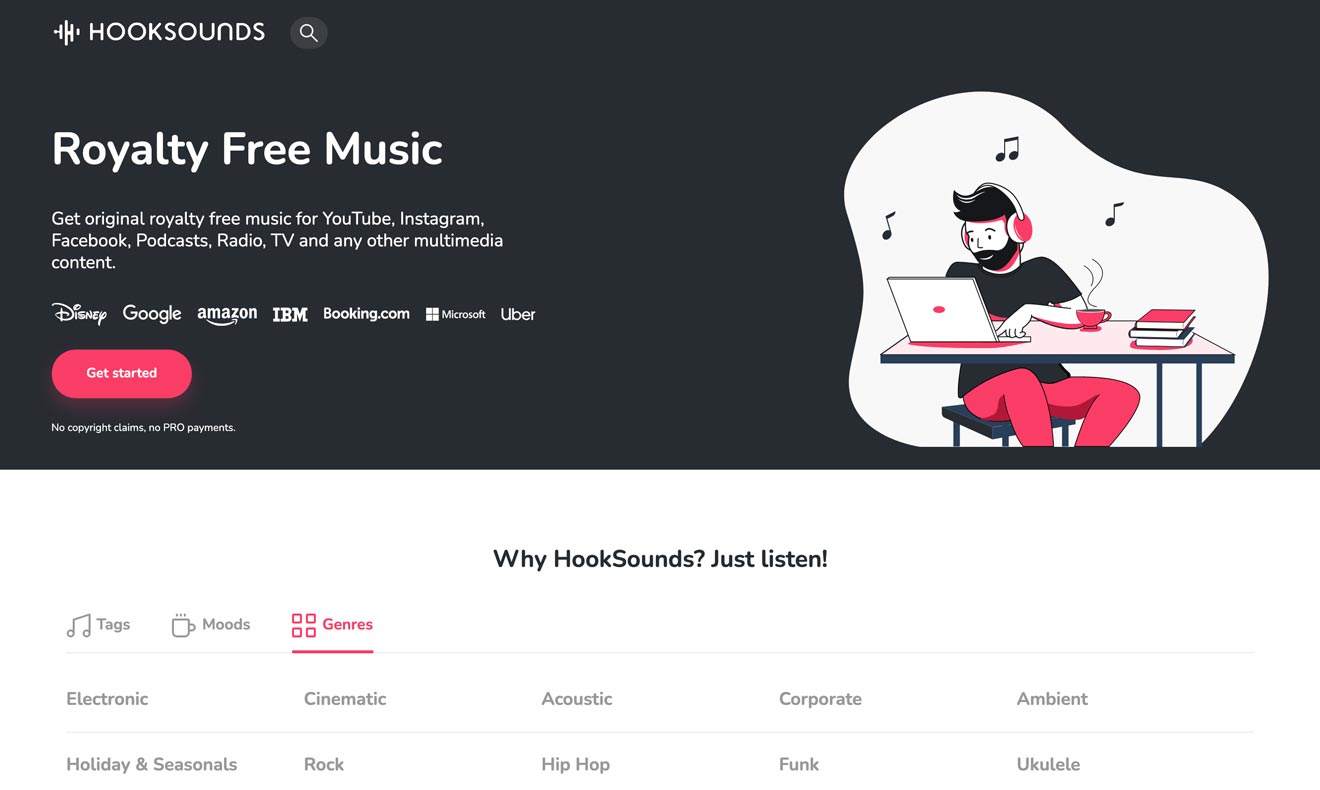 There are certain criteria you need to meet to avoid any copyright infringements, and here is where it gets more complicated. To use HookSounds' music for free:
You can't monetize your content. Therefore, if you are posting a video on your YouTube channel, you can't place ads or sponsored content. In general, if you are earning money from your content, then you will need a paid license. Otherwise, if it is for a personal video project, for example, you are eligible for the free Use & Mention license. 
The content has to be for personal use only, therefore if you are a freelancer or a business you won't be able to use it. If you are a student or an Instagrammer posting videos like reels or IGTV that aren't sponsored, then you are all set for this license.
You must give attribution to HookSounds by crediting them on the description of your video or tagging them on social media. The credits must include the website's link.
You will have to meet the three criteria, otherwise, you will risk getting copyright notices or your video being demonetized. We recommend you keep a close eye on the terms regarding the Use & Mention license to avoid getting any problems once you have published your video or podcast. 
Another thing to keep in mind is the tracks that fall under the Use & Mention license are the ones not tagged as Premium. There are around 1000 tracks that you can use for free at HookSounds. The good news is that they constantly update their library, so that number is for sure increasing. 
4. FreeSound
While the interface isn't as modern or intuitive as other options, you can find a lot of music on FreeSound. But you can find other things too, like sound effects, noise, people talking, and natural sounds.
No matter what kind of sound you need, there's a good chance you can find it here.
The site's tag list is the best way to navigate: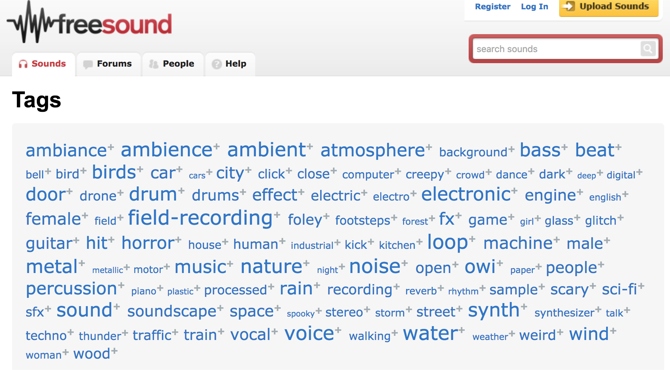 You can also use the search bar if you have an idea of what you're looking for.
Each sound has an image associated with it, displayed on the category page, that tells you the type of license it has. Many include CC-BY licenses, but there are a few CC0 and non-commercial options as well.
And if you're interested in music editing, there are tons of instrument samples that you can piece together to create your own track.
5. Incompetech
Though it lacks the tens of thousands of songs present on FMA and ccMixter, Incompetech makes it easy to find what you're looking for and provide attribution. Everything on the site is available under a CC-BY license, so you'll just need to provide a link back to Incompetech when you use it.
Incompetech's filtering tool lets you select a number of criteria to narrow your selection. Choose a feel (like "aggressive," "grooving," or "mysterious"), tempo, genre, length, or any combination of the two: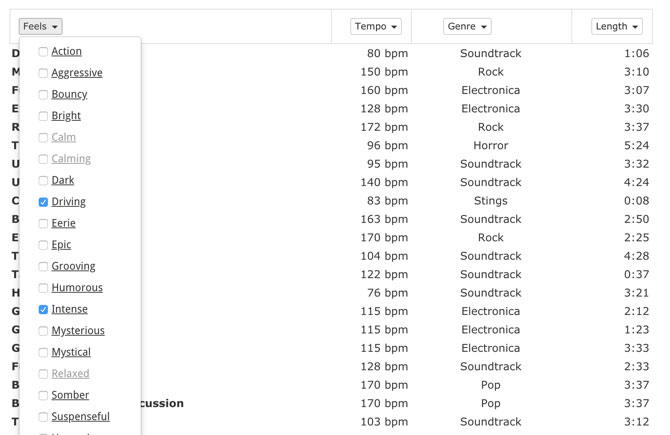 Select a piece of music to get a short preview, and then download with a click. The site also gives you the full attribution so you can copy and paste it wherever it's needed.
6. Cctrax
If you're looking for electronica, head to Cctrax. The site specializes in electronic music (though it does also offer a bit of rock, jazz, and modern classical).
One of the biggest benefits of using Cctrax to download music for videos is that you can filter their tracks by the type of Creative Commons license. You can also filter by genre, tag, label, and artist to get the exact type of music you're looking for.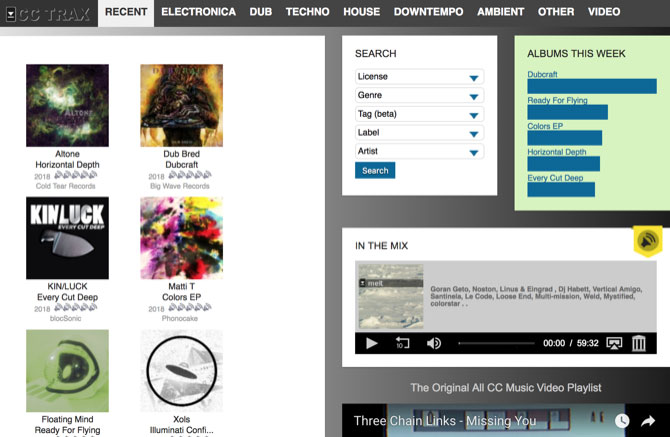 Although the interface is a bit dated, you can find a lot of good music for video editing if you're willing to spend some time looking for it.
Cctrax is also the only site here that features music videos. Not all of the videos are CC licensed, but many of them are, so if you're looking for stock video or want to feature a music video this is a good place to start. (Though you'll notice that there's no filtering system for videos; you'll just have to watch a bunch of them to find what you're looking for.)
7. Jamendo
There are two different parts of Jamendo's website: a listening section and a licensing section. Everything in the listening section has a Creative Commons license, so you can use these tracks for your videos.
Unfortunately, you can't sort the tracks by the type of CC license they have. So you'll have to explore each one. To see the type of license a track has, click the down arrow on the right side of the screen; you'll see play counts and symbols that correspond to different types of Creative Commons licenses: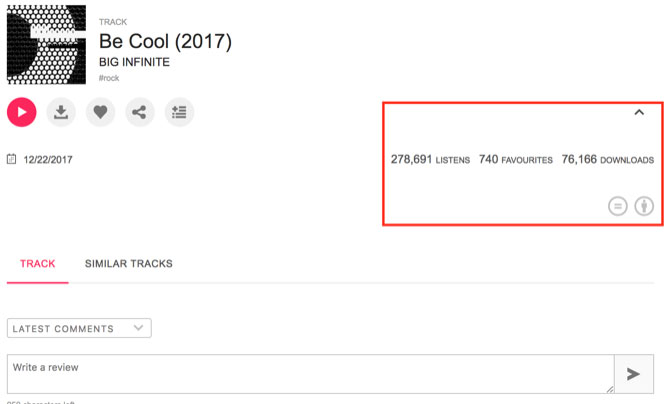 Because Jamendo is largely focused on listening, you can find listening-friendly features like radio stations, playlists, and communities. This can be a good way to discover music if you're not sure what you want to use in your video editing.
If you do have an idea of what you're looking for, you can use the genre listings to browse available tracks or the search bar to narrow down the list.
Just remember to check the type of Creative Commons license available before you download!
8. SoundCloud
SoundCloud has one of the largest music libraries available online. Launched in 2008, SoundCloud was built to bring musicians together and connect them with listeners and creators around the world.
And many of the music tracks available on SoundCloud can be cleared and used for commercial purposes.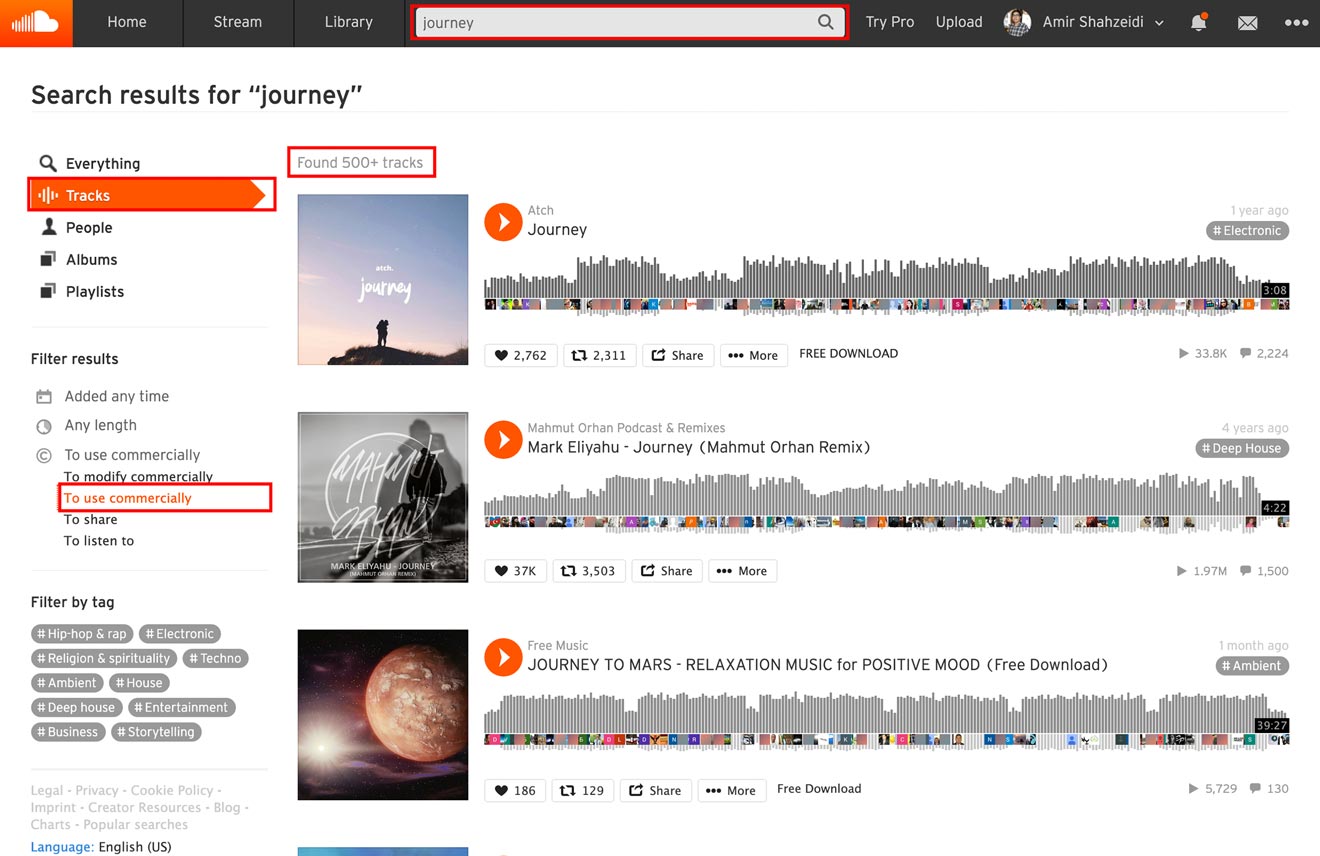 Here's how you use SoundCloud to find royalty-free background music for your videos.
Head over to SoundCloud.
Log in to your account or create a new account.
Search for the type of music you need for your online video, for example, hip-hop, EDM, or ambient.
From the left menu, select 'Tracks'.
Under 'Filter Results', find and click the © Copyright Symbol.
Here you can choose the different licenses including 'To modify commercially' and 'To use commercially'.
Select 'To use commercially'.
Now you'll see all the music tracks available for free download and commercial use.
Just remember to double-check the type of Creative Commons license available and the type of attribution the artist is asking for in exchange for their music.
9. YouTube Audio Library
If you want to add music to a YouTube video, the YouTube Audio Library is a great way to do it. You can also download these tracks to use in other videos as well, though you may want to double-check the licensing agreement on your chose song if you do this.
Just head to the Audio Library in your YouTube Studio and use the filters to find tracks by genre, mood, instrument, duration, or licensing agreement (you can choose songs and music tracks that require attribution or not). Click play to preview a track, and hit the download button to save a copy of it.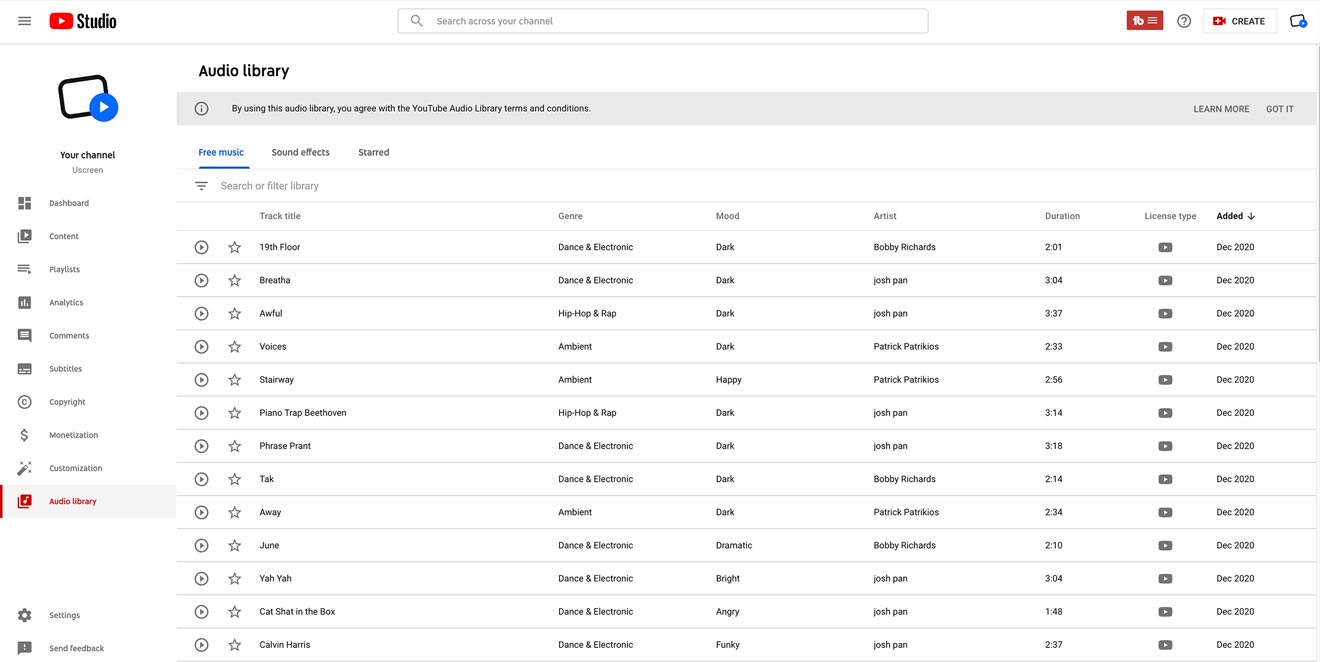 From there, upload it to your YouTube video or use a video editor to add the track to your video.
One of the nice features of YouTube's Music Library is that you can star your favorite tracks and come back to them later. So if you're looking for music for a particular video and you come across something you like, but isn't a good fit for your current project, you can save it.
Reminder: Check Each Track's License
I've brought this up a few times now, but it's worth reiterating: every track has a licensing agreement. And it's a good habit to double-check that agreement to make sure that you can use that music for video editing.
In most cases, if you violate the license agreement, you'll just get an email asking you to take it down. It's not a big deal. But there's always the possibility of legal action, and that's something you don't want to deal with.
These Creative Commons music sites will help you find royalty-free music for videos, but you still need to make sure that you're following the correct attribution procedures and not using non-commercial tracks for commercial purposes.
As long as you do that, you're set to download and use all the music you want!
The post The 9 Best Places to Find Free Music for Video Editing appeared first on Uscreen.