Live streaming businesses work like any other relationship. To build a connection, you've got to be accessible – that's what makes the relationship thrive.
So how can live streamers create more engagement and become more accessible to their audiences?
Enter OTT apps, which allow viewers to connect with your content anywhere. With an app, audiences can access your live streams on mobile devices, tablets, and TVs (as well as a standard web browser.)
And when viewers have more places to watch, they want to watch more.
Let's explore how you can use OTT live streaming to connect with your audience and grow your business.
No time to read this article now?
Download a free PDF version of this blog post (all tips and links included).
[contact-form-7 404 "Not Found"]
What is OTT Live Streaming (And Why Is It Important)?
OTT live streaming is the process of broadcasting live video content through an OTT app.
OTT apps – or, over the top apps – are optimized to stream videos on a specific device or operating system, like iOS, Android, or Roku.
This creates a more immersive experience by allowing users to view the content natively on their chosen smartphone, tablet, Apple Watch, or smart TV.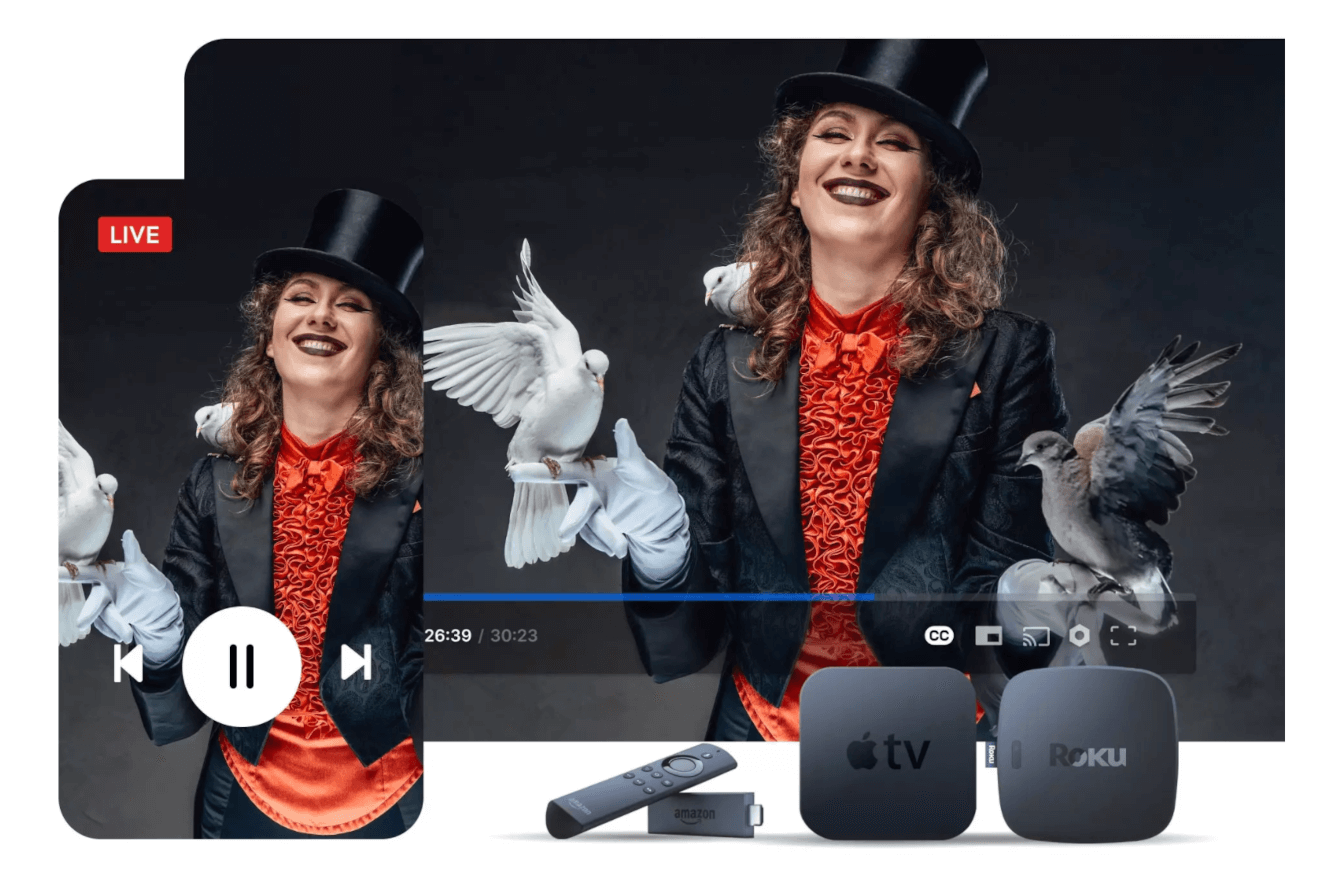 It's a different experience than streaming through a browser on a device because it's far more efficient and convenient – which is important to modern streaming audiences.
In fact, efficiency and convenience are why 55% of audiences prefer to watch streaming video content on apps. A number that continues to grow!
If it comes down to the choice between using an app or only being able to access a stream from their desktop or mobile browser, more and more people are going to choose the app.
But how does it work? Well, let's take a look.
Users can download your live streaming app from their device's app store, which will then display directly on the home screen using a branded icon: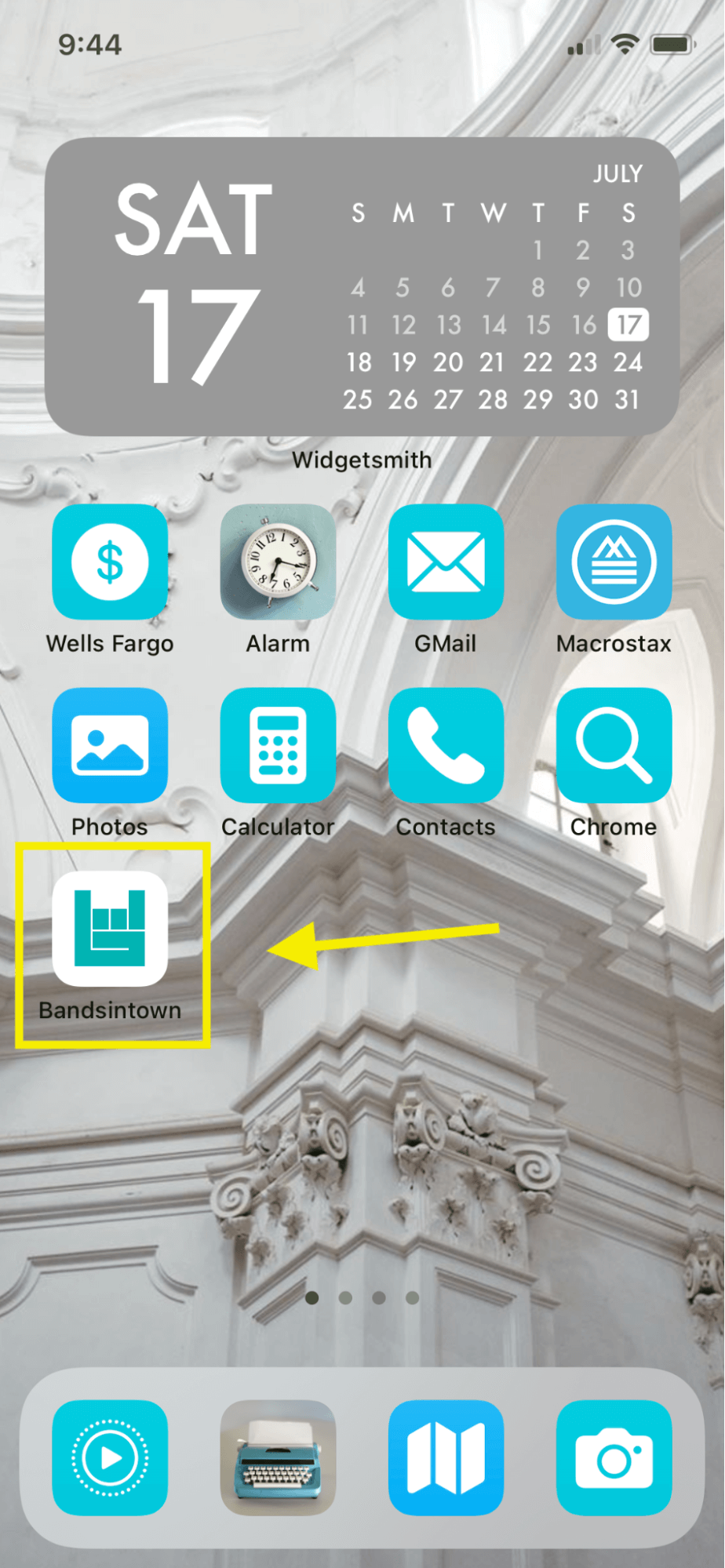 All they have to do when they want to tune into your live streams is click on the app and voila! they have access to your entire content library in one easy-to-access place.
And, for you as a video business owner:
OTT live streaming apps allow you to reach a much larger audience and grow your business. Why?
Because audiences today use multiple app-ready devices and often like to watch content on the go. We found that 65% of online video views now come from native mobile and TV apps!
That means if there are people who are on the fence about choosing your premium service, they can be swayed into becoming paying subscribers when they see you have an app.
We've seen business owners increase their revenue by 30% and grow engagement with their current audience by 50% by launching an OTT app: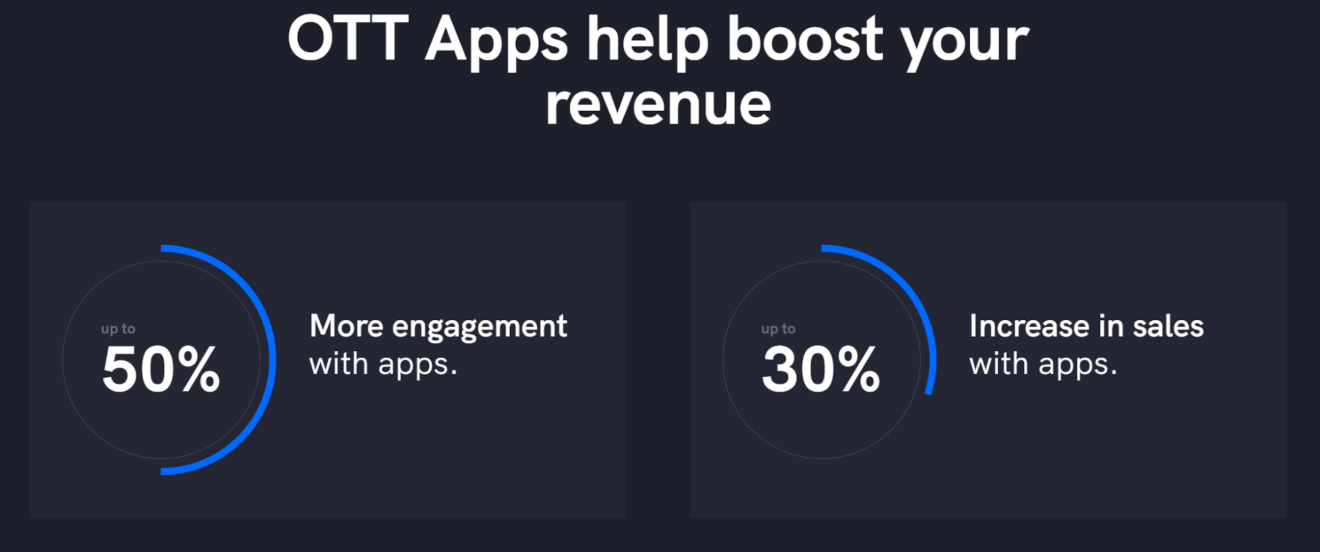 The demand for these apps is high, but the supply is still pretty low. That means now is the best time to get started with launching your app and transforming your business.
Okay, this has been a lot of theory so far. Let's take a minute now to look at a live streaming OTT app in action and how it helped a global business reach an ever more targeted audience.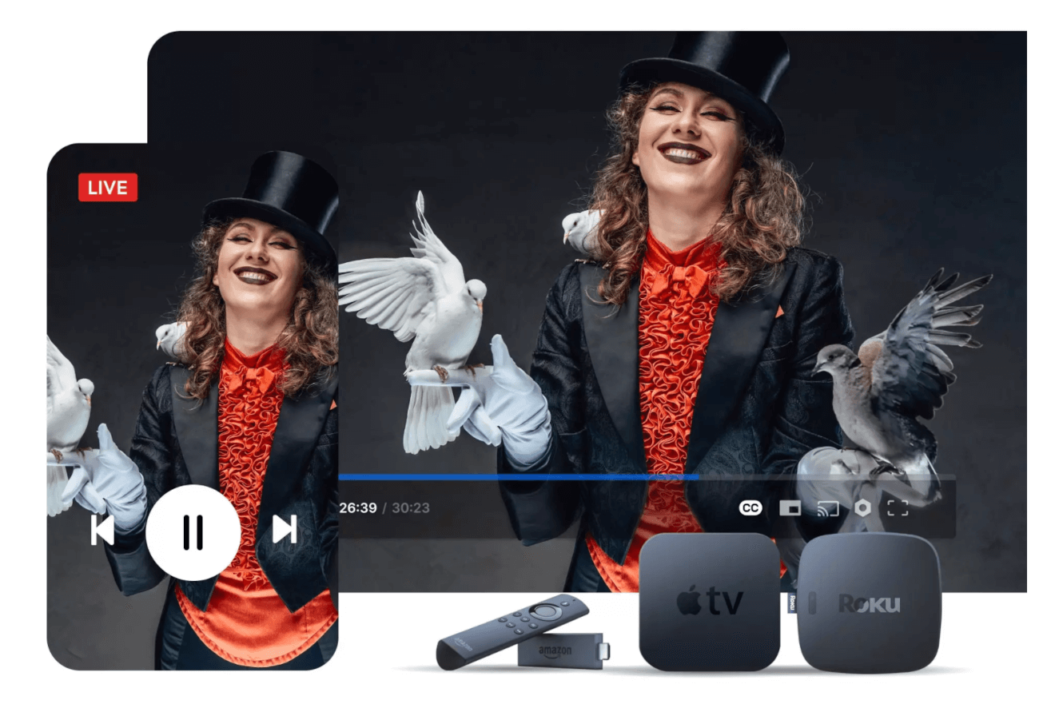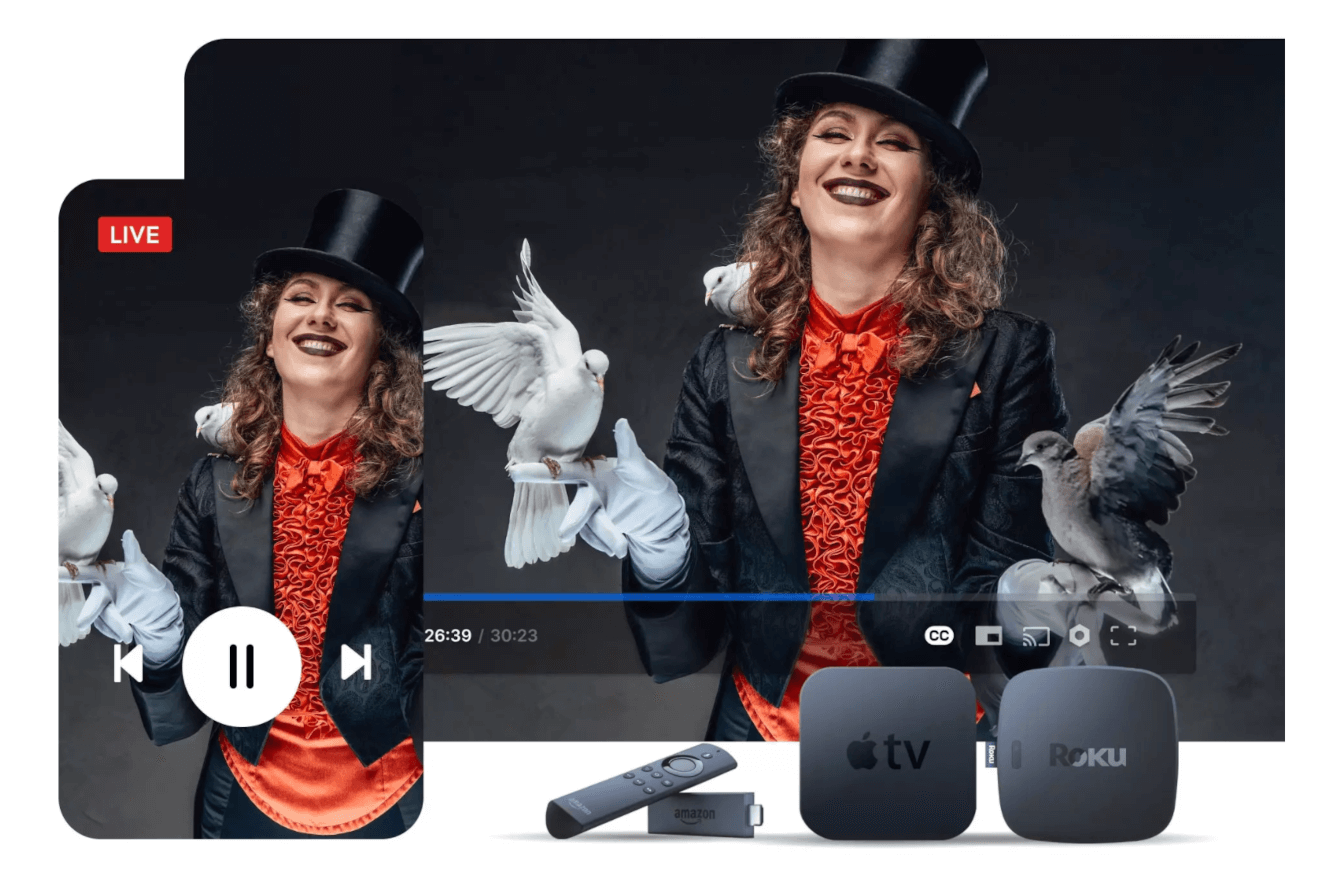 Interested in a Free 1-on-1 Demo?
How ESPN+ Uses OTT Streaming To Reach A Larger, More Targeted Audience
ESPN+ is a subscription OTT service that provides fans with live and on-demand video content for a monthly or annual fee.
Audiences have easy access to all their favorite real-time sports video content that they can watch anywhere, anytime. But the big selling point is their live streamed sports broadcasts!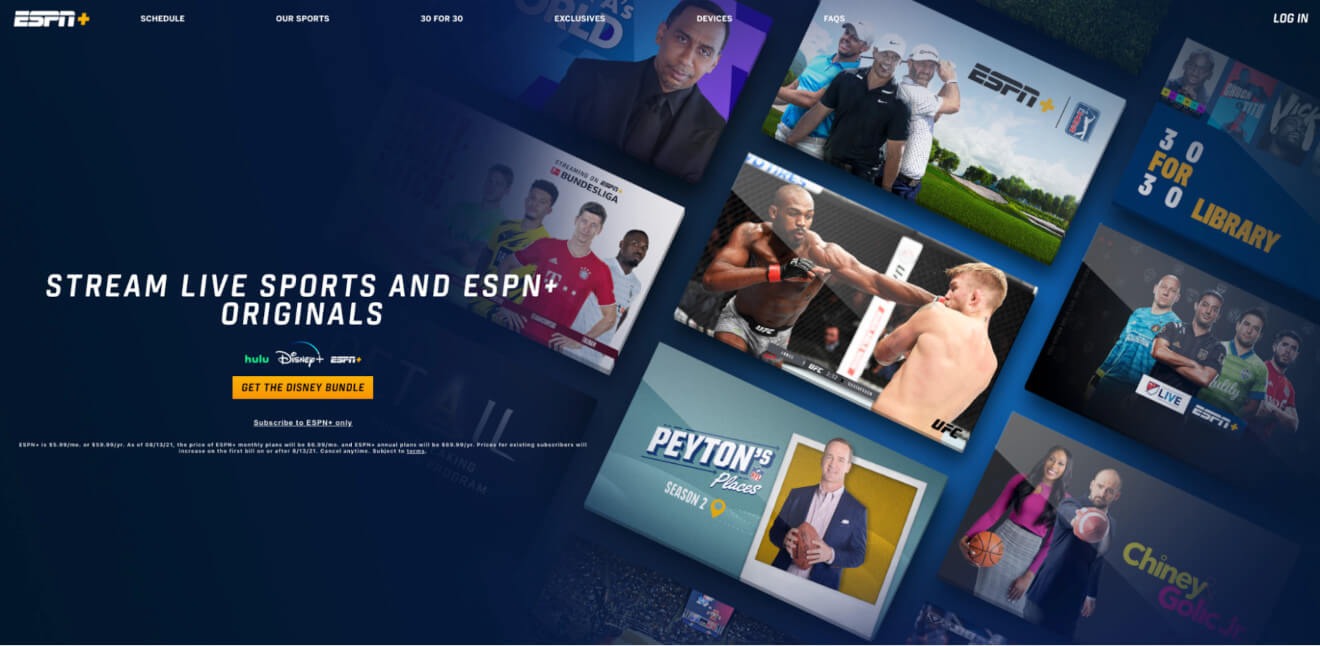 For example:
When the Red Sox play the Yankees during baseball season, ESPN+ subscribers everywhere can stream the game in real-time on any device compatible with the app: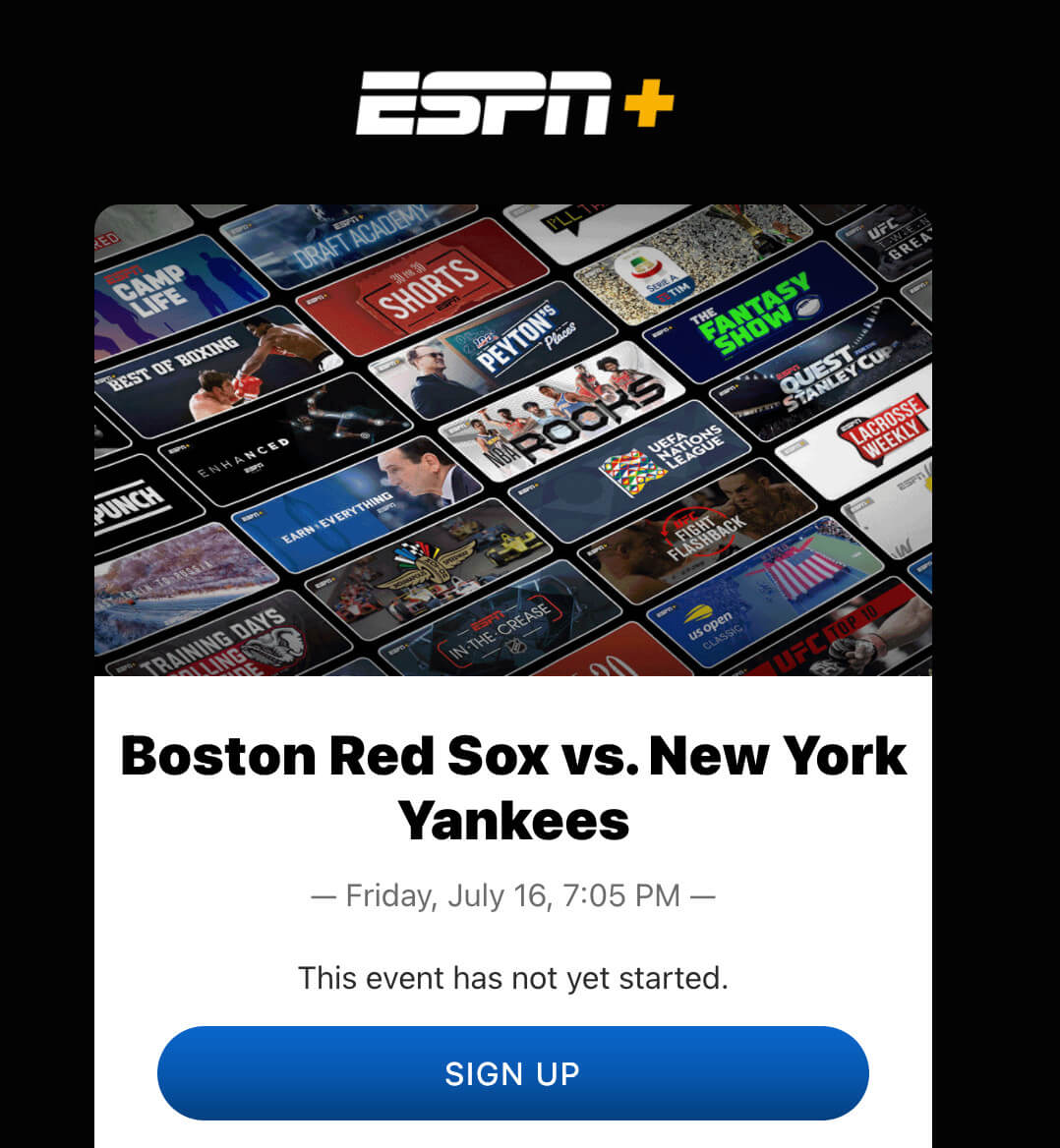 It's one of baseball's most notorious rivalries, and true fans want the opportunity to yell at players on the screen no matter where they are!
Thanks to ESPN's OTT live streaming app, they can watch on-the-go from their favorite device, or on the couch through their smart TV: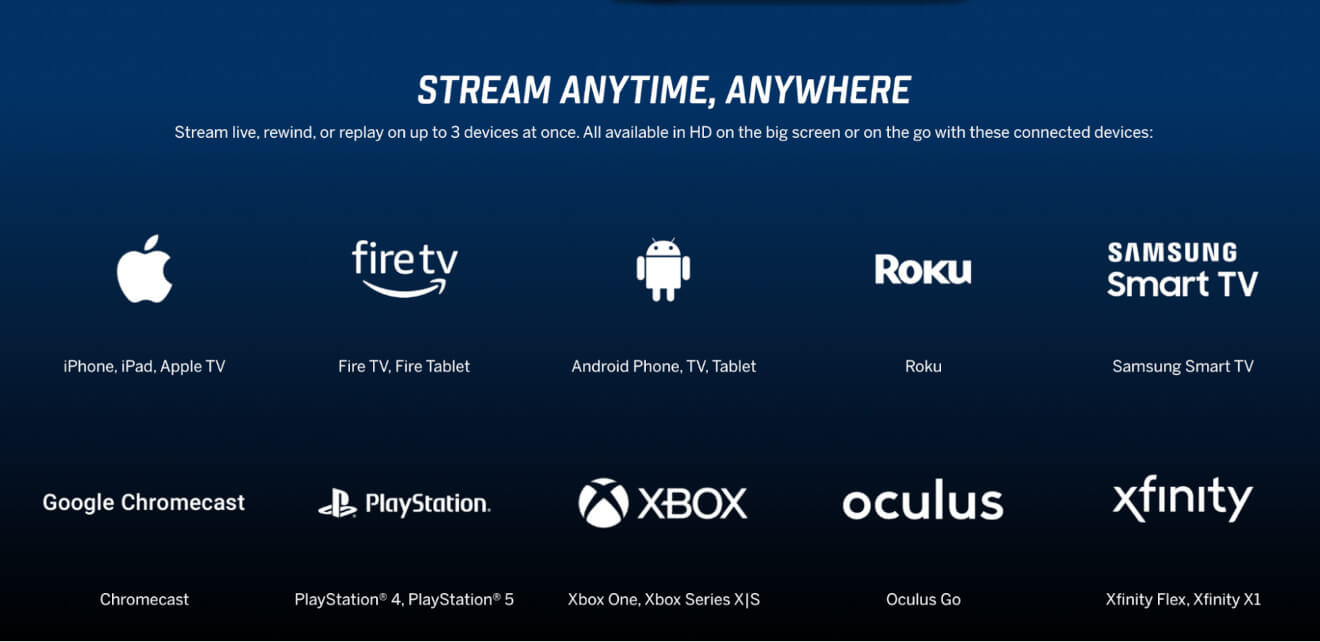 This lets ESPN+ give users access to exclusive live content that was previously only available on cable and satellite TV, increasing the accessibility of their platform.
Even better…
If a subscriber can't watch the live broadcast, the streaming platform offers all of them in a recorded database to watch on-demand later.
This allows ESPN to offer enormous value to their subscribers by letting them:
Experience in-the-moment content.
Relive their favorite moments.
Catch-up on whatever they've missed.
Enjoy extra content perks just for being a member.
What was once a one-off live broadcast on an expensive cable subscription is now an accessible, replayable live stream on an affordable service.
This helps ESPN to increase customer retention, reduce churn rates, and provide customers with an above-and-beyond service they won't find elsewhere.
Now, you might be thinking, "Anaïs, this sounds great, but I don't live stream professional sports!" And, to that, I would say: you don't have to!
There are tons of other live streaming content types that can benefit from OTT apps. And, we're seeing more and more broadcasters invest in them.
Let's take a look at why…
Why More Broadcasters are Live Streaming With OTT Platforms
More broadcasters are choosing apps to expand their reach and grow your business. We've seen this happen in a wide range of niches like:
Entertainment.
Faith and spirituality.
Arts and crafts.
These are all niches where people are actively looking to connect with creators, and searching for the emotional experience of live streams.
For example, audiences want to:
Join a Q&A with their online course instructor.
Watch the news from a phone while on the train to work.
Enjoy a football game from a tablet at the airport.
Participate in a live workout class streamed on their Smart TV.
And, this is really just scratching the surface. There are countless other variations of live streaming and OTT apps that can work for a wide range of content types!
Take High Vibe TV, for example.

They create weekly live-streamed spiritual content – like horoscopes and tarot readings – that they broadcast to their audience through a range of OTT live streaming apps: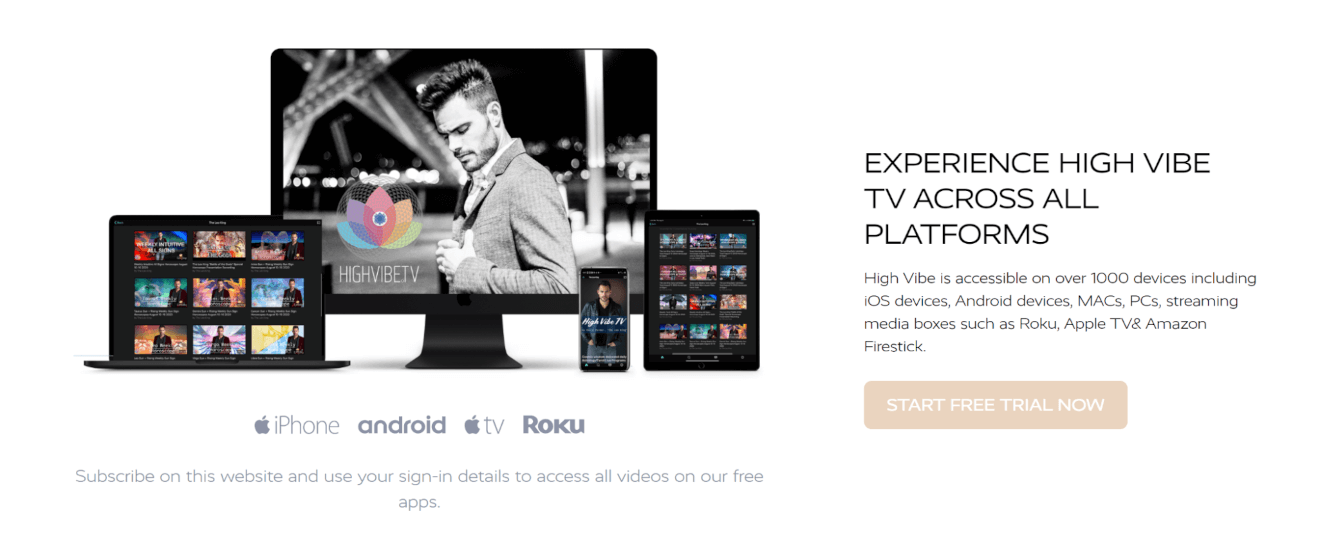 These apps make their content more accessible because it simplifies the process of watching broadcasts. Just a few taps of the screen and they can get their daily fix!
It's the same success that ESPN found, but in a different niche and with different content. The videos may change, but the benefits for you and your audience stay the same.
It's also become so much easier to get started with OTT apps.
Independent providers like Uscreen make it simpler than ever to launch your own custom branded OTT live streaming app by letting you lease them!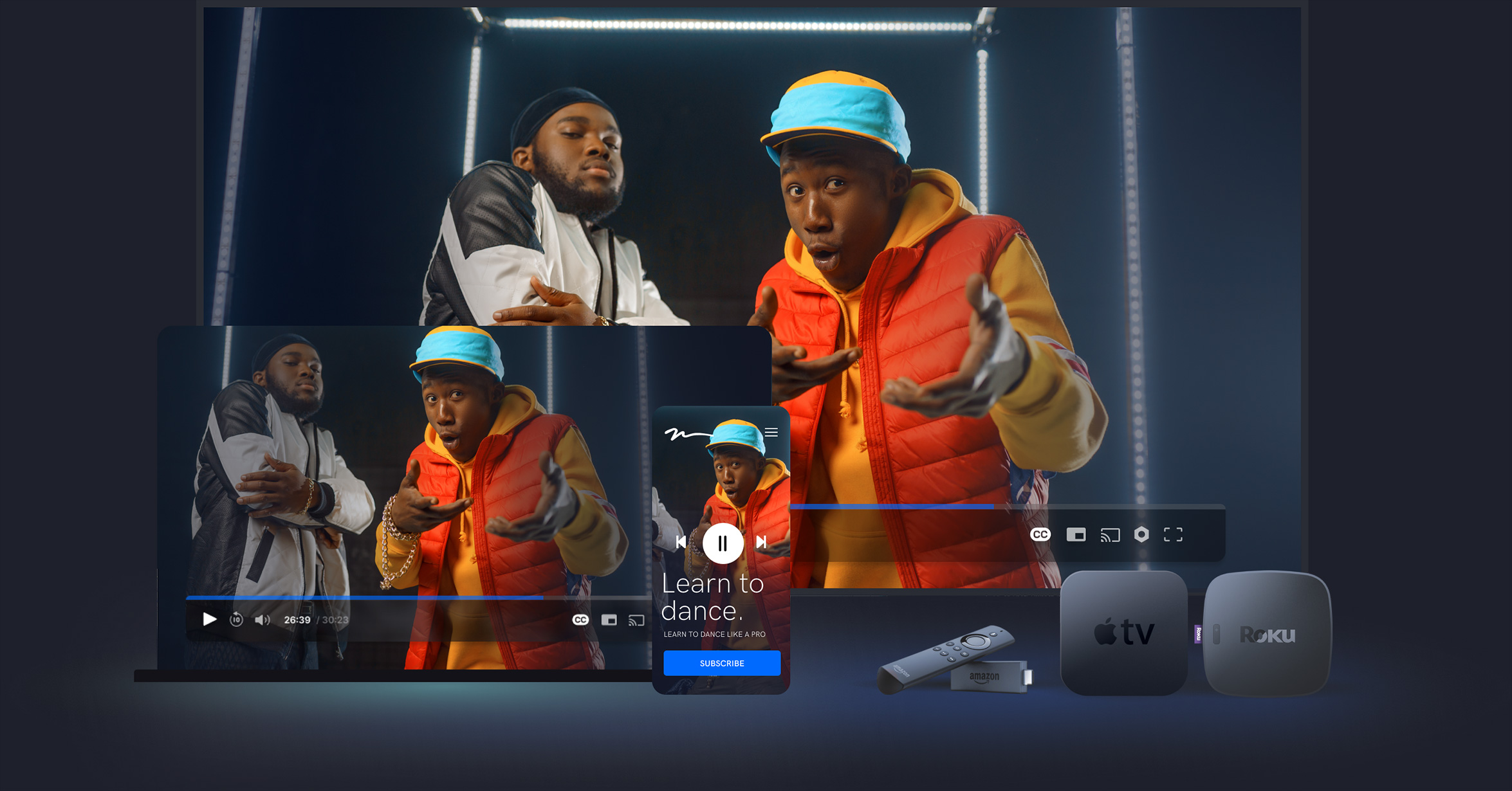 Leased apps come with white label customization that gives your platform a professional look and feel, and let you focus on content over coding!
You can learn more about that in the video below:
Because OTT apps provide major benefits for customers and live streamers, along with more accessible start-up processes, it makes sense that lots of content creators are choosing to use them.
So, how can they work for your business?
In the next section, we're going to look at 3 ways launching an app can benefit your business, so you can decide if it's the best option for you.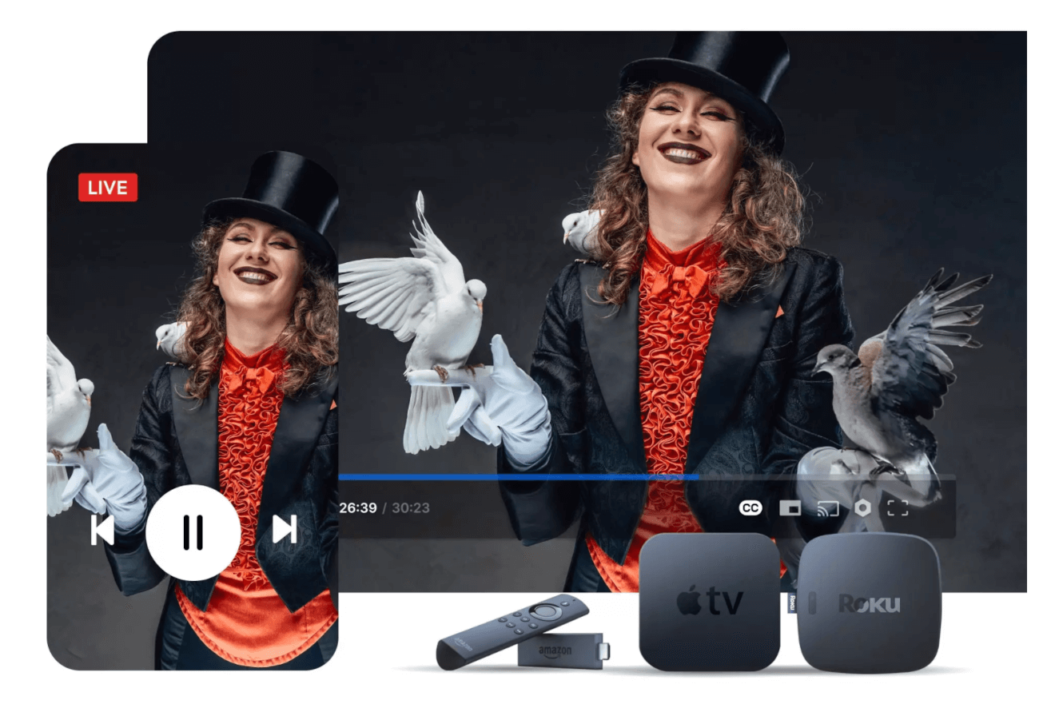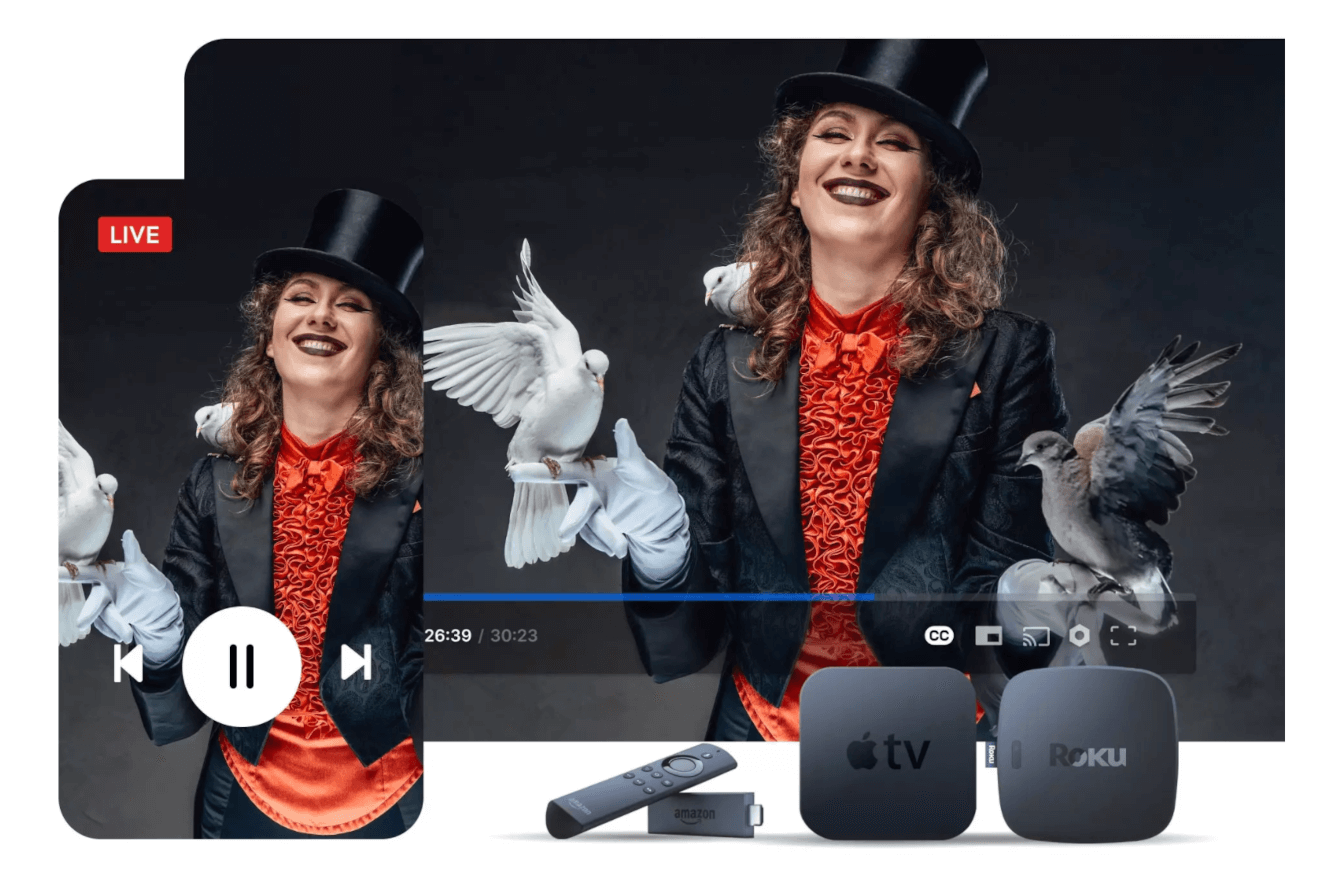 Interested in a Free 1-on-1 Demo?
The 3 Ways Launching an OTT Live Streaming App Can Help Your Business
If you want to:
find and grow your audience
build a reliable source of income
…then an OTT live streaming platform could be the right choice for you.
Here's how launching your own OTT app can help you expand your business.
1. Reach More Targeted Viewers
Live streaming with your own OTT app helps you reach more people who are specifically looking for what you offer. With an OTT app, you can:
Target specific people.
Appeal to a niche audience willing to pay more.
Build a word-of-mouth community.
Audiences spend more than 90% of their mobile time on apps because they're intuitive and easy to use. Given the choice, your viewers will naturally engage more with an app than a mobile website.
App analytics make it easy to track that engagement and see where viewers are coming from. This helps you better understand how and where to find more of your targeted audience.
You can then use that information to reach more like-minded viewers.
Putting your content in front of the right people using an app can make a huge difference for your business. In fact, CleverTap reports that mobile apps have 100-300% higher conversion rates than mobile or desktop websites.
After all, viewers who care about what you create become valuable customers.
77% of consumers who enjoy a personalized viewing experience say they're likely to pay more for the service and recommend it to others.
Finding your audience is just the first step towards monetization. Let's check out some other ways to make money with a live streaming app.
2. More Opportunities for Monetization
Using OTT gives you the flexibility and freedom to monetize your live streams the way you want.
When you distribute your live streams on your own OTT platform, you have full control over your broadcasts – and therefore, your income.
On other hosting platforms like YouTube, you're limited by rules and restrictions on how you profit from your live streams, such as:
Live streams can only be monetized if you have over 1000 subscribers and over 4000 hours of watched content.
Limits on the number of ads that can be placed on your content, based on length and what device users are watching on (and therefore, limits on the revenue you can make).
Viewers have to watch at least half the ad for you to profit from it.
Using your own app allows you to control your content and your pricing without having to answer to advertisers.
This means you can choose to monetize your live streams in more ways (whether they're the foundation of your business or an add-on to another service.)
Here are a few ideas for monetization:
Premium subscription service.
Viewing packages.
Pay-per-view for exclusive and exciting live events.
There are many ways you can build a consistent income with an OTT platform.
So it's important to consider your business needs and goals when deciding how to structure your pricing.
Here at Uscreen, we recommend subscription memberships, because we've seen time and time again how well they work for businesses of any size.
Audience demand for SVOD (Subscription Video On Demand) is growing. 86% of OTT users said they'll pay for the same amount or more subscription services in 12 months as they do today.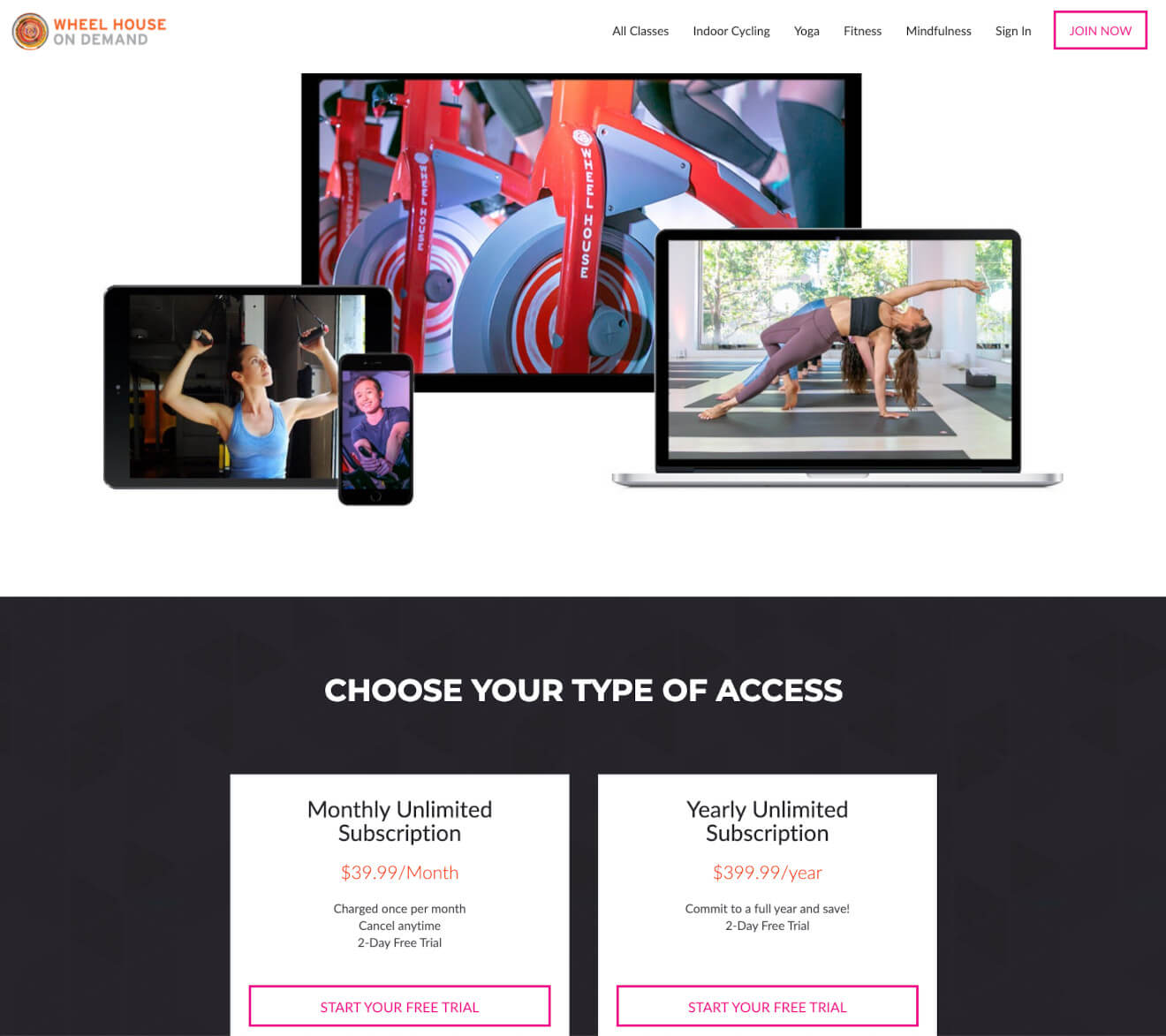 Clearly, people appreciate the convenience of membership apps as much as the overall convenience of OTT services.
That's why subscription customers generate nearly twice as much money per user than those who use AVOD (Advertising Video On Demand) streaming services. 
This means live streamers with a smaller audience can still make a huge profit by using an OTT app with a subscription plan.
As you grow your audience, this profit only increases.
In the long run, using an OTT app helps you focus on increasing revenue instead of dealing with the complications and inconsistency of ad-based services.
3. Improved User Experience
Broadcasters can build better relationships with their audiences by using OTT to create a top-notch user experience.
In fact, 94% of consumers who feel they're getting a "very good" user experience say they're likely to purchase more products or services from that company in the future.
Let's take a quick look at how OTT apps improve the user experience…
Interactivity
Content creators can enable interactive features like live chat that allow them to directly interact with their audiences. With a live chat, you can host…
Q&A sessions
live events
product releases
…and build relationships with your viewers by giving your live stream more of a two-way dynamic and letting them contribute.
These relationships are incredibly important for an online video service.
Why?
Because audiences value that relationship enough to keep paying for it. In fact, when consumers have an emotional connection with a business, they're 89% more loyal to it.
Using an app to directly interact and create a sense of community with your viewers means they look forward to using your service. This creates a loyal customer base, and therefore a steady income stream for you.
Ease of Use
OTT video apps provide the most user-friendly experience possible because they're specially designed and formatted for every device they're used on.
An organized layout is an incredibly important part of user satisfaction with your service. 74% of viewers are happier with services when app design is easy to use.
Think of a time when you've opened the YouTube app on your phone, and then later on your smart TV. You'll notice they're configured differently (for example, the menus are in different places and the video thumbnails are stacked according to screen size.)
That's because different devices need different setups in order to help users access content in the most efficient way.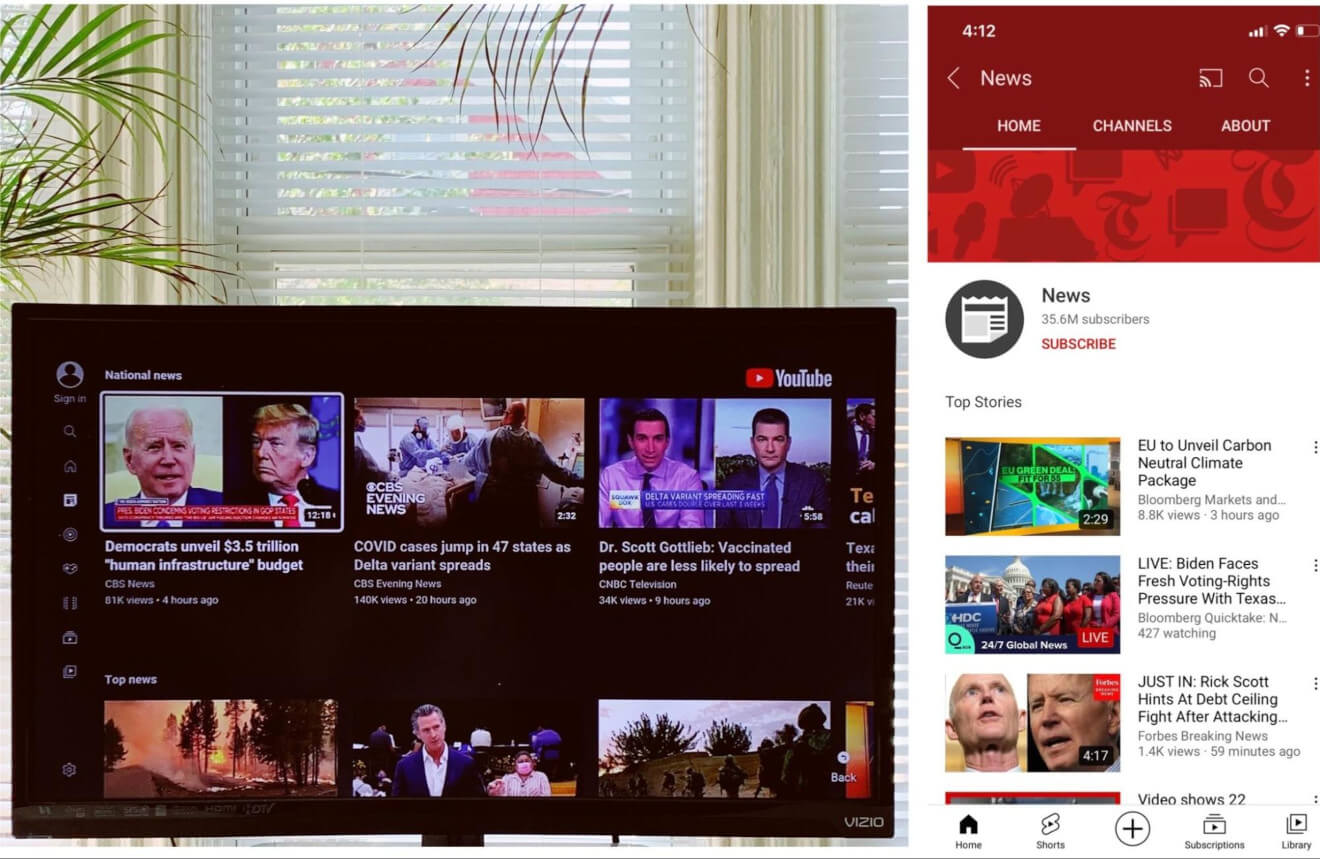 For example, when viewing the Youtube app on TV, people benefit from having an extended menu on the left side. But on a phone screen, it would be hard to see and use.
Apps give you the ability to structure your menus and search features so users can intuitively find the live stream content they're looking for.
And if you've got a developer on your team, Uscreen's Enterprise plan allows you API access to add even more functions to your app across devices.
Ease of use is just one more way that viewers can enjoy your content even more on an app.
High-Quality Audio & Video
OTT content looks and sounds better on apps because of "adaptive streaming," also known as adaptive bitrate technology. It's a complicated-sounding term for an easy concept. (Isn't it always?)
Adaptive streaming optimizes streaming content for higher quality audio and video on every device.
It automatically adjusts the video quality based on the user's available bandwidth on whatever device they're using. This means viewers can enjoy:
Quick buffering.
No pixelation.
No lagging sound.
No picture distortion.
They get the best experience possible out of your app, no matter what type of screen they're watching on.
That's important because 67% of viewers say that quality is the most important factor in watching a live stream.  
So use an OTT platform to improve the overall quality of their experience. For example:
On an eLearning app, this can mean an improved workflow for students.
On a fitness platform, better quality can mean students are more motivated to take part in live workouts.
No matter what type of niche you occupy, subscribers want to be delighted by the services they're paying for.
A streamlined, efficient app gives them their money's worth and creates a high level of satisfaction. When your audience is happy, they stay loyal to your service – and a loyal audience means a reliable stream of income.
Conclusion
Over the top platforms are thriving for the same reason as streaming video overall – people love being able to control the way they watch content.
OTT offers audiences more opportunities to watch content, which means you have an incredible opportunity to build your streaming business, your way.
Customers value the connection and convenience that OTT apps offer. And they give you the platform to deliver real, recurring value. Growing your live streaming video business is as easy as O-T-T!
For more inspiration, check out our list of 2021 live streaming business trends!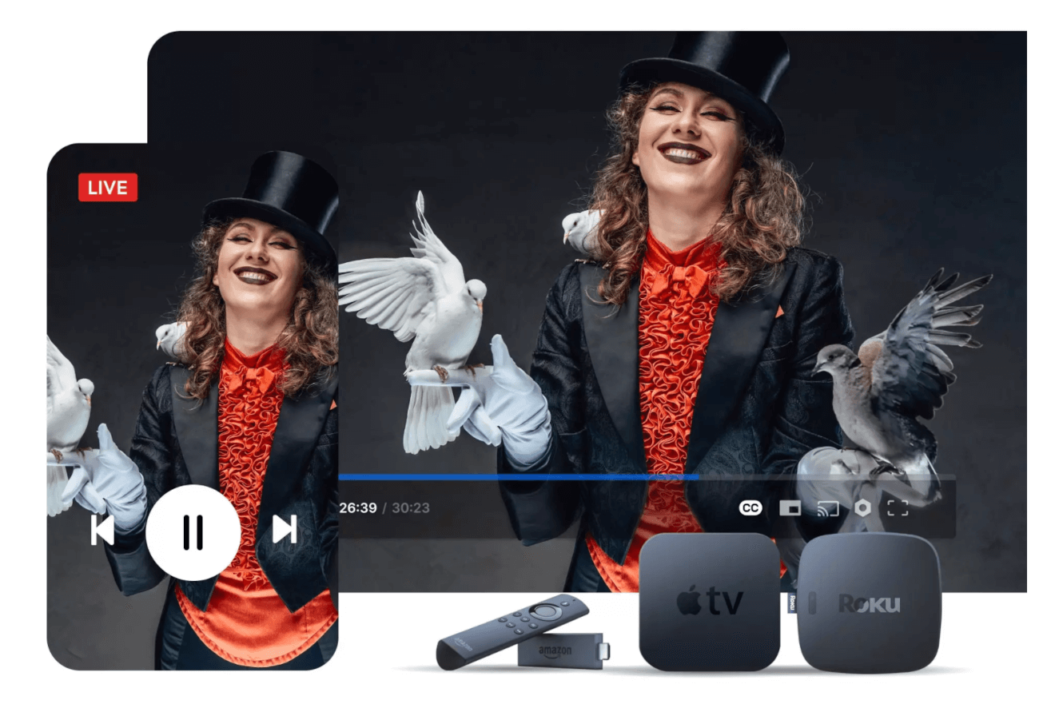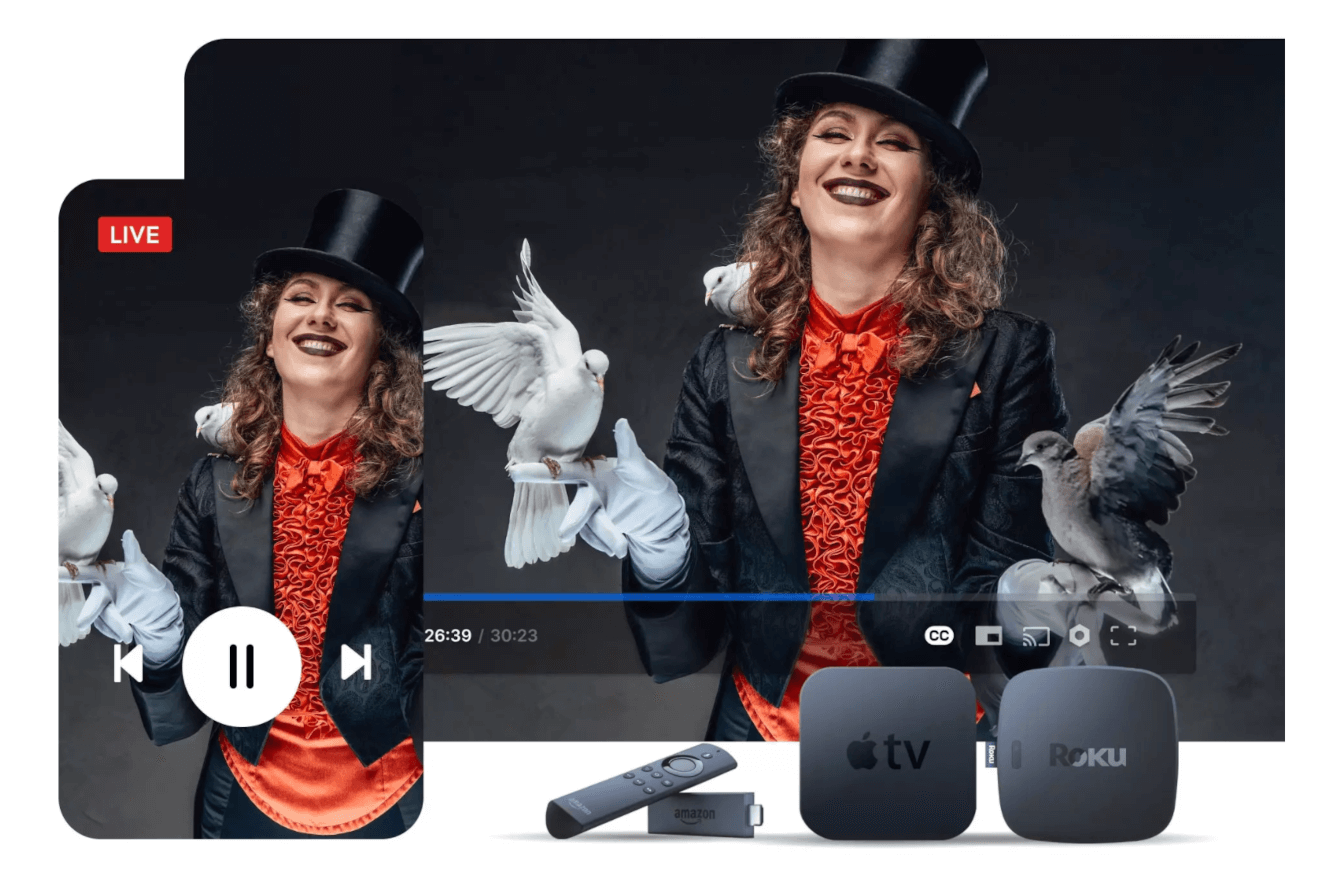 Interested in a Free 1-on-1 Demo?
FAQ
What is the difference between OTT and VOD?
VOD (Video On Demand) refers to libraries of pre-recorded video content that viewers can access whenever they want. VOD platforms allow viewers to watch content on their own schedule as well as control playback (pause, play, rewind, etc.)
OTT (Over the Top) platforms are a more advanced category of VOD that offer even more control and flexibility. They allow viewers to broadcast content on any device, including live streams, using OTT apps. These platforms give audiences access to media at any time because the content is streamed via the internet instead of cable set-top boxes or satellite.
How can I watch OTT on my non-smart TV?
If your TV doesn't directly support apps, you can connect it to a device such as Amazon Fire TV, Apple TV, Roku, and even some gaming consoles. These service providers allow you to download all your favorite video streaming apps like Netflix, Hulu, and Disney+ and watch them directly on TV.
How do you make an OTT app?
For entrepreneurs who are looking to create an app, there are ways to create them yourself. The first step is creating your video streaming website, and Uscreen offers a step-by-step tutorial. Next, you'll have to develop your app. It requires a lot of time, effort, and advanced coding skills, so most video entrepreneurs work with a video hosting platform like Uscreen that can create custom-branded apps for you. This leaves you free to consider your monetization model and upload content once your app is ready!
How do OTT platforms make money?
OTT platforms can choose from a wide variety of monetization models, but independent video creators find the most freedom and success with SVOD (Subscription Video on Demand) and TVOD (Transaction Video On Demand.) You can even combine the two business models for maximum profit. With your own video platform and app, you can set pricing plans and make money on your own terms, instead of having to answer to advertisers.
Are OTT platforms profitable?
When you offer your audience valuable content and price it accordingly, the sky's the limit for how much you can make! Video entrepreneurs at Uscreen recently hit a combined $100 million a year in revenue, and the video streaming industry is still growing. Making a profit and growing your audience is entirely possible with the right tools. For more information on how to make money using your own OTT platform, check out our video monetization post here.
The post OTT Live Streaming: How to Deliver Your Streams to Mobile Devices and TVs appeared first on Uscreen.