Video is taking over the internet – just shy of 80% of households in the USA streamed video content through an ad-supported or subscription service in 2020.
That's a big ol' chunk of market you might want to get a slice of. And the good news is: you can! You can build a profitable video-on-demand (VOD) business like thousands of video entrepreneurs who are serving content-hungry audiences around the world.
The key to success? Picking the right VOD platform for you.
Not all VOD platforms are created equal, so you need to figure out the good bits of each one and see how that fits with your needs.
That's what we're here for.
We're going to give you a full rundown of the 10 best VOD platforms out there , plus a cheeky bonus if you stick with us to the end.
Here are the top 10 VOD platforms for creators and businesses in 2021:
Let's get right on into it.
Disclaimer: The information below is accurate as of today (05/07/2021).
What is a Video-on-demand (VOD) Platform?
A video-on-demand (VOD) platform is a tool to deliver video content to your viewers as pre-recorded, streamed content.
Viewers can choose a video from your online content catalog through a website, mobile app, or a connected TV.
This type of platform is a place to host your videos for uses like:
Sharing your creative output to the world.
Monetizing your videos and building an online video business.
Marketing your brand to your current and potential customers.
Getting your business message across to your team.
In practicality, they can be anything from streaming the football match replay on your iPad to catching up with the recording of the Zoom meeting or conference you couldn't attend, and everything in between.
An example might be useful.
Example #1: Gymbox
Pandemic life changed a whole bunch of things, including how we get our post-workout serotonin fix.
Gymbox caters to your fitness needs using VOD – you can access a range of workouts that have been collated and cataloged into series, allowing you to progress your workouts with them.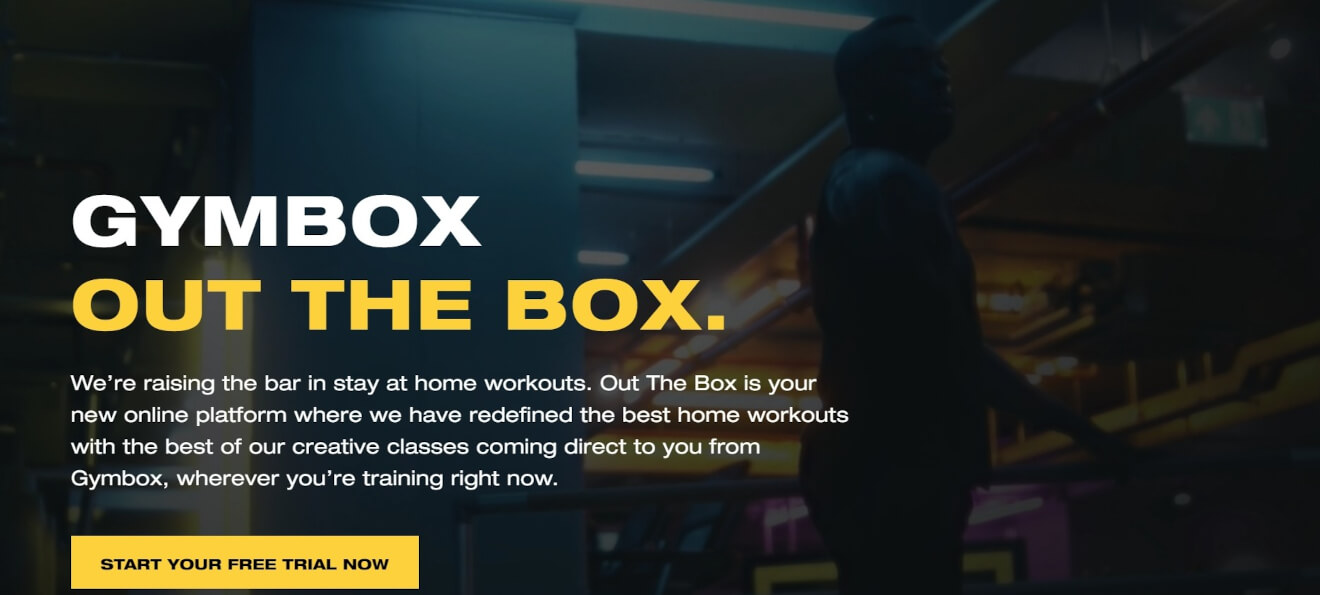 Let's see a different use for a VOD platform.
Example #2: Kweli TV
If exercising your mind is more your style, Kweli is a site that hosts over 500 indie-produced content pieces celebrating black stories from around the globe.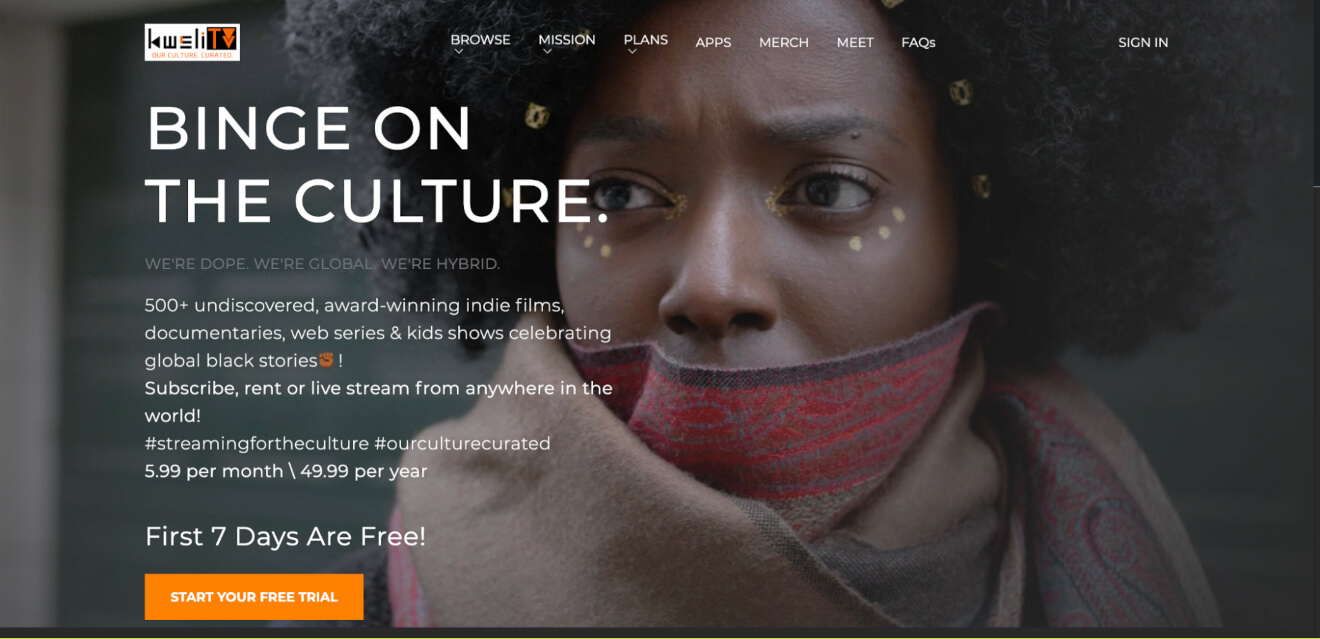 All of the content is presented on the site as a video library and organized by categories like…
sci-fi/fantasy
comedy
features
documentaries
… plus a whole lot more.
Everything can be watched through OTT devices like Amazon Fire and Roku TV as well, giving the full televisual experience.
Now we've seen what VOD platforms are capable of, it's time to look at what's on the market. There's something here for everyone.
1. Uscreen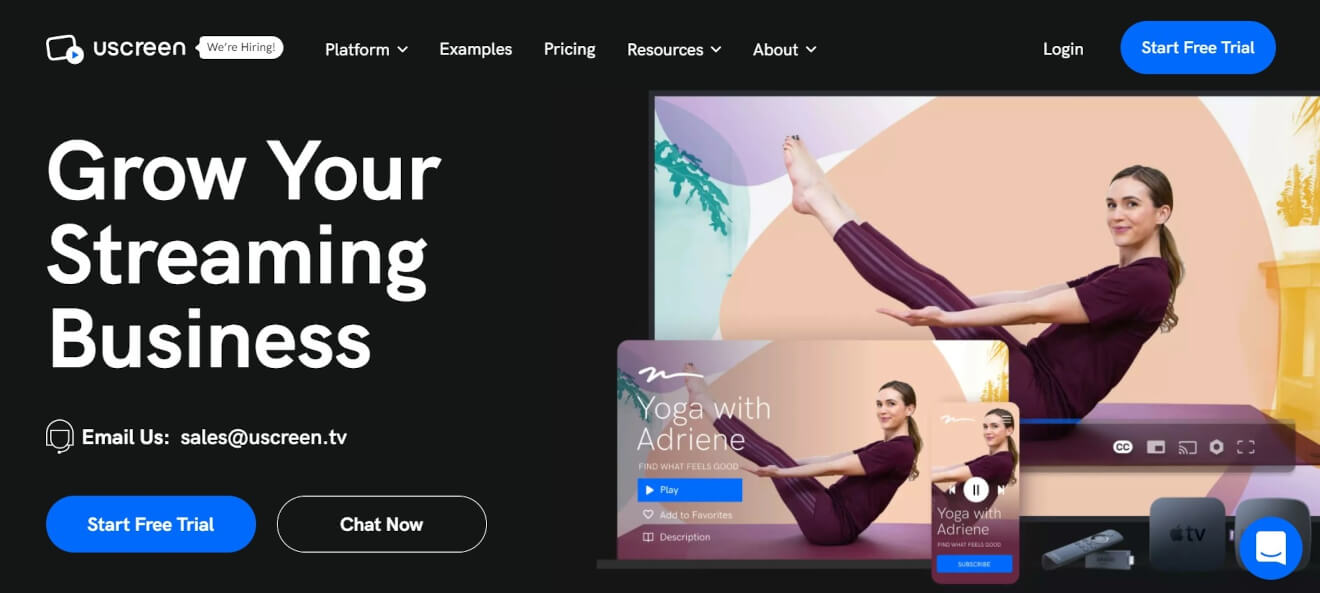 First up on our list of video-on-demand platforms is us – Uscreen – because we like us, a lot.
The Uscreen platform is for video creators and entrepreneurs who want to build a video streaming business, offering access to high-quality content for a paid subscription, one-time payment, rentals, and more. Uscreen is built with scalability and growth in mind, empowering you to create and launch your own branded website and video streaming OTT apps on mobile devices and TVs (with 0 coding). And it doesn't stop there, Uscreen comes with robust built-in marketing and retention tools, allowing creators, businesses, and brands to grow their streaming business and retain their users.
Whether you're starting out on your video entrepreneurship path or are looking to scale your video offering and increase functionality, Uscreen has the goods you need.
Uscreen VOD Features
What are those goods exactly?
Uscreen has plenty to offer video businesses and individual creators, like:
Video hosting and full HD video playback.
Live streaming and on-demand streaming.
Loads of monetization models like subscription VOD (SVOD), and transactional VOD (TVOD), pay-per-view, and hybrid options such as multi-tiered subscription, with billing included.
Detailed marketing and sales analytics that you're in control of.
Fully customizable website with built-in themes and landing page builder.
Built-in HTML5 video player with Chromecast and Airplay support.
Over-the-top (OTT) streaming apps with your own color scheme and logo.
Built-in marketing and retention tools such as gift cards, coupons, lead generation funnels, abandoned cart emails, and more.
Over a thousand integrations with some of the biggest Software-as-a-Service (SaaS) companies out there, including the most popular payment gateways like PayPal, Stripe, and Authorized.net.
End-user support so you don't need a team to know the ins and outs of the platform.
Supporting the tech side of your online video journey and leaving you to focus on quality videos.
What price does all this come at?
Uscreen Pricing
This range of streaming services come with a cost, like so: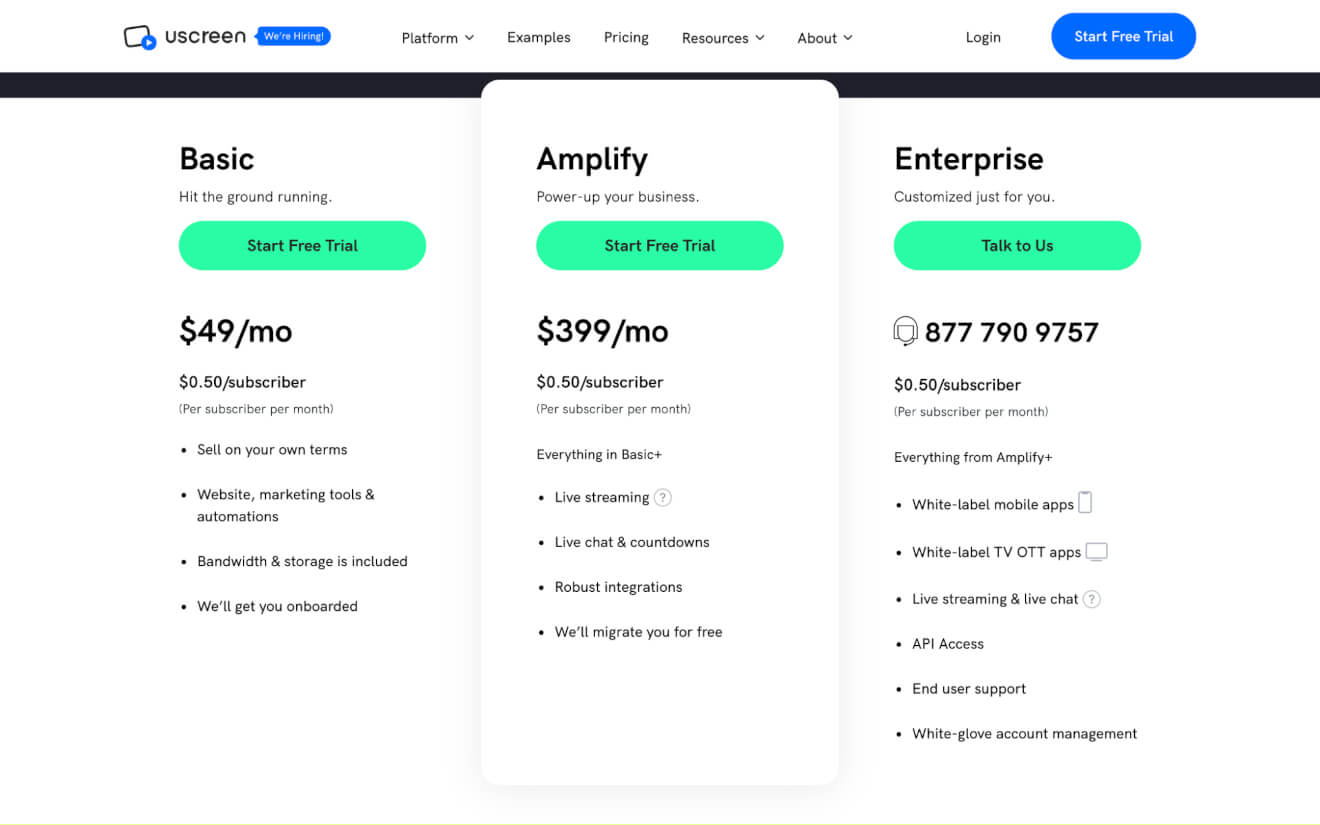 The Basic package comes in at just $49 per month plus 50c per subscriber and offers:
Monetization options.
Analytics and marketing tools, plus integrations.
Bandwidth and storage for your video content.
A detailed onboarding session.
Whilst the higher Amplify tier offers more services like live streaming and site migration, with white label apps and OTT services part of the Enterprise package.
Enough about us; it's time to look at your other video streaming and on-demand options.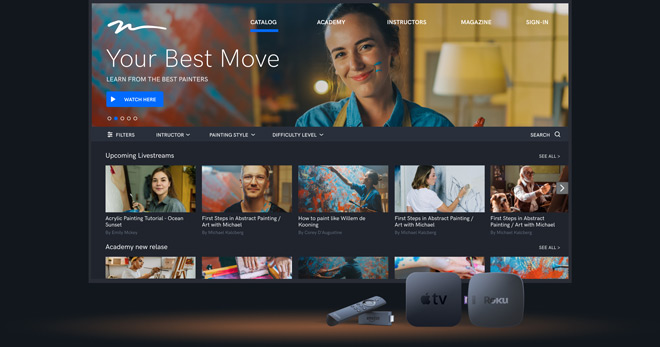 Care for an on-demand demo?
2. YouTube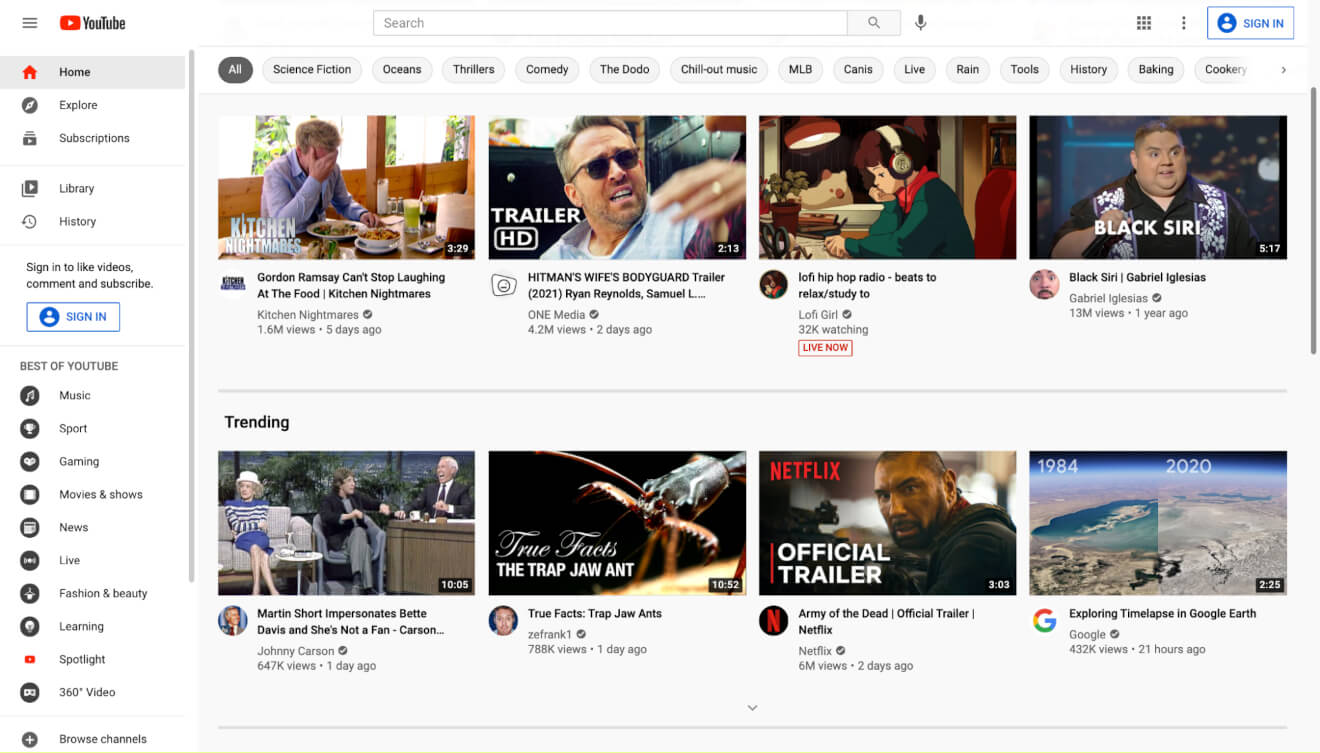 You hear "online video streaming"; you think "YouTube".
It's a behemoth of the genre, and the second most used search engine in the world, only second to Google.
Over 1 billion hours are spent watching YouTube video content every day, more than Netflix and Facebook added together.
Here's how the site works for creators.
YouTube VOD Features
We all know how YouTube works from a user perspective, but what features do creators get out of it?
Along with the huge potential audience, creators get:
Video monetization options like ad revenue share and channel memberships once certain parameters of viewed hours and subscribers are hit.
A cut of a Premium subscriber's membership fee when they watch your content.
Live streaming, video premiers, and private content options.
Super chat and super stickers that your fans pay to use.
Access to the Creator Studio including in-depth viewer analytics.
Creator Academy and YouTube NextUp support to help learn how to improve your content.
Options to sell branded merchandise through your channel.
Channel customization options such as banners, profile pictures, and color choices.
Did we mention that lots of people use it?
YouTube Pricing
Anyone can use YouTube for free as a viewer or as a creator.
The business model primarily revolves around advertising revenue, which gets split with creators once they reach a certain level of success.
Creators can also add a membership subscription to their channel, which YouTube takes a 30% cut from.
From Silicon Valley, let's jump on over to Cambridge, MA to our next VOD service.
3. Wistia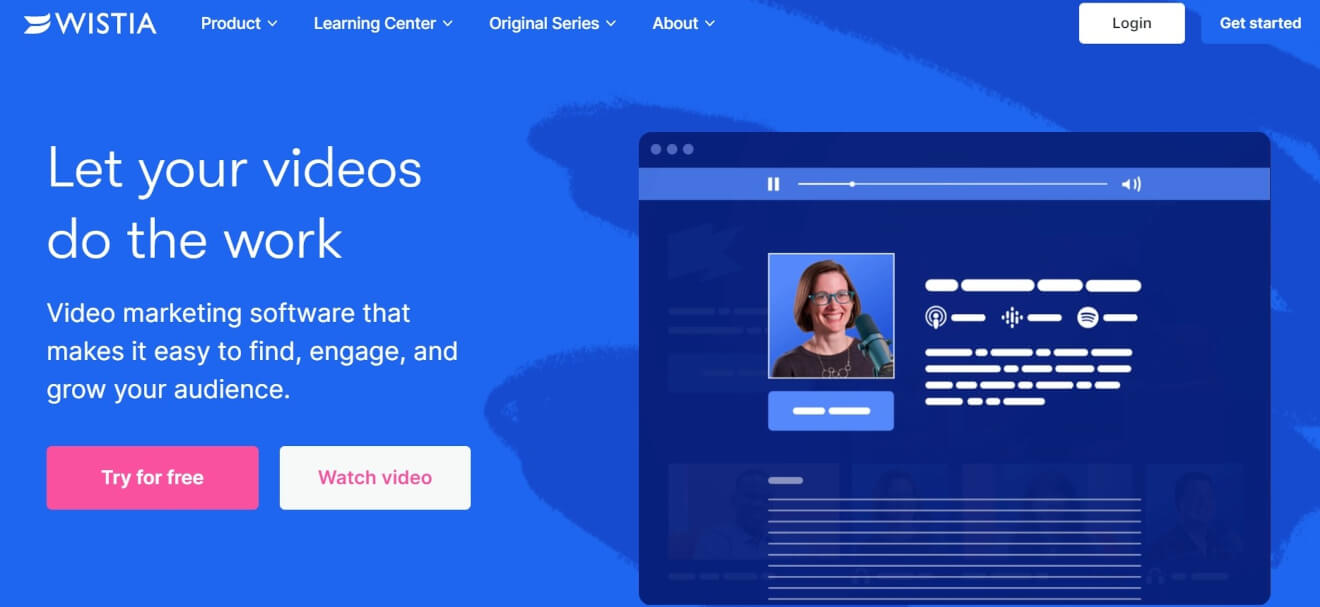 At Wistia, the focus is on using their video-on-demand service to build your brand through your content.
You do this by having the website host your content and then choose where to place your video, like on a landing page or your next marketing email.
It's all about marketing your business with video to help you get your message out there easily and understand who's listening to you.
Wistia VOD Features
Heavily focused on building up your brand awareness through video, it's no surprise that the features of streaming solution lean in that direction, such as:
Personalization options including adding brand colors, custom thumbnails, and tailored calls-to-action (CTAs).
An API with even more detailed personalization options.
High-quality audience data and analytics to help you target your advertising better.
Creating a channel to host your own comprehensive content library.
Integrations that cover analytics, paywalls, and email marketing, among plenty of others.
Sharing and embedding videos in email, and landing page in-line and as a pop-up.
A/B testing feature to help with optimizing your video for better engagement.
All of which should allow you to use the power and potential of visual content to bring your brand to life – and increase your bottom line.
Wistia Pricing

There are three tiers of pricing available, depending on your content needs.
The Free tier allows for 3 free videos or podcasts, up to 250 subscribers on one channel, a branded video player and A/B testing.
The Pro package costs $99 per month, 25c per video or audio file added after the initial 10 included, plus personalization options on the player.
The Advanced package has even more benefits and with that, a bespoke pricing strategy that you need to talk to them directly about.
Moving right along to the next video streaming platform we've got for you.
4. VidYard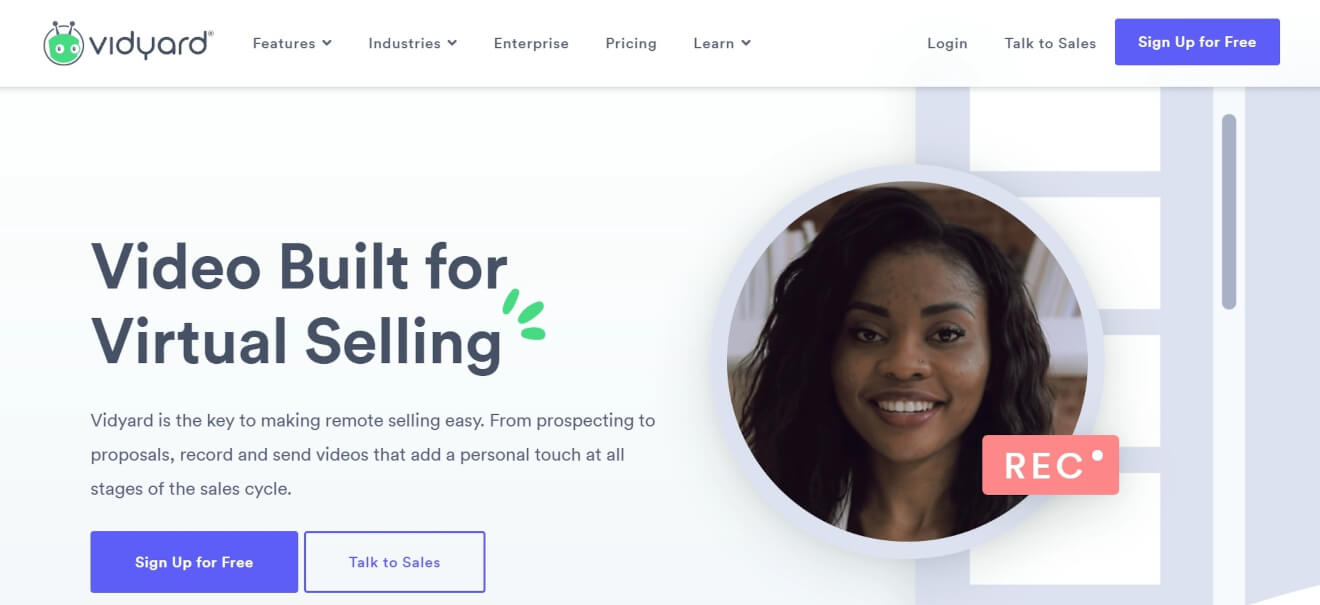 When you want to bring your marketing campaigns to life, VidYard is there to host the video content you need to add some spice to your messaging.
Connect with your audience in a fresh and creative way by making your proposals and pitches into a visual feast – rather than a staid and mundane slide show.
You get a place to host your high-quality video-on-demand content to embed in your email marketing campaigns or sit on your landing page to communicate your message.
Time for some details.
VidYard VOD Features
VidYard is a handy VOD software to start you off on your audio-visual marketing journey.
On the platform, you get…
video creation tools to record your screen, webcam feed, or both, for up to a maximum of 1 hour
fast uploads and hosting of your content with embed links to work in email, LinkedIn, and on your landing pages
high-quality, ad-free streaming with a GIF preview option
detailed analytics about your audience and how they interact with your videos
high level video personalization, adding customer or business names on screen, plus CTAs and email collection
to collect all your content in one central hub for easy access by all your team
video search engine optimization (SEO) and content transcription for accessibility
control over exactly who gets to see your content
to personalize videos using viewer data — including user's name or company
integrations with your current marketing tools so you can share your data across platforms and monitor the success of your video content
… to give an edge to your marketing and communications strategies.
How much does all this cost?
VidYard Pricing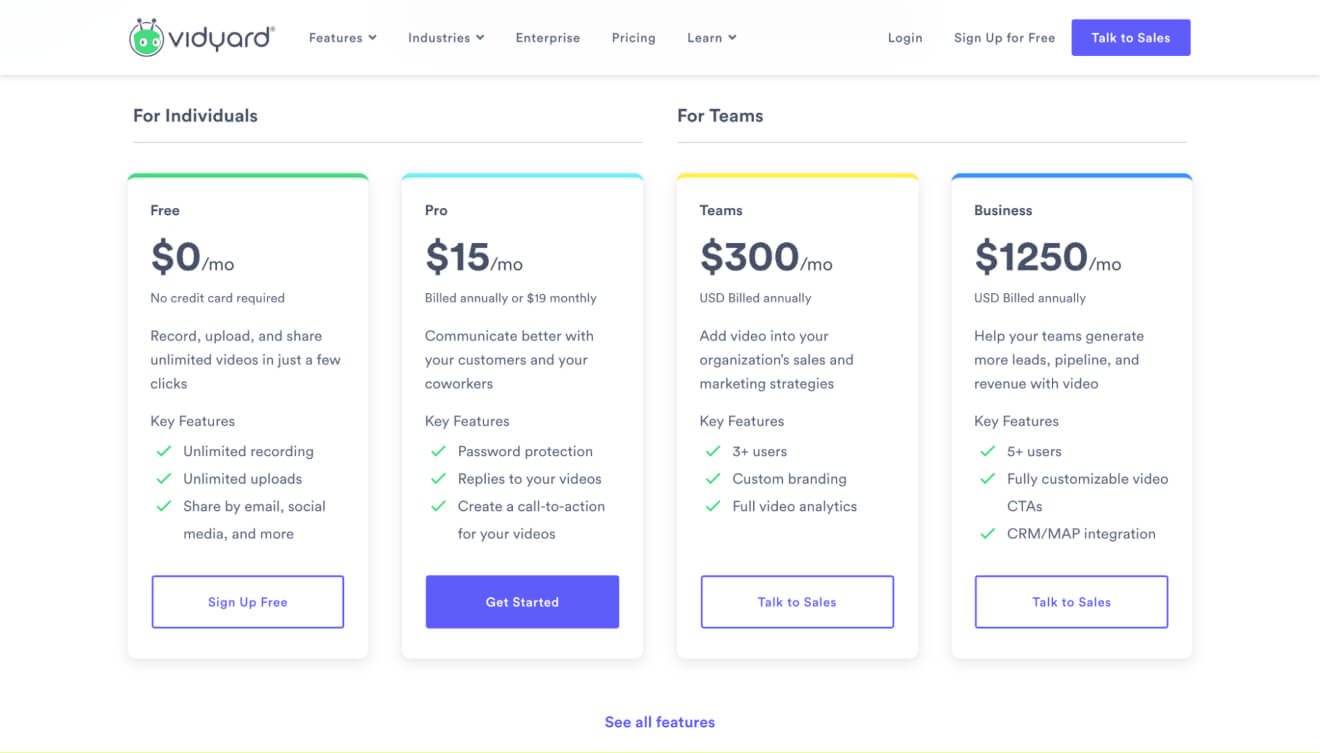 The four-tiered pricing VidYard offers are designed to grow as your business does.
Everyone gets to record and upload as many videos as they like and share across email and social media.
The difference comes with being able to control who accesses your videos, being able to add branding to your video player, and getting full access to integrations with your CRM/MAP services, and other details.
Users can start with a free option and prices go up to $1250 per month.
The next one up is Wowza.
5. Wowza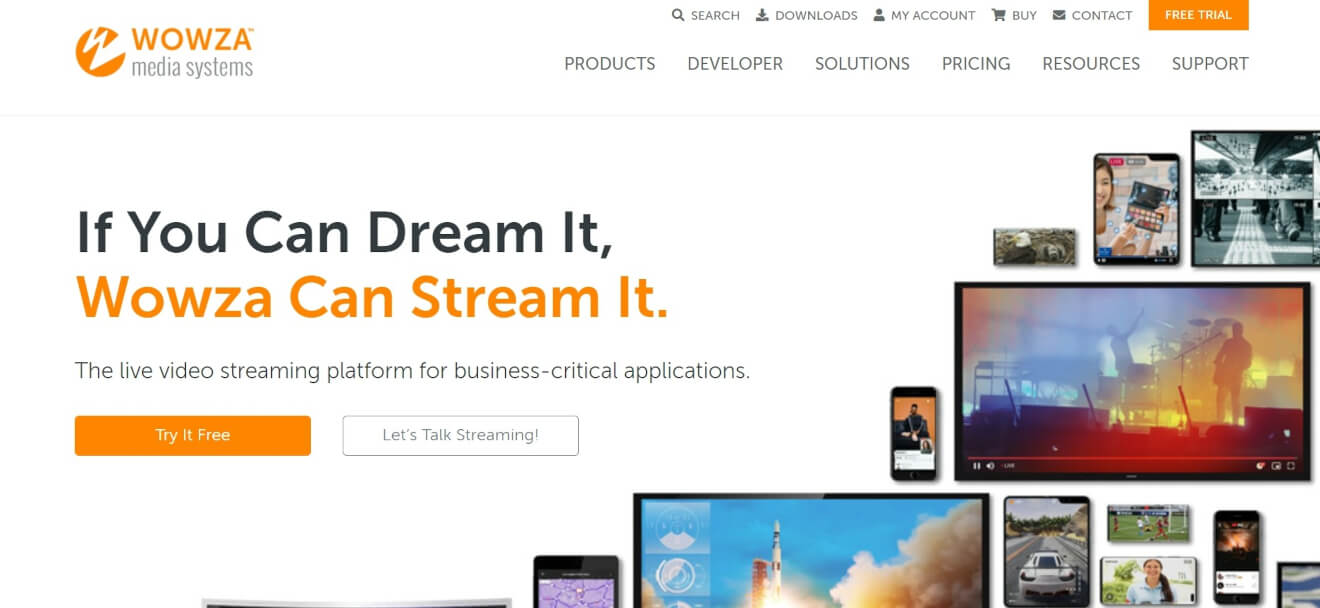 If Lua, Kotlin, and Ruby could be exotic cocktails rather than languages to you, maybe you should get your software developer to check out Wowza.
It's a video streaming engine that caters to live streams and real-time video embedding.
They have an array of tools that your developers are going to appreciate and possibly have great fun trying new use cases with.
Here's a full roundup of the features.
Wowza VOD Features
Wowza has features that include…
a strong stack of developer tools such as GitHub repositories, SDKs, and an API sandbox environment for control over your VOD
streaming services like live streaming, OTT streaming, live broadcasts, and stream embedding options
the Wowza ClearCaster for live encoding with a Micro or Enterprise option depending on how you want to deliver your VOD services
a content delivery network (CDN) offering cloud streaming and streaming server options to store your video content in one place
…giving you plenty to work with to get your playback streaming perfectly.
Time to look at how their pricing works.
Wowza Pricing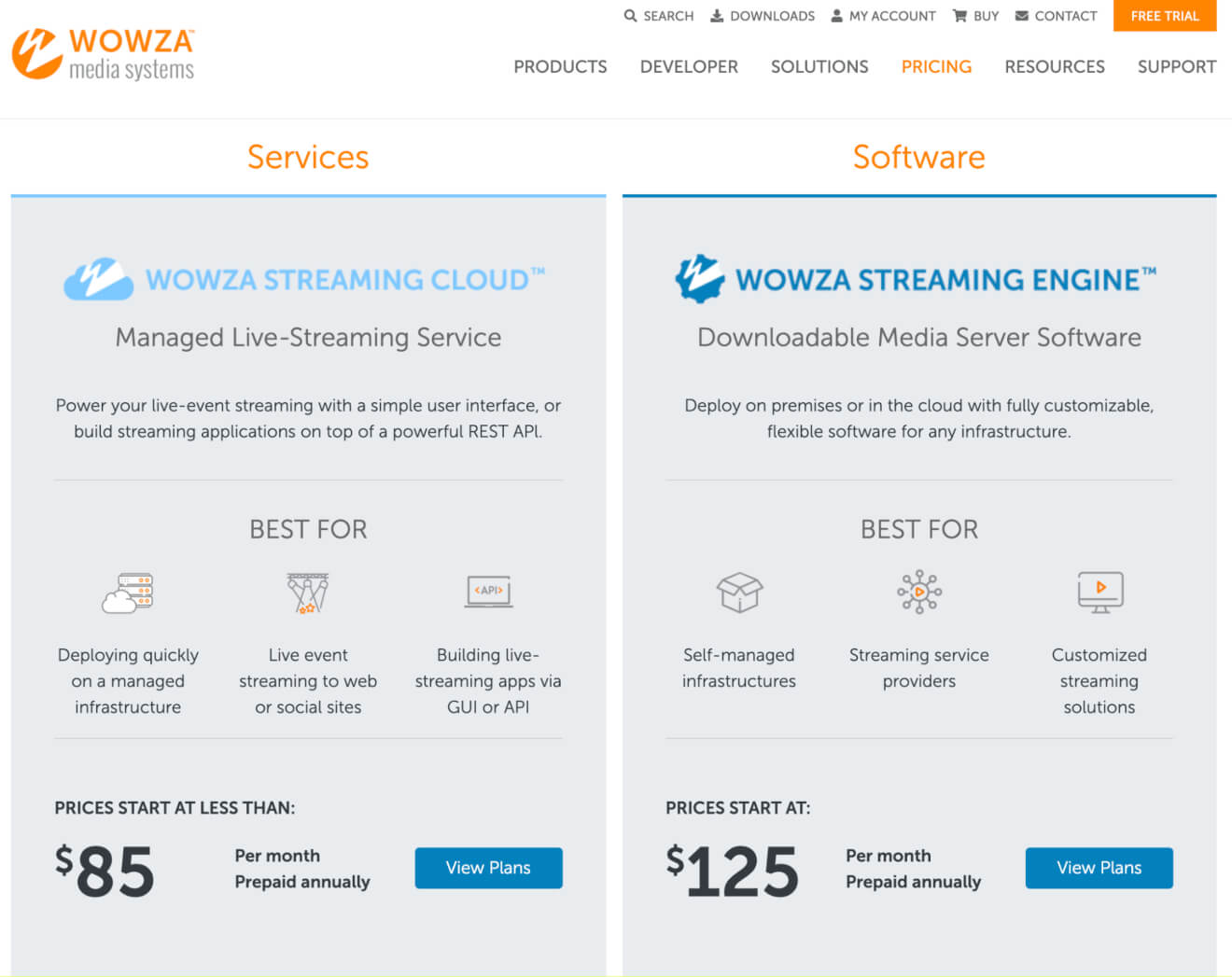 Wowza offers two types of packages – services and software – with different capabilities depending on what your business is already doing in the content streaming arena.
For simpler services to get your content delivery set up and functioning, pricing starts below $85.
Give your developers and coders more control with the Wowza software option that'll give you more content management and customization control, with prices starting at $125 per month.
Onwards.
6. Sprout Video
Sprout Video is a tool for businesses of all sizes.
They offer live and on-demand content hosting that facilitates all kinds of business functions, such as…
internal communications
live product launches
embedding video feeds to your webpages
using video in email campaigns
… to improve your business' messaging.
There are plenty of features that support these needs, so let's check them out.
Sprout Video VOD Features
Sprout aims to be a complete video streaming solution for your business, featuring…
a customizable player with logos and branding, playlists, and strong encryption protocols
fully secure videos that can be password, log-in, or sign-in protected
custom CTAs, lead capture tools, easy SEO, and handy integrations to support your video marketing efforts
create your own website for video-on-demand content, with advanced coding options or a simpler solution to present to your users
useful analytics to help content owners improve what they do each time
… for all your VOD needs.
Now to see how all this affects your outgoings.
Sprout Video Pricing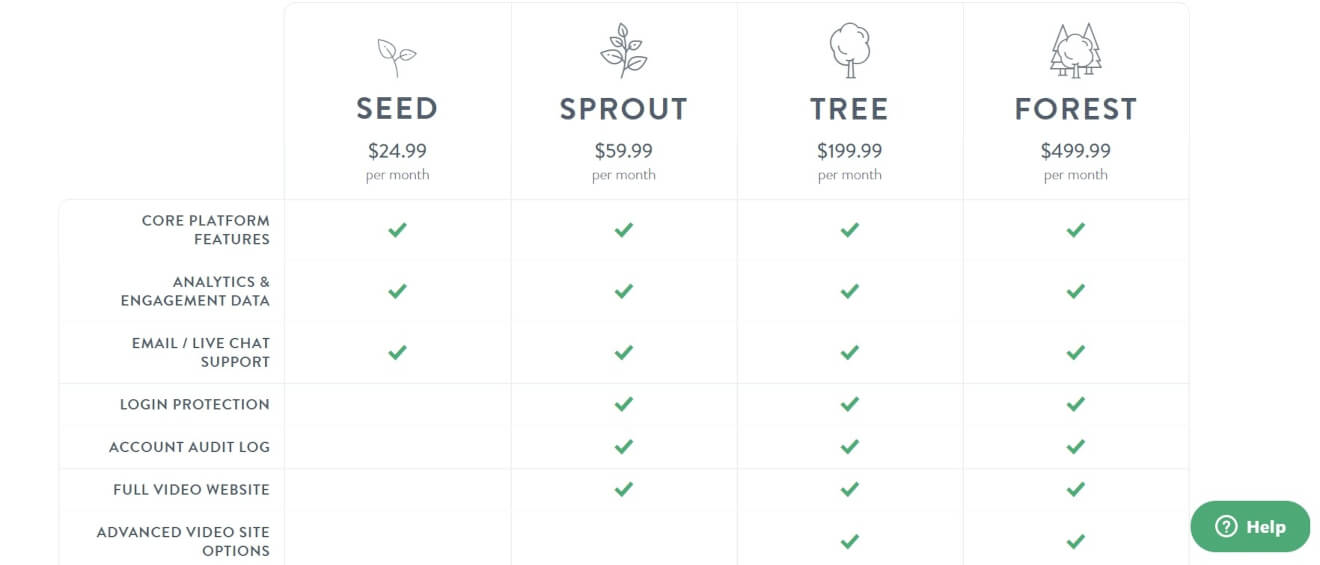 As you can see, there are four pricing options for Sprout Video, with more features besides the one on this image.
The pricing structure offers scalability, with options to add more storage and live input and delivery minutes as needed for an extra cost.
That's all about Sprout Video, what's next?
7. Brightcove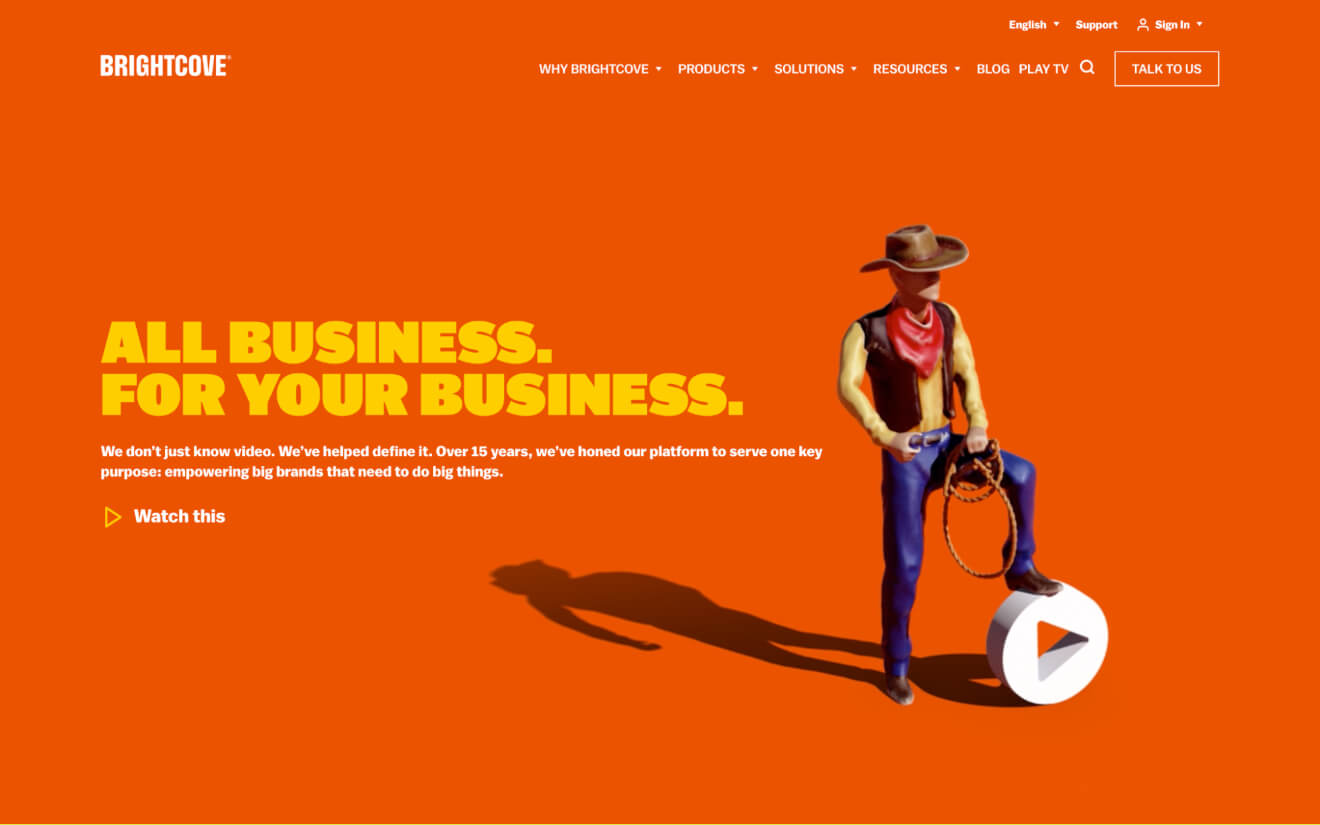 Brightcove is old school, starting 15 years ago as one of the original VOD platform providers.
They operate at enterprise scale and partner with broadcasters and other big brands to deliver on-demand and live video.
Their tech is award-winning; let's see what's under the hood.
Brightcove VOD Features
Brightcove is a reliable and powerful video hosting platform that can:
Offer live streaming of events and a catalog of videos to present to users.
Allow you to create your own TV channel with a player optimized for HTML5.
Deliver detailed, high-level data and analytics to drive your video marketing efforts.
Brand the video content you create on OTT apps, websites, social media, and any other channel you need with an API tool for even more customization.
Integrate with the tools you already know and love to be able to monetize your content.
Digital rights management (DRM) and other controls to make sure only the right people see your video.
Cloud-based transcoding to get your content to the right devices without extra processes at your end.
Time to see how the pricing shakes out.
Brightcove Pricing
Rather than having a detailed pricing page, Brightcove does bespoke packages for content creators and distributors.
You can contact them online or by phone across different time zones to discuss your needs and their costs.
The list continues.
8. Kaltura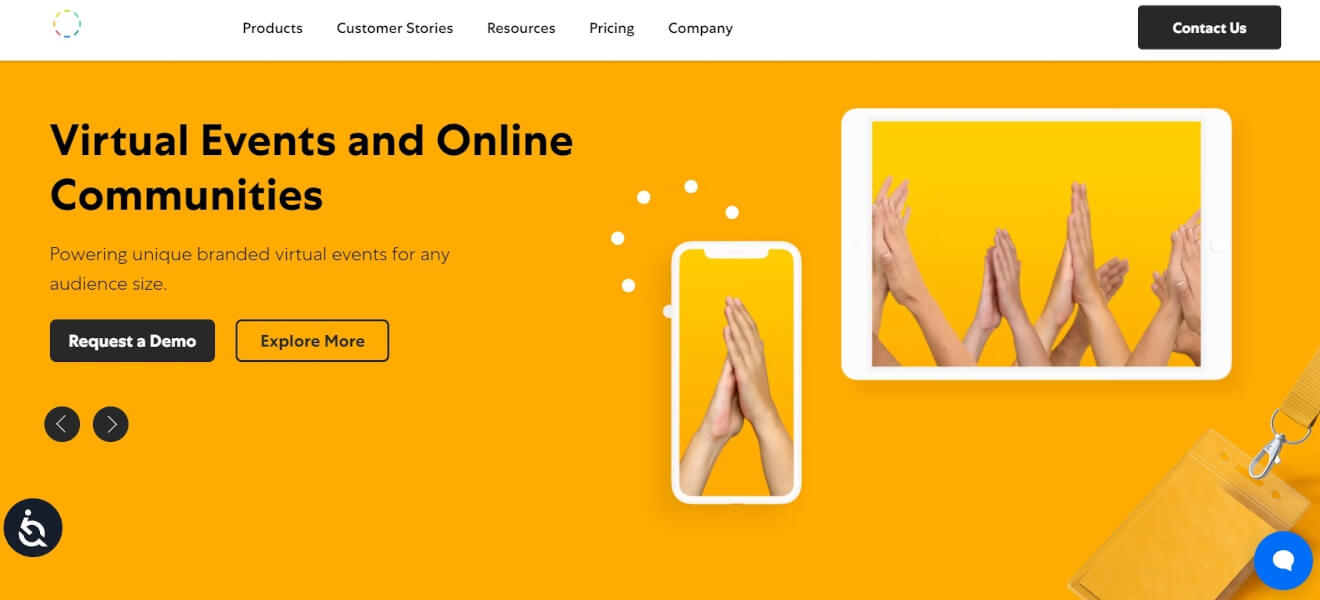 Kaltura ticks a lot of boxes with what they can do and who they can work for.
Across fields like:
communications
learning
television
events
online communities
They offer solutions that'll boost engagement and get a message delivered and done well.
Looking at the features will help us see what they can do for your business.
Kaltura VOD Features
This video-on-demand solution can do a lot and work across lots of different departments.
The features you can explore include:
Live and on-demand video streaming services for events and cloud TV channels.
Features to facilitate learning management system (LMS) videos and virtual classrooms.
Analytics to help you understand what works and what doesn't.
Secure access to your video content so only your customers or colleagues can see your videos.
An API and a SDK to help personalize and customize features of your video player.
Branding options to add logos, brand colors, skins, and fonts over your stream.
A full content management system to have all videos and data in one place.
Captions, auto-transcriptions, and translations for your video content for improved accessibility.
With all that on offer, we should check out the prices.
Kaltura Pricing
The pricing structure isn't disclosed on Kaltura as of today (07/05/2021), but there's a free trial you can check out so you can understand what features you want to talk to them about.
There's also different options in terms of their VOD services and Video-Platform-as-a-Service (VPaaS) that allows you to fully integrate the tech into your own products.
Each system only offers annual plans, with no monthly option.
Give them a buzz for more details.
You've stuck with us so far, we're nearly into the final act.
9. JW Player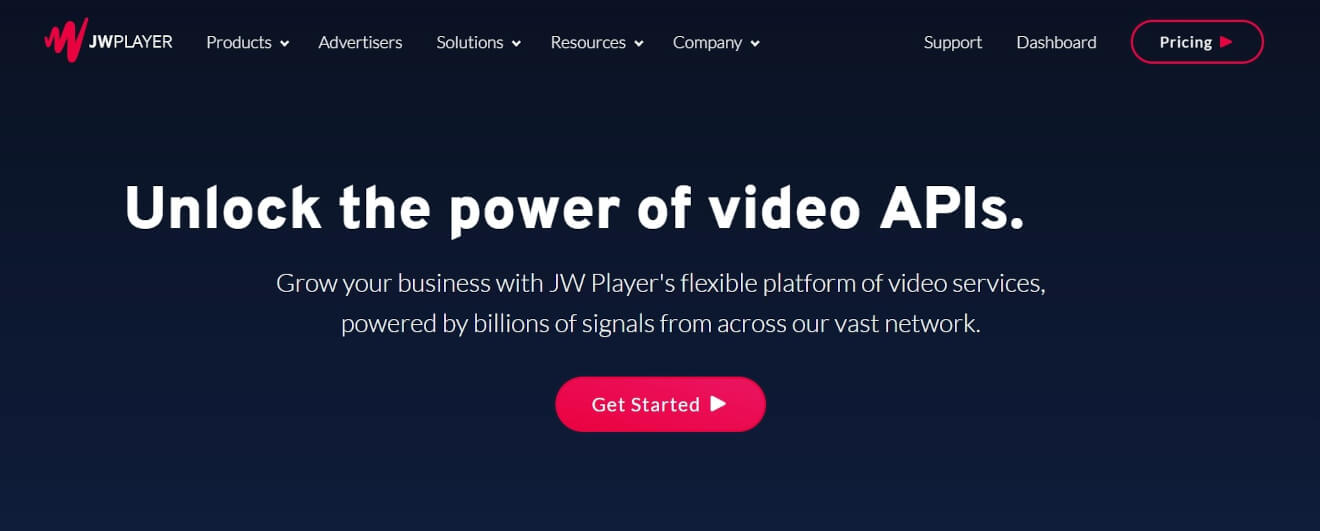 Working across websites, iOS, and Android apps, and connected TV, JW Player is made for businesses wanting to make a profit from their content.
When you want to make money off advertising rather than a subscription model, JW Player is a VOD and OTT platform that can help make it happen.
Let's explore what they offer.
JW Player VOD Features
Using JW Player, you get a range of tools and features that'll get your content seen by users, such as:
Technology that drives recommended content to your user with strong targeting capabilities.
A multi-screen experience for your viewers, working across devices and operating systems.
A complete SDK for your developers to add custom options to your mobile apps.
An analytics suite that'll integrate with the tools you're using right now.
DRM support, geo-blocking, and encrypted feeds to ensure secure content delivery
Monetization options for your videos like player bidding and support to develop other streams of income from your content.
Down to brass tacks and looking at the money.
JW Player Pricing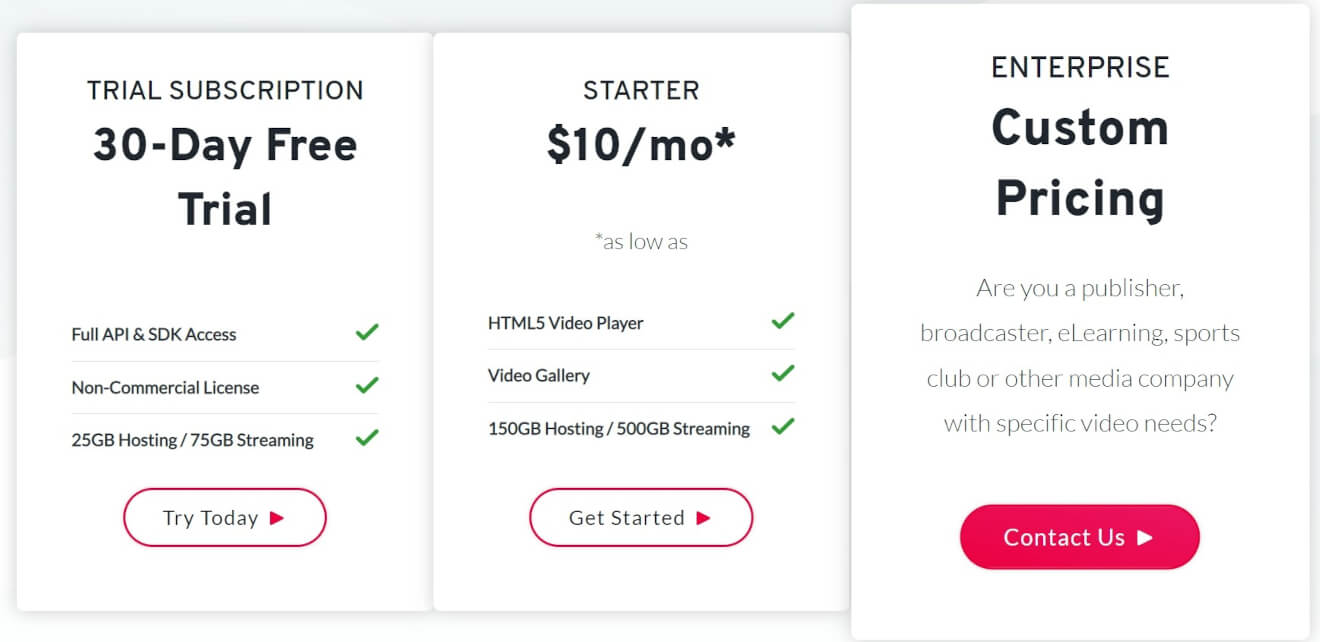 During the month-long free trial that JW Player offers, you get to work with their API and SDK, can upload and host up to 25GB of video, and have up to 75GB watched by your users.
After the trial, you can opt for the Starter package that gives you a HTML5 video player, a gallery for content management, and hosting and streaming storage of 150GB and 500GB respectively.
For video service providers who want to offer more than this; get in touch with JW Player direct to chat about their Enterprise VOD solutions.
Closing out our list of ten of the best VOD streaming services is…
10. Vimeo On-demand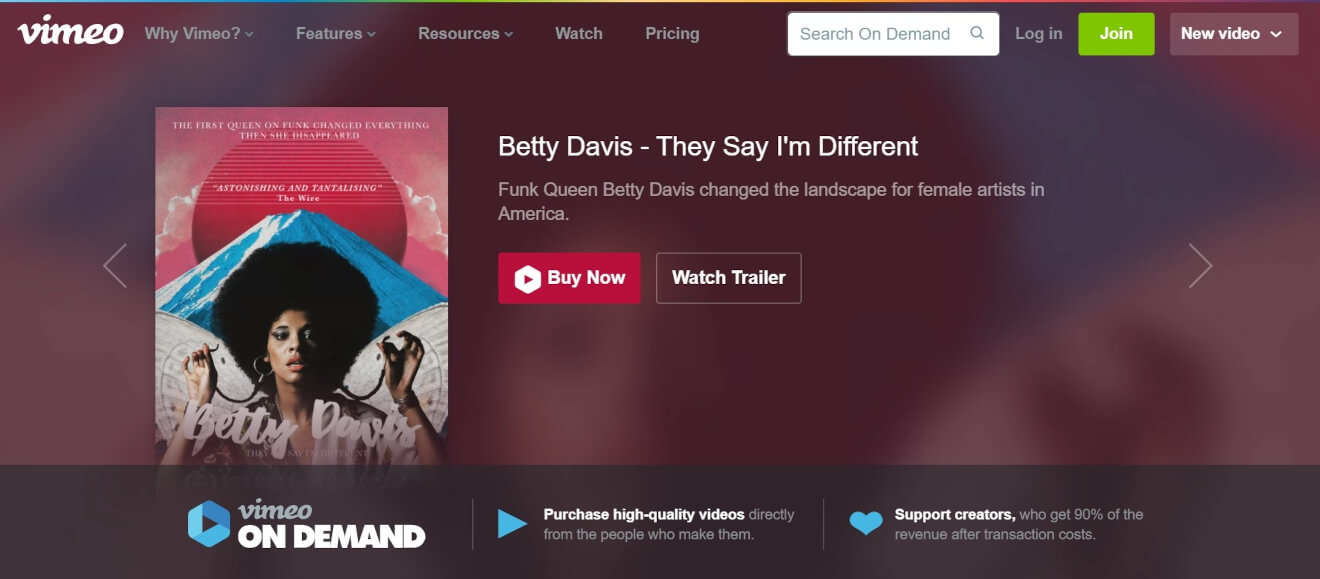 Hosting films, series, marketing videos, and any other video content you want to monetize and share with the world is Vimeo On-demand.
Pretty similar to Uscreen in some ways, Vimeo On-Demand is a VOD and content management system (CMS) that works for small creators and larger content distributors, too.
Getting on to the features.
Vimeo On-demand VOD Features
As a video-on-demand website, Vimeo has plenty of things that a creator might need:
Monetization models with rentals and on-time purchase and subscription options, with promo and discount codes supported.
Video player templates that can be customized with logos and colors.
Detailed analytics broken down by platform to support creator growth.
Broadcasting across multiple platforms such as Apple TV, iOS and Android mobile apps, as well as website embedding.
Production workflow assistance with sharing, collaboration, and annotation tools to ensure your VOD content meets your team's needs.
The pricing is coming right up.
Vimeo On-demand Pricing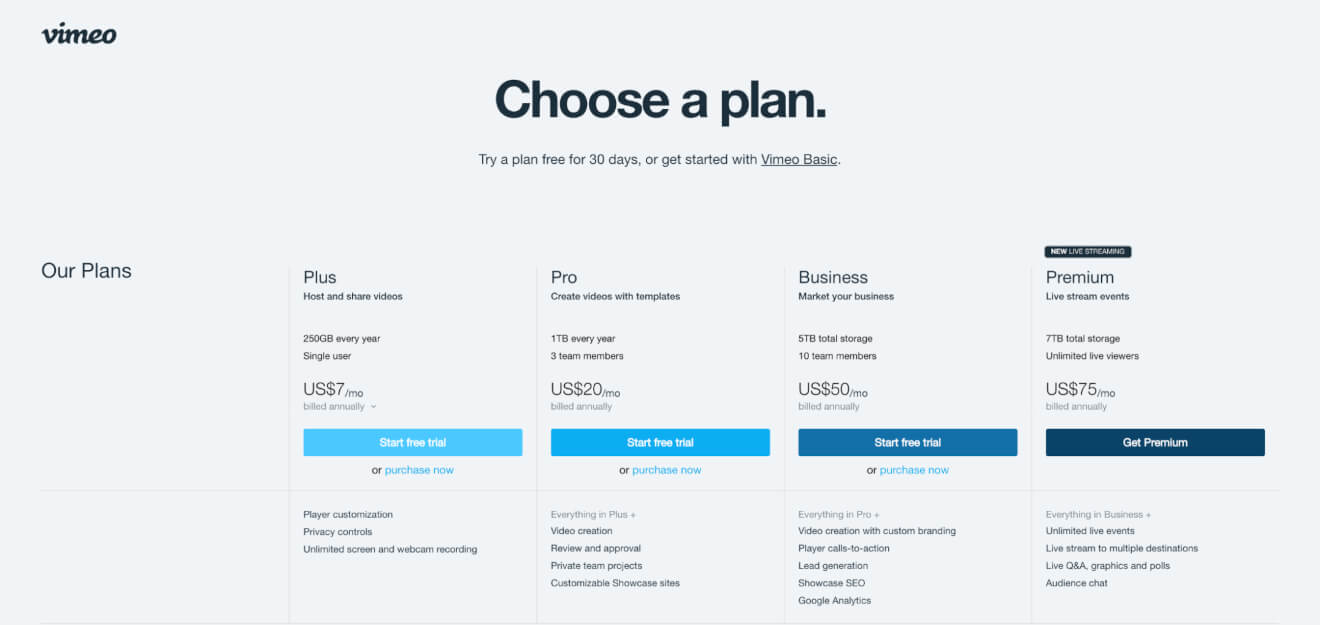 Vimeo's pricing is split over five different levels, as you can see, with the first three available for a free trial period, too.
With the Plus plan, you get to customize your player, control video privacy settings, and capture your screen or other video without limits, for $7 per month and 250GB of storage.
Moving up to Pro and Business levels gives you more features around branding your player, white-label websites, integrations, and SEO, plus increased storage.
Premium and Enterprise expand the offer further, with live streaming being a new feature available to both, plus more marketing and analytics tools as you move through the pricing.
That's our ten best VOD platforms.
But wait, remember the bonus we promised?
We present to you…
Bonus: Loom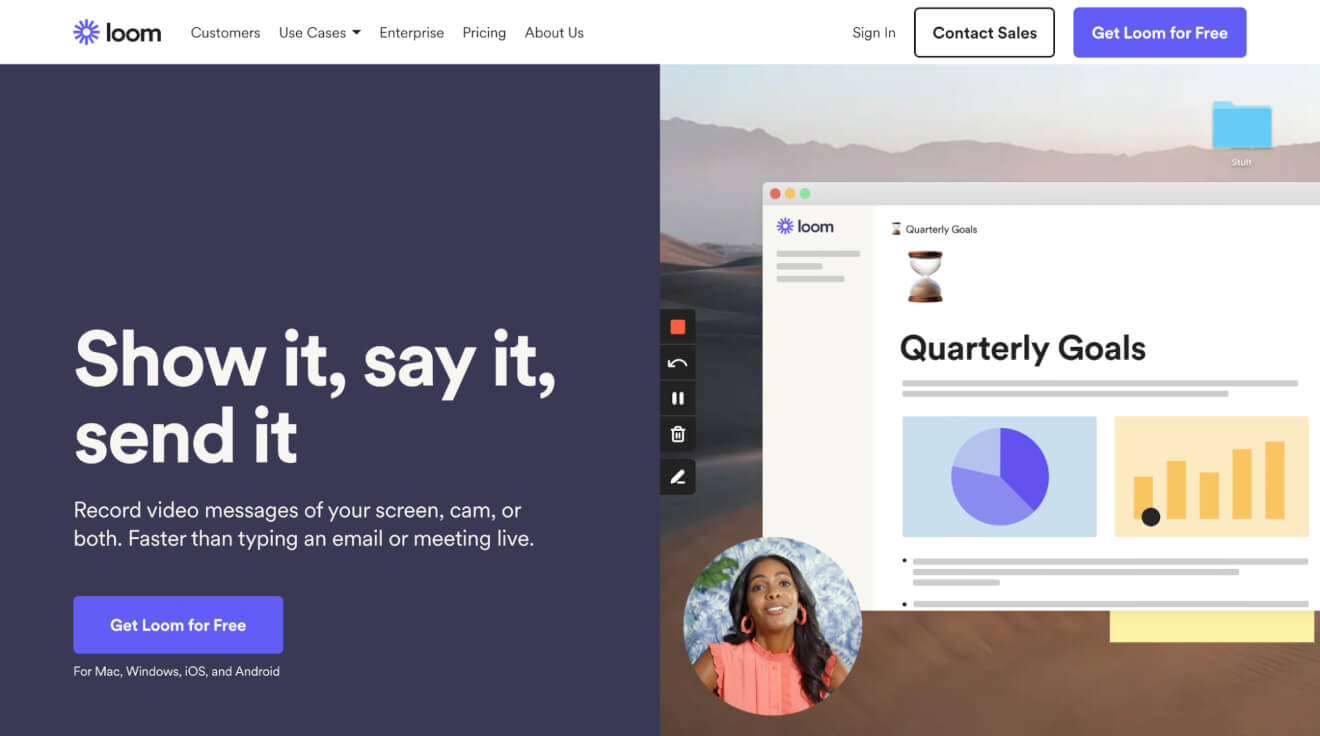 Hold up, is Loom a video-on-demand platform?
We're not going to split hairs – it might not offer the full range of services you'll find at Uscreen, and you won't find TV like on Hulu – but it does sit in the VOD services sector.
Loom is a tool that lets you easily create videos through screen or webcam recording and send a link for anyone who needs to watch it.
Ever been to a Zoom that could have worked as an email?
A Loom is somewhere in between.
If you've not come across Loom yet, here's what it can do.
Loom VOD Features
Loom is a business-focused SaaS, with some super-handy features, like:
video playback through sharing a link by email to colleagues, clients, or customers
visual feedback with timecoded comments to help improve your video content
team-level content management with storage for videos and screenshots
branding and CTAs for reaching external users
… to get your message across.
One last time, let's see the prices.
Loom Pricing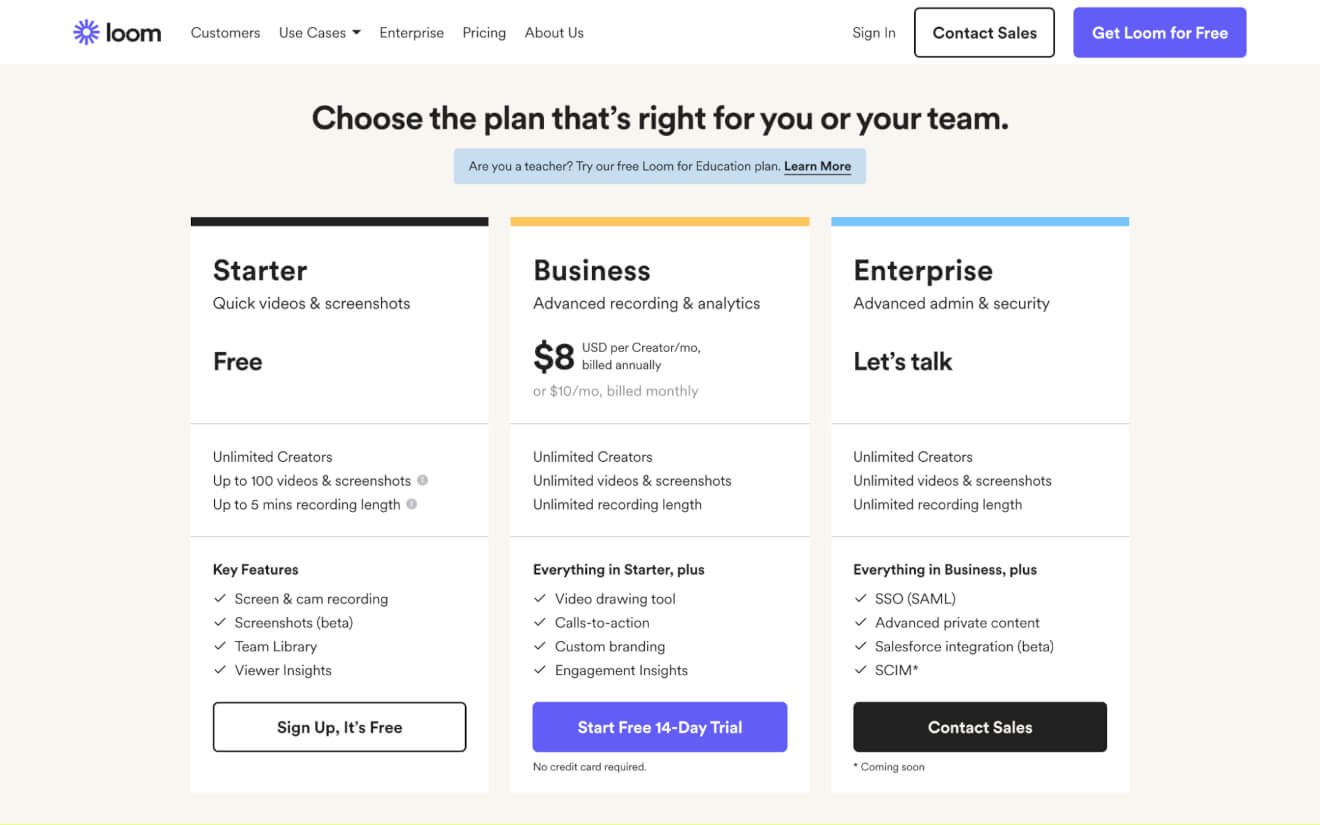 Loom comes in three different pricing levels, with the Starter level free with limited storage, video lengths, and functions.
Moving to the Business level, you get unlimited videos and recordings, and tools your marketing team will enjoy getting to grips with.
Enterprise customers get advanced features and bespoke pricing to go with them.
Done.
Well, not quite, but we're going to cover what you need to know to choose which of these will work for you.
How to Choose the Perfect VOD Platform
There's a lot of options to create the best VOD service for a great user experience, isn't there?
Choosing the right platform for your needs will depend on loads of factors, such as…
white label websites
full customization
global payment gateway options
fully supported set up…
You know what?
We've covered this in loads of detail in our shopping list for video platforms.
Head on over to that post to know which features you need to be looking for and compare it to what each of these are capable of.
See you over there.
Meanwhile, we're going to close this one up.
Now Over to You
Finished!
Thanks for coming along on our foray into the best VOD platforms out there.
If you're looking to be the next Disney Plus or Amazon Prime, these are the places to start.
Gone are the days of set-top boxes and analog signal – video-on-demand is the future.
These 11 options work for different use cases, depending on the type of business you're in and what monetization solutions you're looking for.
Uscreen covers pretty much everything you're going to need when you want the best VOD selling service or just a place to host your internal video messaging.
Want to give us a bash? Get in touch and we'll talk you through your needs.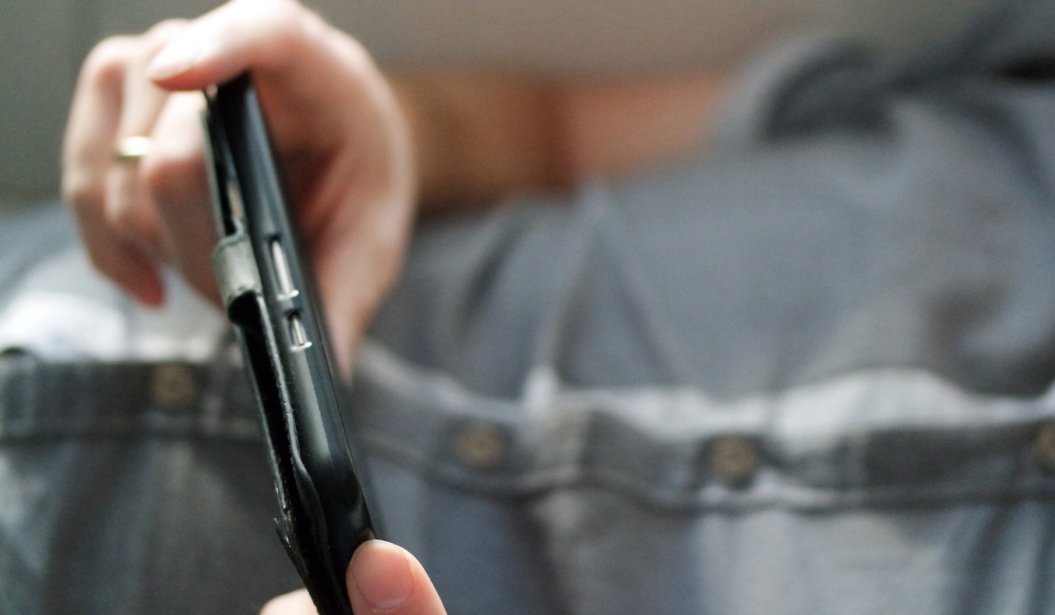 11 Best OTT Platforms for 2021 (Pricing & Features Included)

The post 10 Best Video-On-Demand (VOD) Platforms for 2021 appeared first on Uscreen.